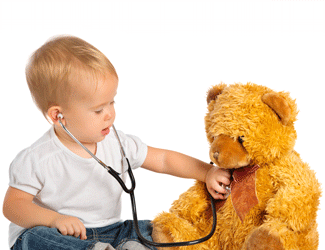 A congenital diaphragmatic hernia is a serious birth defect that is typically identified on a routine ultrasound during pregnancy or, less commonly, shortly after your baby is born. If your baby has the condition, he or she will need surgery to repair the defect soon after delivery. Caring for your baby -- during delivery, after birth, through surgery, and as he or she grows -- is our pediatric experts' main concern. We have the experience and resources to ensure your baby has the best possible outcome.
Find a Congenital Diaphragmatic Hernia Doctor
What Is a Congenital Diaphragmatic Hernia?
A congenital diaphragmatic hernia occurs when the diaphragm -- the muscle that separates the chest from the abdomen -- fails to fuse completely and leaves a space for the stomach, intestines, and/or liver to move into the chest. This can keep the lungs from growing properly. Small, underdeveloped lungs, referred to as pulmonary hypoplasia, can result in significant breathing problems.
Call for an Appointment or Second Opinion
Please call 919-681-3670. Our high-risk clinical nurse specialist will help make your arrangements.
Duke Health offers prenatal testing and clinics where you and your child can receive care throughout the Triangle. Find one near you.
After Your Baby's Birth
Our pediatric surgeons are recognized for the high-quality care they provide. In fact, Duke Children's is one of several children's hospitals in the country designated a top-level performer by the American College of Surgeons. The Level 1 designation recognizes our commitment to providing the safest and highest-quality surgical care for our young patients. It also recognizes our specialists and resources that aren't available at other hospitals.
Surgery
Depending on your baby's condition, surgery to repair the diaphragm may be performed soon after birth or in the days/weeks that follow. Our pediatric surgeons are skilled in using minimally invasive approaches, through tiny incisions, to move your child's abdominal organs down from the chest and close the hernia.
Heart-Lung Machine (ECMO)
If necessary, your child may be on a heart-lung machine called extracorporeal membrane oxygenation (ECMO) before and after surgery. ECMO oxygenates your baby's blood outside the body, which gives the heart and lungs time to rest. Our NICU is a major referral center for babies who need ECMO.
Support for You and Family
Before, during, and after your delivery, you and your family may receive support from our family-friendly resources. Our social support services include onsite lactation consultants, a sibling play area, a family resource center, discharge planners, and home care services.
Long-Term Follow-Up for Your Baby
Your baby's care may continue long after he or she leaves the hospital. Babies with congenital diaphragmatic hernia may be put on medications to control pulmonary hypertension, a condition characterized by high blood pressure in the lungs that may develop as your child grows. Additional procedures may be needed to prevent or manage acid reflux, another common condition that can develop. Feeding tubes may be needed as well, depending on the severity of your child's condition. In all cases, our pediatric experts remain your partners in your child's care and development.
Best Children's Hospital in NC
Duke Children's Hospital & Health Center is proud to be nationally ranked in nine pediatric specialties.