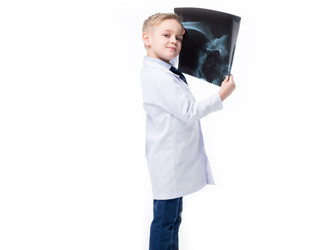 Duke's pediatric orthopaedic specialists have extensive experience diagnosing and treating conditions that affect children's bones, joints, and muscles. We understand how an orthopaedic condition can affect not just your child's physical growth and development but also their ability to thrive -- emotionally and in social and school situations. We develop a personalized treatment plan for your child that takes all of these factors into account, and we work as a team to make the treatment process as smooth as possible for your whole family.
Duke Pediatric Orthopaedic Surgeons
Meet our doctors who specialize in treating orthopaedic issues in infants, children, and adolescents.
Why Choose Duke
Specialists in Caring for Kids
Children aren't just smaller versions of adults. They're growing and developing -- physically, mentally, and emotionally. They need care that not only addresses their current needs but also protects their future health and well-being. Our orthopaedic surgeons -- and the anesthesiologists, nurses, physiatrists, physical therapists, and other care professionals on our team -- have specialized training in providing care for children and adolescents.
Experience with Rare and Complicated Conditions
Children whose orthopaedic conditions are uncommon or require special expertise are frequently referred to us from throughout the region. As a result, we have extensive experience treating and managing conditions that other doctors rarely see.
Access to Emerging Treatments
Our doctors are also researchers who are dedicated to advancing pediatric orthopedic care. This means your child may benefit from newly developed treatments, sometimes before they are widely available.
Leaders in the Field
Our specialists are members of the International Hip Dysplasia Institute, whose goal is to provide patient-centered care for children with hip problems and to reduce the physical, social, and economic burdens they face.
Members of our team helped create the CDC treatment recommendations for Duchene muscular dystrophy. These orthopaedic and rehabilitation treatments are used worldwide.
Duke Pediatric Orthopaedic Locations
Our pediatric orthopaedic specialists are conveniently located throughout the Triangle.
Comprehensive Orthopaedic Care for Children of All Ages
Our pediatric orthopaedic specialists provide care for the full range of orthopaedic conditions that can affect children, from infancy through adolescence. This includes:
Fractures and injuries, including sports injuries
Congenital deformities and metabolic diseases that can affect the growth and development of your child's bones and joints
Disorders of the muscles or nerves that affect your child's muscles, bones, joints, and physical function
Other disorders that can affect your child's musculoskeletal health and function
Advanced Diagnostic and Treatment Abilities
We offer the latest diagnostic and treatment capabilities, so your child gets the right diagnosis and the safest, most effective care. For example:
Duke Health was the first facility in the region to offer EOS lower-radiation X-rays, which reduce radiation exposure for children who need frequent imaging to monitor their orthopaedic conditions. We now offer EOS X-rays at several outpatient locations.
Our pediatric orthopaedic surgeons are skilled in the latest techniques, including vertebral body tethering, magnetic expansion control rods for scoliosis, circular fixator devices for limb deformity, internal limb lengthening, and growth modulation, which corrects deformities in a minimally invasive manner.
Our team also includes professionals trained in advanced nonsurgical treatment options, such as Ponseti casting for clubfoot and specialized bracing and physical therapy for scoliosis.
Recognized Quality Care
Duke Children's is one of a small number of hospitals in the U.S. verified as a Level I children's surgery center by the American College of Surgeons. This Level I designation recognizes our commitment to providing the safest and highest-quality surgical care to our young patients.
Best Children's Hospital in NC
Duke Children's Hospital & Health Center is proud to be nationally ranked in nine pediatric specialties.
Coordinated Care Across a Range of Specialties
Your child has access to specialists from across the entire Duke Health network. We work together to develop a treatment plan that meets your child's individual needs.
Family-Focused Care
We know that having a child who needs specialized medical care can be stressful for the whole family. We offer a variety of support services to help your family manage those challenges, including child life services to make the experience as positive as possible for children who are receiving care and for their siblings.
Reviewed: 10/13/2021