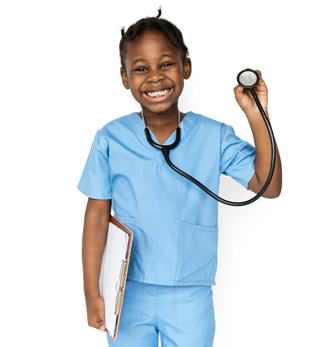 If your child has cerebral palsy or another condition that causes increased muscle tone or jerky movements, it's important to get treatment from experts who work collaboratively to address the various ways the condition can affect your child's life. Whether your child is already diagnosed or cerebral palsy is suspected, Duke's team of pediatric specialists provides care that's customized for your child.
Find a Cerebral Palsy and Related Conditions Doctor
About Cerebral Palsy
Cerebral palsy (CP) affects muscle tone, movement, and motor skills. It is usually caused by a brain injury or brain malformation that occurs before or during a child's birth or early in their development. CP often causes spasticity -- muscle stiffness that's sometimes accompanied by jerky movement -- and can affect a child's arms, legs, neck, chest, abdomen, and/or face. Children with CP can have associated hearing issues, vision problems, seizures, learning difficulties, inattention, hyperactivity, and cognitive impairments.
If Your Child Has or May Have CP
The first step is a thorough evaluation. Our doctors will perform a physical exam, learn about your child's health history, and review MRI images of the brain and, in some cases, the spine. Your child may also need blood tests or other diagnostic tests to identify possible causes of symptoms. Our doctors will also evaluate your child for conditions that can occur with CP -- such as seizures, scoliosis, contractures (muscle tightness), acid reflux, and sleep problems -- and make referrals to specialists as needed. Your child's primary care provider will continue to address preventative and primary care medical issues and will serve as part of your child's overall care team.
Duke Health offers locations throughout the Triangle. Find one near you.
Comprehensive Care for Cerebral Palsy and Related Conditions
We understand the impact that cerebral palsy and similar conditions can have on your child and your family. Our team of specialists offers comprehensive care that's tailored to your child's unique physical, developmental, emotional, and academic needs.
Rehabilitation Medicine (Physiatry)
A pediatric physiatrist focuses on your child's physical function. They evaluate your child's abilities and work with you to set goals for rehabilitation physical therapy. They can also evaluate and recommend bracing and equipment and prescribe medicines or procedures to help with spasticity or other issues.
Pediatric Neurology and Neurodevelopment
A pediatric neurodevelopmentalist -- a neurologist who has completed additional training in treating disabilities that affect language, movement, senses, and cognition – focuses on your child's neurological function. They help you understand a cerebral palsy diagnosis based on medical history, imaging scans, and exams and will explain the diagnosis and how it can affect your child's function. The doctor will screen for and treat related neurological conditions, help manage muscle tone and increased movements, and address developmental and learning concerns. Your child's neurodevelopmentalist can provide care for your child as they grow and become adults.
Team of Specialists
We work with a range of other specialists to ensure you receive comprehensive care by a coordinated team.
When needed, your child may also be seen by a social worker or referred to pediatric specialists in gastroenterology, ophthalmology, audiology, or orthotics (shoe inserts that help correct problems with walking and standing).
Best Children's Hospital in NC
Duke Children's Hospital & Health Center is proud to be nationally ranked in nine pediatric specialties.
Why Choose Duke
One Convenient Location
At our specialized Cerebral Palsy and Related Conditions (CPRC) Clinic at Lenox Baker Children's Hospital, your child can be seen by several specialists in a single day. Our goal is to keep your medical visits to a minimum and to enable your child's care team to share information and coordinate treatment.
Coordinated Care
Our nurse care coordinator can answer your questions and guide you through the process of starting evaluation and treatment. They help you navigate the medical system and manage the variety of health services your child needs. If you are traveling from outside the Triangle area, the care coordinator ensures your child's local doctors have the information they need to provide follow-up care.
Access to the Latest Research
As an academic medical center, Duke is committed to staying updated on and bringing to our patients the latest advances in care. For example, our experts have been involved in studying the potential of using cord blood transplants to treat children with cerebral palsy.
Reviewed: 12/08/2020