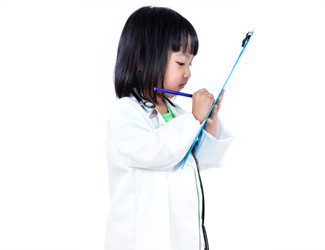 Duke pediatric hearing and communication specialists work together to evaluate and treat a wide range of hearing disorders in children of all ages. From newborn hearing screening to cochlear implants, we customize diagnostic and treatment options according to your child's age and your family's goals. Ultimately, we aim to improve hearing ability so your child can learn to speak and communicate effectively, thrive in school, and enjoy a better quality of life.
Our comprehensive team of providers includes audiologists and speech-language pathologists as well as pediatric otolaryngologists, otologists, and neurotologists (who treat ear diseases that may be causing hearing loss). They are specifically trained to treat children from infancy through young adulthood. When needed, we also collaborate with social workers and child life specialists to support and educate your entire family.
Find a Pediatric Audiology Doctor
Hearing Testing
Newborn Hearing Screening
All babies born at Duke hospitals undergo a newborn hearing screening before they go home. If your child was born at a birthing center or at home, it's important to have your baby's hearing tested within the first month of life. The screening is quick, painless, and can be done while your baby is asleep or lying still.
Automated Auditory Brainstem Response (AABR) Screen
Evaluates how well sound travels to the brain. AABR testing is ideal for newborns because it doesn't require them to respond or indicate what they hear. Electrodes are placed on the baby's skin and sounds are transmitted through headphones. The brain's responses to those sounds are recorded by a computer.
Sometimes newborns can fail this initial screening for a minor reason like fluid in the ears. However, it is very important that they receive follow-up testing as soon as possible (no later than by three months old) to confirm whether hearing loss is present. If so, early intervention is key to ensure your baby meets important communication and speech development milestones.
Hearing Loss Evaluation
If your baby failed initial newborn screenings or if there are concerns about hearing loss in an older child, we can perform a range of age-appropriate testing to discover the source and severity of hearing loss. All of these tests are painless and noninvasive.
Diagnostic Auditory Brainstem Response (ABR) Testing
Diagnostic ABR testing helps determine the type and degree of hearing loss. It is commonly used as follow-up testing in infants who did not pass a newborn hearing screening, but it is also used for older children who are not yet able to participate in other types of hearing tests. Diagnostic ABR can be done during sleep for babies who are younger than three or four months old, or under sedation for older children. This test usually takes about two hours.
Audiometry
Measures your child's ability to hear a range of sounds necessary for speech understanding and development. Audiometry tests work best for children who are seven months old and up. It helps determine what degree and type of hearing loss your child may have. Children are asked to turn their heads toward a sound or participate in a simple game. These tests usually take about 30 minutes.
Immittance Testing
Assesses how well the eardrum and middle ear structures are working. A small, soft tip is placed in the ear canal to measure changes in ear pressure. This takes about five minutes.
Otoacoustic Emission (OAE) Testing
Measures how well the inner ear (cochlea) is working. A small, soft plug is inserted into your child's ear, and a series of tones and clicks are played. A computer records responses from the inner ear.
Central Auditory Processing Disorder Evaluation
If your child has trouble listening, misunderstands conversations, or has a difficult time following instructions, our audiologists can help administer tests to identify central auditory processing disorder (CAPD). Children with CAPD may have normal hearing, but their brain incorrectly recognizes and processes sounds and words.
Duke Children's Speech Pathology and Audiology Clinic
Learn about the child- and family-centered care offered at Duke Children's Hospital so you can prepare for your child's appointments.
Hearing Loss and Hearing Disorders Treatment
If audiologists determine your child does have hearing loss, the type and/or cause of hearing loss will dictate what treatment options are available. Audiologists can help you learn more about hearing device options, like hearing aids, bone conduction hearing aids, and cochlear implants. Otolaryngologists -- ear, nose, and throat (ENT) doctors -- can prescribe steroids or other medications for issues like inflammation, chronic ear infections, or allergies. They may also offer procedures like inserting ear tubes, or more advanced surgeries.
Why Choose Duke
Patient Navigator
Our patient navigator becomes your one-stop shop for scheduling appointments, coordinating your visits, communicating your test results, and planning any procedures. It's their job to make your child's treatment journey easier by guiding you through it step by step. And they are more than willing to answer all of your questions along the way.
Sedation and Anesthesia Options
We provide a range of options so your little one is as comfortable as possible through testing and procedures. Several tests can be done while your child is asleep. Alternatively, we can provide mild sedation or general anesthesia to make sure we get the very best results.
Family Support
Our clinical social workers provide information on financial and other support services available to your child and family. Our child life specialists help children understand, at a developmentally appropriate level, what will happen during tests or procedures. Our goal is to lighten your load so that you can focus on your child's care.
Speech-Language Pathology Partnership
We work closely with speech-language pathologists, who help treat a wide range of communication and hearing disorders, including those related to CAPD, autism, Down syndrome, and cleft palate.
Services Provided in Your Family's Primary Language
We have interpreters onsite for both Spanish and American Sign Language. We can arrange for interpreters to join appointments in person or by phone for other languages as well.
Nationally Recognized Experts
We keep abreast of the latest treatments to enhance our practice and your child's care. Our audiologists attend state, national, and worldwide conferences to stay current on best practices and share their expertise. Our specialists have undergone advanced training, and many have advanced certification in specialized areas. Our combined skill and leadership mean you work with some of the most knowledgeable and experienced audiologists and speech pathologists in the U.S.
Best Children's Hospital in NC
Duke Children's Hospital & Health Center is proud to be nationally ranked in nine pediatric specialties.
Reviewed: 02/21/2020