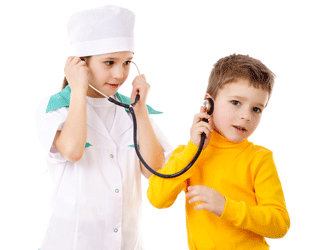 Children with a deformed or missing ear will benefit from compassionate, expert care. Duke pediatric specialists use surgical techniques and nonsurgical innovations to correct major ear deformities resulting from birth defects, trauma, or tumors. Our plastic surgeons also address minor deformities, such as excessively large, protruding, or misshapen ears.
Find an Ear Deformities Doctor
About Ear Deformities
We treat a variety of ear deformities that affect the ear's structure, appearance, and/or function including:
Birth defects in which a child is born with a partial ear (microtia) or complete absence of an ear (anotia).
Ear deformity resulting from trauma, such as a sports injury. These are often called "cauliflower ears" and result from a buildup of blood, scar tissue, or cartilage.
Protruding, large ears or unusually shaped ears for which cosmetic correction is desired.
Comprehensive Evaluation
A comprehensive evaluation gives us the information we need to determine your child's needs. Our team of specialists may include pediatric plastic surgeons; ear, nose, and throat doctors (otolaryngologists); audiologists; and speech-language pathologists.
Duke Health offers locations throughout the Triangle. Find one near you.
Treatment of Major Ear Deformities
More complex treatment is required for small, deformed ears (microtia) and missing ears (anotia).
Autologous Ear Reconstruction
Autologous refers to the use of your child's own cartilage to reconstruct the missing or severely deformed ear. This process usually requires two to three procedures. In the first operation, the plastic surgeon will remove deformed ear tissue. Cartilage is taken from your child's ribs, then carved and shaped into the framework for a new ear. The framework is then placed in its new position under the scalp. After surgery, your child may wear a head wrap and have drainage tubes to prevent blood from accumulating under the scalp. The second- and third-stage operations continue the work to create a normal appearing ear. Whether two or three stages are required depends on the type and severity of your child's original ear deformity.
Prosthetic Ear Replacement
A deformed or missing ear may also be replaced by a prosthetic ear made of medical-grade silicone and plastic materials. During this procedure, a plastic surgeon and otolaryngologist work together to remove deformed ear tissue. Metal implants are placed in the bone, similar to dental implants. These serve as the anchors upon which to attach the prosthetic ear. There are several reasons that parents may prefer prosthetic ears to autologous reconstruction: First, whereas autologous reconstruction requires a series of operations, prosthetic reconstruction only requires one operation. Second, the prosthetic ears are created by expert anaplastologists. These prostheses look lifelike and appear identical to the other side. Third, many children with an ear deformity may also receive a BAHA hearing aid. Its placement and this procedure can be done at the same time.
BAHA Hearing Aids
Children with ear deformities who experience hearing loss may be candidates for a bone-anchored hearing aid (BAHA). The surgery is performed by otolaryngologists. Audiologists and speech pathologists work closely with your child to help him or her adjust to this implanted hearing aid. If autologous ear reconstruction is planned, BAHA placement is typically deferred until after ear reconstruction. If prosthetic ear replacement is planned, the BAHA procedure may be performed under the same anesthetic.
Best Children's Hospital in NC
Duke Children's Hospital & Health Center is proud to be nationally ranked in nine pediatric specialties.
Why Choose Duke
If your child requires a surgical correction, you can feel confident in our level of skill and experience.
Expert Care Providers
Our pediatric plastic surgeons and otolaryngologists undergo advanced training and have years of experience repairing and reshaping all types of ear deformities.
Verified by the American College of Surgeons
Duke Children's is one of the few U.S. hospitals verified as a level I children's surgery center by the American College of Surgeons. This Level I designation recognizes our commitment to providing the safest and highest-quality surgical care to our young patients.
Family-Friendly Services
We understand the emotional impact an ear deformity can have on your family. Our family-friendly services include Child Life specialists who help relieve your child's fears when facing a procedure, while in the hospital, and through recovery.
Assistance and Services
Our care coordinators and social workers can help you navigate the medical system and coordinate the health services your child needs.
Reviewed: 04/08/2020