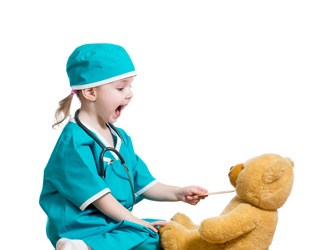 Changing your child's appearance through plastic and reconstructive surgery is a life-changing decision. At Duke Children's, our doctors are dedicated to correcting concerns that will allow your child to grow up like other children. Our team of pediatric surgeons has developed techniques and devices that we share with doctors around the world. Our passion for getting the best possible results with the fewest surgeries is matched by our compassion and respect for you and your child.
Find a Pediatric Plastic and Reconstructive Surgery Doctor
Duke Health offers locations throughout the Triangle. Find one near you.
Why Choose Duke
When it comes to your baby or child, we know there is no such thing as minor surgery. We take the same meticulous care, no matter how simple or complex your child's procedure. We understand that the procedures we perform on our young patients have to last a lifetime, so we strongly commit to achieving an optimal, lasting result and following your child into adolescence or adulthood to achieve that goal.
Whatever your child's condition, there are several reasons you can trust Duke's pediatric plastic and reconstructive surgeons to provide the highest level of care.
Straightforward Treatment Plans
We offer a range of pediatric plastic surgery services to babies born with a multitude of conditions, including deformities of the head, face, or hands, as well as babies who develop problems following an injury, illness, or previous surgery. We create straightforward treatment plans that range from setting prominent ears closer to the head, to intricate care plans involving multiple steps and specialists -- as is required for cleft lip and palate treatment. We also treat traumatic injuries resulting from disfiguring accidents.
Advanced Surgical Techniques
Our pediatric plastic surgeons have developed advanced surgical techniques for cleft lip and palate surgery, and innovative surgical devices that have transformed jaw surgery and advanced other surgeries. The team routinely receives invitations from around the world to talk about their current practices, advances, and published research findings.
Specialized Pediatric Plastic Surgeons
Duke Children's offers a level of specialization in plastic surgery not found at most other medical centers. Our doctors' fellowship training and experience with rare conditions give us a breadth of knowledge and surgical skill to manage the most difficult problems.
Team Approach to Care
We take a team approach to every child's condition and draw upon the expertise of Duke specialists in pediatric plastic surgery, neurosurgery, neurology, orthopaedic surgery, otolaryngology, craniofacial orthodonture, and others, including care coordinators and therapists. The patient-centered team explores all options -- including not doing surgery. We make recommendations based on our collective expertise and help you determine the best course of action for your child and family.
Verified by the American College of Surgeons
Duke Children's one of the few U.S. hospitals verified as a level I children's surgery center by the American College of Surgeons. This Level I designation recognizes our commitment to providing the safest and highest-quality surgical care to our young patients. In addition, as an American Cleft Palate-Craniofacial Association approved team, the Duke Cleft and Craniofacial health care professionals are recognized for providing the highest standards of care.
Family-Friendly Services
We understand that your child's condition can take an emotional toll on your entire family. We offer a variety of services to support you, your child, and your family through the process. For example, our child life program helps your child cope with hospitalization through play, procedure preparation, and opportunities for self-expression. A Ronald McDonald Family Room offers access to showers, laundry, TV, snacks, and internet during your child's hospital stay.
Best Children's Hospital in NC
Duke Children's Hospital & Health Center is proud to be nationally ranked in nine pediatric specialties.
Reviewed: 04/08/2020