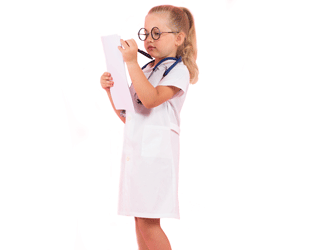 If your child has a cleft lip and/or cleft palate, you want an experienced and compassionate medical team to provide care at every stage of your child's development. Our team of specialists uses the latest treatment options to minimize how many procedures your child will need. Our goal is to give your child the best outcome possible, with results that last a lifetime.
Find a Cleft Lip and Cleft Palate Doctor
Does Your Child Need Cleft Palate Surgery?
Common Birth Differences
Cleft lip and cleft palate are common birth differences that occur when the left and right sides of a baby's face fail to grow together during pregnancy. Cleft lip and cleft palate is typically an isolated incident that occurs randomly and is not hereditary, however, it can be part of a syndrome that includes other congenital issues. Having one child with a cleft lip or cleft palate only slightly increases the risk of a future child being affected.
Great Care Starts with Prenatal Counseling and Follows Your Child
While cleft lip and cleft palate are unique to each child, they fall into several basic categories depending upon the part of the affected facial anatomy. Whatever type and severity of cleft that affects your child, it is important to know that all of these combinations are very treatable. We believe great care starts before birth with prenatal counseling and follows your child as he or she grows to young adulthood.
Duke Health offers locations throughout the Triangle. Find one near you.
Is Your Child a Candidate for the NAM Device?
Choosing a Cleft Palate or Cleft Lip Team
There are many factors to consider when deciding which group of surgeons and specialists will care for your child. You can feel confident in choosing Duke for your child's cleft palate and/or cleft palate care.
Surgical Expertise
The treatment of cleft lip and cleft palate is complex. Our team's strength is evident in the extent of our medical and surgical expertise. Your child will be evaluated and treated by many specialists including plastic and craniofacial surgeons, oral surgeons and orthodontists, ear, nose and throat specialists, audiology and speech therapy professionals, clinical social workers, and others, as needed. In addition, our team is managed by a dedicated team coordinator, who ensures that your child's care is provided in a timely, coordinated, and effective manner. Your child will be seen at least once a year to monitor his or her progress or provide interventions.
Convenient, Comprehensive Care
Providing convenient, comprehensive care to your child is important. Your child will be seen by each member of the team at every clinic visit, in one convenient location. At the end of the day, our team meets to discuss your child in great detail. This allows us to tailor the treatment plan to meet your child's individual needs. Our team coordinator then provides you with a summary of the team visit, the team plan, and the next steps.
Prenatal Counseling Consultations
Prenatal counseling helps you prepare. Often, a baby's cleft may be diagnosed with a routine fetal ultrasound that takes place during the second trimester of pregnancy. Understandably, this can be very stressful for expectant parents. At your prenatal counseling consultation, you will meet our team coordinator, craniofacial surgeon, craniofacial orthodontist, speech/language pathologist, and social worker. At this initial consultation, we'll cover:
Background on cleft lip/palate
The treatment strategy we use
Ways you can feed your baby effectively
We'll also provide you with reassurance and support. It is important to know that you are not in this alone. Our team is here to help at every step of the way.
Immediate Care for Newborns
Newborns need care as soon as possible. Parents who did not have access to the prenatal consultation, or who didn't know their baby would be affected by a cleft until after birth, are just as worried about the situation. We make every effort to see newborns as soon as possible so that we can provide guidance and support relating to feeding and begin treatment planning.
Treatment for Older Children
Cleft lip or cleft palate treatment can be fine-tuned for older children. Children with cleft lip and/or cleft palate who are adopted from abroad, and whose families have recently relocated to the Durham area have different needs from babies. We work with older children with an open cleft, and children who are new to the area and midway through treatment started by another team. We fine-tune our treatment strategy to fit your child's individual needs.
Individualized Treatment Plan
You need long-term partners in your child's care. Your child's individualized treatment plan and surgical timeline extend into young adulthood. We use the latest research to offer the most current treatment options for cleft lip and cleft palate. Our proactive approach to your child's care prevents normal challenges from becoming significant problems. It also gives you peace of mind when you know what to expect every step of the way.
Support System
You will benefit from ongoing support for your emotional, social, and psychological needs. You'll find a strong network of support—and friendships—among the families who see one another frequently during annual visits to the clinic. In addition, our social worker will educate you about your child's developmental needs, offer support surrounding the psychosocial implications of having a child with a craniofacial difference, and provide information about financial assistance and other resources available at Duke and in your community.
Customized Treatment Plan
During your child's initial evaluation, our doctors will assess which structures are affected by the cleft—the upper lip, alveolus (dental arch, or gum line), and palate (roof of the mouth). The team will develop a customized treatment plan and surgical itinerary based on the type of cleft affecting your child.
Best Children's Hospital in NC
Duke Children's Hospital & Health Center is proud to be nationally ranked in nine pediatric specialties.
Reviewed: 07/06/2021