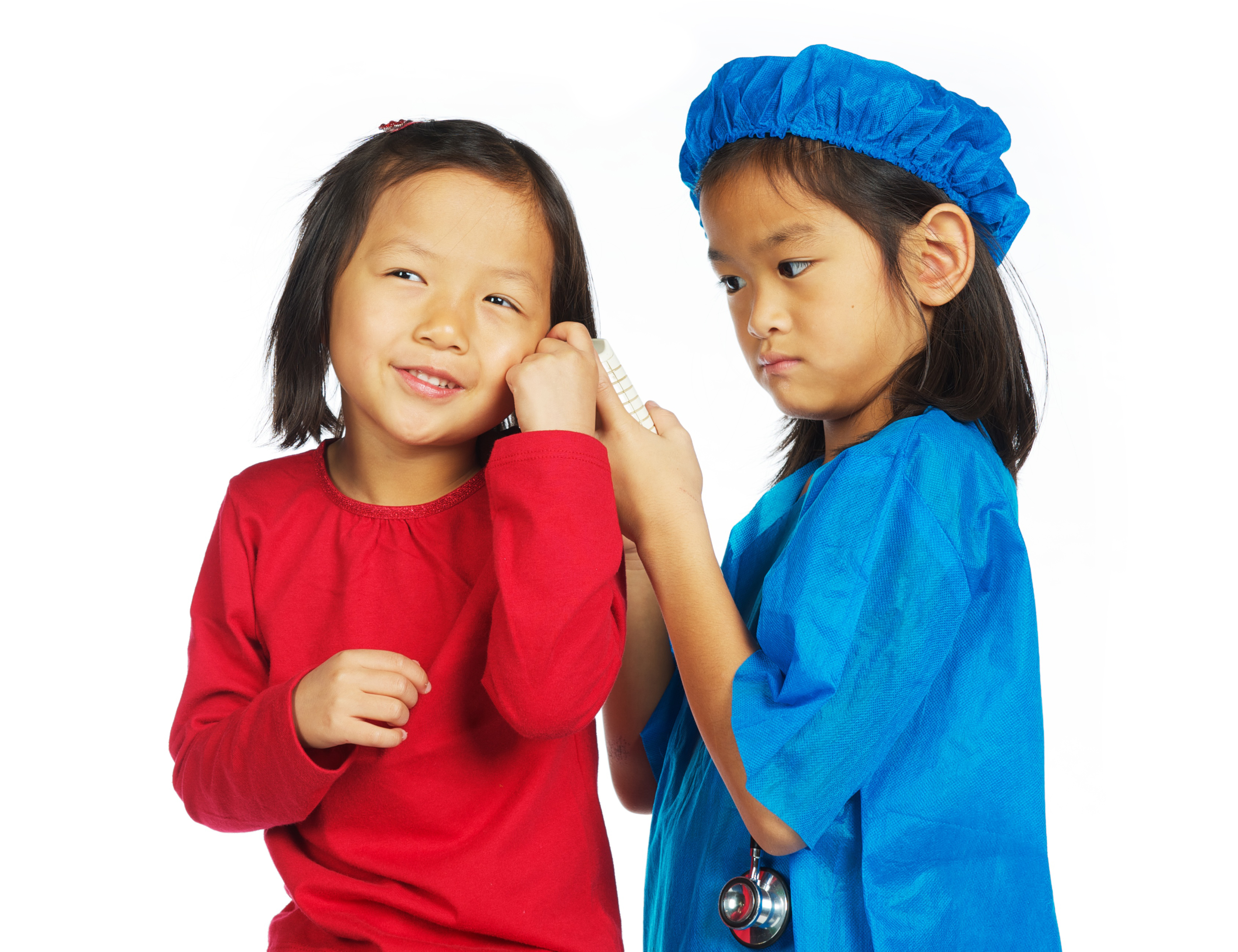 For many children with severe to profound hearing impairment, a cochlear implant can improve hearing and access to communication. Whether your child's hearing loss is congenital (meaning it was present at birth) or acquired, early implantation is key to minimizing delays in language and speech development. Our team makes every effort to create a plan that matches your family's goals and preferences.
How Do Cochlear Implants Work?
Hearing loss is often caused by problems in the cochlea, snail-shaped tubes inside the inner ears. Unlike a traditional hearing aid, which amplifies sound, a cochlear implant bypasses the portion of the inner ear that is damaged and stimulates the auditory nerve directly with electric pulses. The pulses travel on to the brain, which interprets them as sound.
A cochlear implant has two parts. The internal part is placed during a short, outpatient surgery. The external part is activated a few weeks later and fine-tuned over the following months.
After contracting meningitis as an infant, Anthony ("AJ") was left with profound hearing loss in both ears. AJ's family found hope in the team at Duke Hearing Center for Children and Families, where they learned that cochlear implants could improve his hearing.
Is My Child a Candidate?
We work hard to ensure that children who will benefit from cochlear implantation, in one or both ears, have that opportunity as soon as possible. Children must meet the following FDA eligibility criteria to receive a cochlear implant:
Be 12 months of age or older (earlier implantation is possible under certain conditions) and have severe to profound hearing impairment in both ears
OR
Be 5 years of age or older and have single-sided deafness (meaning profound hearing loss in one ear and normal to mildly impaired hearing in the other) or asymmetrical hearing impairment (meaning profound hearing loss in one ear and mild to moderately severe hearing loss in the other)
AND
Hearing loss is categorized as sensorineural (meaning the cause stems from the inner ear or cochlea)
Have one or both auditory nerves present
Receive little or no benefit from hearing aids
Be healthy enough to have surgery
Duke Health offers locations throughout the Triangle. Find one near you.
Best Children's Hospital in NC
Duke Children's Hospital & Health Center is proud to be nationally ranked in nine pediatric specialties.
Why Choose Duke
Expert Team Approach
Our comprehensive hearing team brings together pediatric specialists who work together to meet your child's unique needs. All team members -- including specialists in neurotology, ENT surgery, audiology, speech-language pathology, psychology, and social work -- have extensive experience in helping children to hear and communicate better.
Family Support
Our clinical social workers provide information on financial and other support services available to your child and family. Our child life specialists help children understand, at a developmentally appropriate level, what will happen on the day of surgery. Finally, our patient navigator will personally guide you through evaluation, surgery, follow-up care, and therapy. These support services remove some of the administrative tasks from your list so you can focus on your child's care.
Coordination with Local Specialists
No matter where you live, our team will work closely with speech-language pathologists and audiologists in your own community to make follow-up care as convenient as possible.
Experts and Pioneers in Cochlear Implant Surgery
Our surgeons are neurotologists -- meaning they are board-certified in neurotology, the study and treatment of neurological ear disorders. Duke neurotologists performed some of the first cochlear implant surgeries in the United States; our research has advanced -- and continues to advance -- care and outcomes.
Reviewed: 01/05/2022