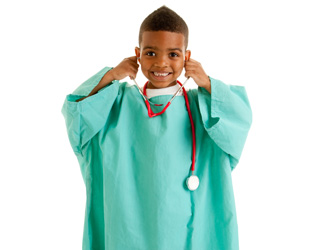 Children who need surgery for conditions that affect their brain, face, neck, or spine receive unparalleled care from Duke Children's experienced pediatric neurosurgeons. We use the latest technology and approaches, including minimally invasive techniques, to treat pediatric brain and spinal tumors, cysts, and trauma, as well as epilepsy, spasticity, and abnormalities such as Chiari malformations. We are committed to ensuring your child has the best possible outcome.
Find a Pediatric Neurosurgery Doctor
Duke Health offers locations throughout the Triangle. Find one near you.
Why Choose Duke
Referral Hospital
Pediatric specialists across the Southeast and beyond refer their young patients to our pediatric neurosurgeons because they are confident in our experience treating complex, serious conditions.
Nationally Recognized Surgical Care
Duke Children's is one of a limited number of hospitals in the U.S. (and the only one in North Carolina) verified as a Level I Children's Surgery Center by the American College of Surgeons. This Level I designation recognizes our commitment to providing the safest and highest-quality surgical care to our young patients.
Latest Innovations
Our pediatric neurosurgeons use the latest image-guided and presurgical mapping technologies to ensure your child undergoes the safest, most effective surgery. We also use the least invasive endoscopic procedures, when appropriate, which allow for smaller incisions and result in less scarring. These advances minimize your child's pain and help speed recovery.
Ongoing Research
As a Duke patient, your child benefits from ongoing research conducted throughout our health system and university. Your child may be eligible to participate in ongoing clinical trials or could benefit from other advances being made by our nationally recognized experts. In addition, we partner with other leading children's hospitals and share research to offer you and your child access to the latest technologies and clinical trials.
We are Part of Your Child's Team
We work closely with other pediatric specialists treating your child. This means a pediatric neurosurgeon is already familiar with your child's case when a surgery referral is recommended.
You Can Reach Us 24/7
Our pediatric neurosurgeons are accessible day and night when urgent needs arise.
We Offer Convenient, Accessible Care
We understand that repeated clinic visits can put strain on your family. That's why we try to reduce the burden by having several specialists come together to see your child at the same location and then make sure that everyone agrees on next steps. We may even travel to your primary care location – in Raleigh, for example -- to consult with your care team.
Family-Friendly Services
We provide a wealth of services to support you and your entire family before, during, and after surgery. We are here to answer your questions and make your time at Duke Children's Hospital as easy and as comfortable as possible.
Ronald McDonald House Family Room
While your child is in the hospital, you can take advantage of the Ronald McDonald House Family Room. You can grab a light meal, shower, do laundry, or use a computer with internet access.
Child Life Specialists
Our child life specialists provide support, education, and guidance to help you and your child during treatment and hospitalization. They aim to make your child's health care experience a positive one -- whether it's explaining a procedure, offering encouragement, or using fun activities to take your child's mind off treatment.
Care Coordinators and Social Workers
We help you navigate our system. Our care coordinators and social workers help you manage the health services your child needs. That includes scheduling appointments, working with insurance providers, connecting you with resources, and handling details related to your child's care.
Best Children's Hospital in NC
Duke Children's Hospital & Health Center is proud to be nationally ranked in nine pediatric specialties.
Reviewed: 04/23/2020