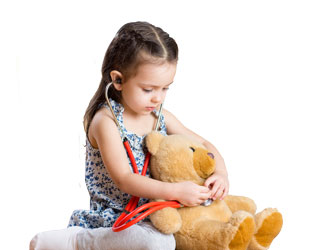 Medical and treatment advances have made it possible for most children with epilepsy to live controlled, seizure-free lives. However, seizures may be more difficult to control in about 30% of people with epilepsy. Doctors refer to this condition as refractory epilepsy.
As a Level 4 Epilepsy Center, we are recognized by the National Association of Epilepsy Centers for providing the highest level of diagnosis, treatment, and surgical options. Our pediatric epileptologists treat children with all types of epilepsy and seizure disorders. We also understand that epilepsy can be one of several neurological issues affecting your child. That's why we work with a team of specialists to address all aspects of your child's health while focusing on improving their overall quality of life.
Find an Epilepsy in Children Doctor
Duke Health offers locations throughout the Triangle. Find one near you.
Why Choose Duke
We Partner With You and Your Child
Our pediatric epilepsy specialists manage all types of epilepsy in children and adolescents. This involves addressing the need for medication, acute treatment for seizures at home, chronic therapy, medication side effects, psychological problems, migraines and learning difficulties that may accompany epilepsy.
We Offer a Variety of Treatment Options
Managing epilepsy requires a sensitive, compassionate, and knowledgeable approach. In addition to traditional anti-epileptic medications, we offer alternative therapies such as keto genetic diet, immunotherapy, and targeted precision therapy targeted to the underlying cause of your child's epilepsy.
We Take a Comprehensive Approach
Many specialists contribute to your child's evaluation and care plan. All team members -- including specialists in neurology, cardiology, child behavioral health, medical genetics, neurodevelopment, neuropsychology, occupational therapy, physical therapy, psychiatry, sleep medicine, and speech therapy -- have extensive experience and specialize in caring for children with seizure disorders.
We are Experienced with Rare and Common Conditions
Duke is uniquely positioned to diagnose and manage rare conditions, like hypothalamic hamartoma, nodular heterotopias, Rasmussen encephalitis, KCNMA1-linked channelopathy, alternating hemiplegia of childhood, and others. We also treat rare conditions caused by different genetic mutations, such as febrile induced paroxysmal weakness and encephalopathy (FIPWE), epileptic encephalopathy, relapsing encephalopathy with cerebellar ataxia (RECA), and CAPOS syndrome.
We Conduct Breakthrough Research
Duke Doctors are actively performing research to better understand diseases that cause seizures and are related to epilepsy. In addition, Duke doctors and researchers discovered the ATP1A3 gene mutation that is now known to be a leading cause of alternating hemiplegia of childhood. This 2012 breakthrough paved the way for additional research that may one day lead to effective new treatments and possibly a cure.
Your Child may Have Access to Clinical Trials
Your child may be eligible to participate in our ongoing clinical trials of emerging anti-epileptic medications. Our involvement in research helps us test promising new treatments before they are widely available elsewhere.
We Work With Your Doctor
Families travel to Duke from across the country and around the world. We work closely with your local doctor, so your child receives the most comprehensive care possible no matter where you live.
Your Child Receives Lifelong Care
Access to care at Duke doesn't end when your child reaches adulthood. We continue to see people of all ages who are affected by epilepsy and other seizure disorders.
You Benefit from Our Support Services
We understand families may be traveling to Duke from far away, and clinical evaluations can take several days. We can arrange local lodging and coordinate transportation to and from appointments
Level 4 Epilepsy Center - Peds
As a Level 4 Epilepsy Center, Duke Health provides the highest level of diagnosis, medical and surgical treatments for children with epilepsy. It is one of the reasons why Duke Children's is nationally ranked in pediatric neurology and pediatric neurosurgery by U.S. News & World Report for 2020-2021.
Reviewed: 02/20/2020