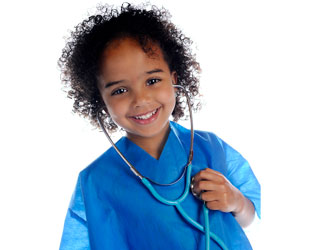 Fixing tiny hearts requires a level of skill, precision, and expertise that can only be found in high-quality pediatric heart programs like Duke's. Our pediatric cardiologists, pediatric heart surgeons, and other specially trained providers have dedicated their lives to caring for children with heart disease. We provide your child with the best medical and surgical care available and give your family the psychological and emotional support you need. As your child grows, we help manage and transfer his or her care so your child can enjoy a productive adult life.
Duke Health offers locations throughout the region. Find one near you.
Conditions and Services
Duke's experts treat the full spectrum of pediatric heart conditions. Find out more about about the high-quality care we provide and specifics about how we treat certain conditions, including but not limited to:
Our Doctors
Meet our doctors, view their profiles, and select the one that's right for you.
Find a Pediatric Cardiologist or Surgeon
The Full Spectrum of Pediatric Heart Care
Our team of pediatric heart experts provides care for children of all ages -- from before birth and through infancy, childhood, and adolescence. We treat heart problems that children are born with (called congenital heart defects) and those that develop later (called acquired heart disease).
Fetal Cardiology and Maternal-Fetal Medicine
If your child is diagnosed with a heart defect before birth, our fetal cardiology and maternal-fetal experts work with you to plan for your baby's delivery and begin providing appropriate care as soon as your child is born.
Evaluation for Potential Heart Problems
If your child has concerning symptoms like chest pain or fainting, or findings such as a heart murmur, high blood pressure, or elevated cholesterol, we conduct thorough examinations and testing to determine whether your child has a heart problem.
Care for a Wide Range of Heart Conditions
Our skilled pediatric cardiologists deliver expert care for complex heart conditions such as structural abnormalities, arrhythmias, and cardiomyopathy. For genetic diseases or conditions that can put your child at risk of aneurysm, such as Marfan syndrome, or sudden cardiac death, we provide ongoing monitoring and management of your child's heart health.
Advanced Devices and Procedures
If your child needs a cardiac catheterization procedure, such as placing a device to close a hole inside the heart or inserting a new heart valve, our pediatric interventional cardiologists offer the most advanced, cutting-edge technology and procedures that can benefit your child. Our pediatric electrophysiologists implant pacemakers and defibrillators and perform catheter ablation to manage arrhythmia or other heart rhythm disorders in your child.
Latest Surgical Techniques
Our skilled pediatric cardiac surgeons and their teams perform -- and in some cases have pioneered -- a range of delicate and demanding heart surgeries, from structural defect repair to heart transplants. For the most complex congenital and pediatric heart surgeries, Duke's mortality rates are lower than the average rate of 116 North American institutions participating in the Society of Thoracic Surgeon's public reporting National Database.
Coordinated Care
If your child needs care from experts outside of pediatric cardiology, we collaborate with Duke pediatric specialists in neurology, gastroenterology, genetics, physical and occupational therapy, behavioral health, and other areas so your child achieves and maintains the highest quality of life possible.

Family-Centered Care
Support Services
We understand your entire family is affected when you have a sick child. Our family-centered care includes support groups, wellness programs, and education for siblings to help them understand what is happening to their brother or sister. If your child needs to stay in the hospital, our Ronald McDonald House Family Room offers amenities to make your family's stay as comfortable as possible, including showers, computers with internet access, and laundry facilities.
Child Life
Our Child Life program helps your young child cope with hospitalization through play, procedure preparation, and self-expression activities. In our activity room, your child can meet other children going through similar experiences.
Convenient Locations
We try to make it as convenient as possible for your child to receive the care he or she needs. If you're having a hard time getting to your child's appointments, talk to one of our nurse coordinators about ways we may be able to bring our services closer to you and your family.
Why Choose Duke
Center-Based Approach to Care
The Duke Pediatric and Congenital Heart Center operates as a single coordinated unit, with all the necessary specialties working together toward one goal -- helping your child get better. This center-based approach to care has been shown to improve outcomes and the quality of care for our patients with congenital heart disease.
Extensive Experience
Our team's extensive experience allows us to treat the most complicated cases. We use a wide selection of medical and surgical treatments, as well as minimally invasive options that may reduce the risk of complications, speed recovery, and minimize blood loss. If your child isn't a candidate for treatment at another hospital, he or she may be able to receive care at Duke University Hospital.

Advanced Care for Critical Needs
Our pediatric cardiac intensive care unit (PCICU) and pediatric progressive care unit are equipped with advanced technology to meet your child's needs. A dedicated team of highly trained critical care specialists, nurses, respiratory therapists, and others staffs these units around the clock.

Recognized for Excellence
Duke Children's is ranked as the best children's hospital for pediatric cardiology and heart surgery in North Carolina. Ours is one of the few hospitals in the U.S. verified as a Level I Children's Surgery Center by the American College of Surgeons. This Level I designation recognizes our commitment to providing the safest and highest-quality surgical care to our young patients. Our pediatric congenital heart surgery program has also been designated by Aetna as an Institute of Excellence, the only one in North Carolina, which recognizes Duke's quality standards and cost efficiency.

Access to Clinical Trials
Your child may also be able to participate in our clinical trials, which are studying new therapies for children with heart disease and related illnesses.
Best Children's Hospital in NC
Duke Children's Hospital & Health Center is proud to be nationally ranked in nine pediatric specialties.
Reviewed: 08/12/2020