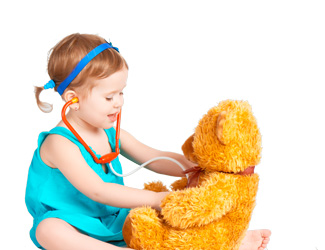 Your child's heart is not like an adult's. It's not like any other child's heart. At Duke Children's, we understand that. Our pediatric heart surgeons perform a broad range of children's heart surgeries and provide the unique care your child needs. They also are part of a highly skilled, compassionate team that's dedicated to delivering the best care to achieve the best outcomes for children of all ages -- from the smallest, most fragile newborns to teenagers.
Our Doctors
See the pediatric heart surgeons at Duke Children's and view their profiles.
Find a Pediatric Heart Surgeon
Experts in Children's Heart Surgery
Duke pediatric cardiac surgeons are experienced in the full range of pediatric heart surgeries. They perform -- and in some cases have pioneered -- the latest techniques.
When possible, our surgeons perform procedures through small, minimally invasive incisions, to reduce the risk of infection and bleeding, and to help your child recover faster.
Some of the most common procedures Duke pediatric heart surgeons perform include:
Duke Children's Hospital and Health Center provides expert care in a child- and family-friendly environment
Why Choose Duke
When you choose Duke Children's for your child's heart surgery, we'll be with you every step of the way -- before, during, and after the procedure.
Recognized for Excellence
Duke is the number one program in North Carolina for pediatric heart care and heart surgery, as ranked by U.S. News and World Report. We are one of the few hospitals in the U.S. verified as a Level I Children's Surgery Center by the American College of Surgeons. This Level I designation recognizes our commitment to providing the highest-quality surgical care to our young patients. To achieve Level I certification, centers must offer multiple medical and surgical specialties, with procedures for major congenital anomalies and complex diseases, including those that are uncommon or require significant coordination among multiple specialties.
Dedicated Pediatric Cardiac Intensive Care Unit
After surgery, your child will receive 'round-the-clock care in our pediatric cardiac intensive care unit (PCICU), one of only two in the state. The PCICU is equipped with advanced technology and staffed 24/7 by a team of highly trained critical-care specialists, nurses, respiratory therapists, and other experts in caring for critically ill children.
Family-Friendly Services
Before your child's surgery, you'll have a chance to talk to the surgical team and get answers to your questions at a pre-op appointment or surgical consultation. We'll explain what will happen on the day of surgery and where. Knowing where to go and what to expect can mean fewer worries on an already stressful day. When your child is ready to leave Duke Children's, we'll make sure you have the information and support you need to help your child continue to heal at home.
Best Children's Hospital in NC
Duke Children's Hospital & Health Center is proud to be nationally ranked in nine pediatric specialties.
Reviewed: 08/12/2020