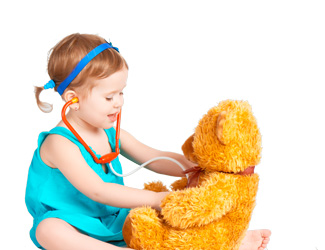 Your child's heart is not like an adult's. It's not like any other child's heart. At Duke Children's, we understand that. Our pediatric heart surgeons perform a broad range of children's heart surgeries and provide the unique care your child needs. They also are part of a highly skilled, compassionate team that's dedicated to delivering the best care to achieve the best outcomes for children of all ages -- from the smallest, most fragile newborns to teenagers.
Our Doctors
See the pediatric heart surgeons at Duke Children's and view their profiles.
Refine Results
Experienced in Major Children's Heart Surgeries
Duke pediatric cardiac surgeons are experienced in the full range of pediatric heart surgeries. They perform -- and in some cases have pioneered -- the latest techniques. For example, a Duke pediatric cardiac surgeon developed a way to perform the Norwood operation (for hypoplastic left heart syndrome) on a continuously beating heart, sparing the child the need for cardiac arrest during surgery.
When possible, our surgeons perform procedures through small, minimally invasive incisions, to reduce the risk of infection and bleeding, and to help your child recover faster.
Procedures Duke pediatric heart surgeons perform include:
Congenital heart defect surgery
Marfan syndrome heart surgery
Pacemaker placement
Pulmonary valve replacements
Ventricular assist device (VAD) placement
Pediatric heart surgery is performed at Duke University Hospital. Pre- and post-surgical appointments take place at other clinics in the region.
Why Choose Duke
When you choose Duke Children's for your child's heart surgery, we'll be with you every step of the way -- before, during, and after the procedure.
Level I Children's Surgery Center
We are one of the few hospitals in the U.S. verified as a Level I children's surgery center by the American College of Surgeons. This Level I designation recognizes our commitment to providing the highest-quality surgical care to our young patients. To achieve Level I certification, centers must offer multiple medical and surgical specialties, with procedures for major congenital anomalies and complex diseases, including those that are uncommon or require significant coordination among multiple specialties.
A Comprehensive Care Team
Your child's team will include cardiologists, heart surgeons, anesthesiologists, and physician assistants -- all of whom have advanced training and expertise in caring for children's hearts. They are supported during surgery by skilled perfusionists, who operate and monitor the cardiopulmonary bypass (heart-lung) machine. To help your child recover, grow, and meet developmental milestones, their care team will also include nutritionists and speech therapists to help with feeding, as well as physical therapists and occupational therapists.
Fetal Cardiology Experts
If your child is diagnosed with a congenital heart defect while still in the womb, you will be referred to our fetal cardiology team, which provides specialized care for high-risk pregnancies. If your child will need surgery shortly after birth, you'll have an opportunity to meet with the pediatric heart surgery team before delivery, to learn about and plan for your baby's care.
Family-Friendly Services
Before your child's surgery, you'll have a chance to meet with the surgical team and get answers to your questions at a pre-op appointment. We'll also arrange a tour of the hospital and explain what will happen on the day of surgery. Knowing where to go and what to expect can mean fewer worries on an already stressful day. When your child is ready to leave Duke Children's, we'll make sure you have the information and support you need to help your child continue to heal at home.
Dedicated Pediatric Cardiac ICU
After surgery, your child will receive 'round-the-clock care in our pediatric cardiac intensive care unit (PCICU), which is equipped with advanced technology and staffed by a team of highly trained critical-care specialists, nurses, respiratory therapists, and other experts in caring for critically ill children.
Best Children's Hospital in NC
Duke Children's Hospital & Health Center is proud to be nationally ranked in nine pediatric specialties.
Reviewed: 06/19/2018