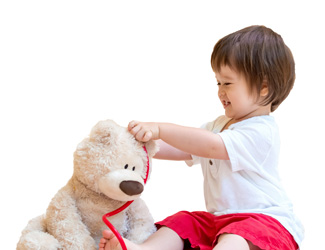 It can be frightening to learn that your child's heart didn't develop correctly or doesn't function properly. At Duke Children's, we provide first-rate heart care for infants, children, and adolescents with congenital heart defects in an environment that supports your whole family. Our goal is to help your child thrive.
Our Doctors
See which Duke Children's doctors treat pediatric congenital heart disease and view their profiles.
Find a Pediatric Cardiologist or Surgeon
About Congenital Heart Defects
Congenital heart defects are structural heart problems that are present at birth. Whether your child's heart problem was detected in the womb or after birth, you'll find the care your child needs at Duke Children's. We treat a wide range of conditions, including single ventricle defects, heart valve defects, issues with the septum (the wall that divides the left and right sides of the heart), blood vessel defects, and complex heart wounds. Conditions that we treat include but are not limited to:
Aortic valve stenosis
Coarctation of the aorta
Complete atrioventricular canal defect
Ebstein anomaly
Pulmonary atresia with intact septum
Pulmonary valve stenosis
Total anomalous pulmonary venous connection
Transposition of the great vessels
Tricuspid atresia
Truncus arteriosus
Vascular ring
Duke Health offers locations throughout the region. Find one near you.
How We Treat Congenital Heart Defects
Care Before and After Birth
We begin care even before your child is born. Our team of experts includes perinatologists who specialize in caring for unborn babies and high-risk pregnancies, as well as fetal cardiologists who are experts in diagnosing heart defects before birth. Together, we will plan for your baby's delivery and create a care strategy for after your child is born.
Advanced Imaging and Screening
Imaging options available before birth include targeted fetal ultrasound, fetal echocardiography (ultrasound that studies your baby's heart and blood flow), and MRI. After birth, we offer the full spectrum of imaging, including noninvasive techniques such as cardiac MRI, cardiac CT angiography, and vascular ultrasound that can be performed with little or no sedation. Our 3D cardiac imaging technology allows us to view the structure and function of your child's heart from all angles, enabling us to determine the most effective treatment.
Heart Procedures and Surgery
Our pediatric heart surgeons and interventional cardiologists perform a broad range of children's heart procedures and surgeries to provide the unique care your child needs.
Cardiac Catheterization
An interventional cardiologist inserts a small, flexible tube called a catheter into a blood vessel and guides it toward your child's heart. Then the doctor can use small tools that are passed through the catheter to help diagnose or repair congenital heart defects. Some catheterization procedures use dye injected into the coronary arteries to create images. Heart catheterizations are performed in a sterile procedure room, similar to an operating room, called a cardiac catheterization lab. We have two dedicated pediatric cardiac catheterization and electrophysiology labs. They include the latest 3D anatomy mapping systems, which allow the greatest precision and least amount of radiation exposure for procedures on the smallest, most delicate hearts.
Electrophysiology
Our pediatric heart rhythm specialists (also called electrophysiologists) can offer pacemakers and defibrillators. They also perform catheter ablation -- a minimally invasive procedure that uses energy to destroy tiny areas of the heart muscle that produce an abnormal heart rhythm.
Pediatric Heart Transplant
If your child is a candidate for a heart transplant, our experienced team use advanced medical and surgical strategies to achieve the best possible outcome. Our doctors are also among the nation's leaders in implanting ventricular assist devices (VADs), which serve as a bridge to transplant.
Related Services
Genetic Testing and Counseling
If your child's heart problem is inherited, our pediatric genetic heart disease specialists can can confirm the diagnosis, help you understand the condition, test other members of the family, and provide guidance for managing your family's risks.
Neurodevelopmental Support
Children who have congenital heart defects or heart surgery may experience learning and developmental delays. Our Pediatric Cardiac Neurodevelopmental Clinic has a specialized group of pediatricians, therapists, neuropsychologists, dietitians, social workers, and nurses who nurture children's developmental needs and provide support to help them reach developmental milestones.
Why Choose Duke
Specialized Intensive Care
Babies with congenital defects are transferred quickly to one of our specialized intensive care units and cared for by neonatologists and other pediatric specialists. Our Pediatric Cardiac Intensive Care Unit (PCICU) is one of only two in the state. The unit is staffed by physicians with specific training in critical and heart care. Our Neonatal Intensive Care Unit (NICU) is designated as a Level IV, indicating we provide the highest level of care for critically ill infants. Once babies have stabilized from their more acute conditions, they move to the nearby transitional care nurseries. There, they continue to grow and develop skills -- such as feeding -- that are needed before they can safely go home.
Neonatal Bonding Program
Duke is one of only a few places in the country with a cardiac neonatal bonding program. Even if your baby has a heart problem, there is a very good chance that your baby can still spend time with you after delivery, before being transferred to the intensive care unit. Studies performed at Duke have shown that this is safe for most babies, and we will try our best to ensure you have this important time together. Most of the time, we can tell before birth whether this will be possible and will discuss it during your prenatal visits.
Recognized for Excellence
Duke Children's is ranked as the best children's hospital for pediatric cardiology and heart surgery in North Carolina. Ours is one of the few hospitals in the U.S. verified as a Level I Children's Surgery Center by the American College of Surgeons. This Level I designation recognizes our commitment to providing the safest and highest-quality surgical care to our young patients. Our pediatric congenital heart surgery program has also been designated by Aetna as an Institute of Excellence, the only one in North Carolina, which recognizes Duke's quality standards and cost efficiency.
Family Participation
We go above and beyond to incorporate as many of your preferences as possible. Parents are treated as part of your child's care team. Our lactation consultants support new mothers to provide their own milk for their babies while hospitalized; and we can offer donor human milk from an HMBANA-certified milk bank when a mother's milk is not available. We also encourage kangaroo care -- this skin-to-skin contact has proven benefits, including stabilizing your baby's heart rate and helping to regulate body temperature.
Quality of Life
Our Neonatal Quality of Life Program is for newborns and infants with life-threatening, and potentially life-limiting, conditions. A team of doctors, nurse practitioners, spiritual counselors, and social workers specialize in maximizing comfort and providing pain and symptom relief. They also offer emotional, psychosocial, and spiritual support for your family. As your child grows, our Child Life program helps him or her cope with hospitalization through play, procedure preparation, and self-expression activities. In our activity room, your child can meet other children going through similar experiences.
Transition to Adult Care
As children approaches adulthood, we'll help them make the move from pediatric to adult congenital heart disease care. They can see doctors who will continue to treat them in adulthood and can learn about managing their health care needs on their own.
Best Children's Hospital in NC
Duke Children's Hospital & Health Center is proud to be nationally ranked in nine pediatric specialties.
Reviewed: 08/12/2020