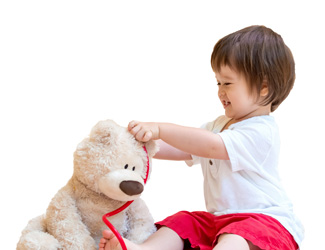 Learning that your child's heart didn't develop correctly or doesn't function properly can be frightening. At Duke Children's we provide the best possible care for your child, in an environment that supports your whole family. This includes care for congenital heart defects in infants, children, and adolescents. When the time comes, we can also help your child transition to our adult congenital heart disease care.
Our Doctors
See which Duke Children's doctors treat pediatric congenital heart disease and view their profiles.
Refine Results
Understanding Congenital Heart Defects
About Congenital Heart Defects in Children
A congenital heart defect is a structural heart problem that's present at birth. Whether your child's heart problem was detected in the womb or after birth, you'll find the care your child needs at Duke Children's.
We treat all major congenital heart conditions, including:
Valvular defects, such as aortic valve stenosis and pulmonary valve stenosis
Septal defects, such as atrial septal defect, ventricular septal defect, and complete atrioventricular canal defect
Vascular defects, such as coarctation of the aorta, patent ductus arteriosus, and vascular ring
Complex heart lesions, including Ebstein anomaly, truncus arteriosus, transposition of the great vessels, and total anomalous pulmonary venous connection
Single ventricle lesions, such as hypoplastic left heart syndrome, tricuspid atresia, pulmonary atresia with intact septum, and other single ventricle anomalies
Duke Health offers locations throughout the Triangle. Find one near you.
Medical Services
Fetal Cardiology
If your child is diagnosed with a heart defect before birth, we will work with our perinatologists -- doctors who specialize in high-risk pregnancy care. Together, we will plan for your baby's delivery and begin providing appropriate care as soon as your child is born.
MRI, CT, Ultrasound, Angiography
We offer the full spectrum of cardiac imaging, including noninvasive techniques such as cardiac MRI, cardiac CT angiography, and vascular ultrasound that can be performed with little or no sedation. Our 3-D cardiac imaging technology allows us to view the structure and function of your child's heart from all angles, enabling us to determine the most effective treatment.
Cardiac Catheterization
Your child may need cardiac catheterization, which can help doctors diagnose and, in some cases, repair congenital heart defects. Our two, dedicated pediatric cardiac catheterization and electrophysiology labs have the latest 3-D mapping systems, allowing the greatest precision and least amount of X-ray dose for procedures on the smallest, most delicate hearts.
Electrophysiology
If your child needs a device or procedure -- such as such as a pacemaker, defibrillator, or catheter ablation -- to manage a heart rhythm disorder, our pediatric heart rhythm specialists can offer the technology or technique most likely to benefit your child.
Pediatric Heart Surgery
Our pediatric cardiac surgeons have expertise in the most advanced techniques for repairing children's hearts -- from the tiniest newborns through young adults.
Pediatric Heart Transplant
If your child is a candidate for a heart transplant, our experienced team use advanced medical and surgical strategies to achieve the best possible outcome. Our doctors are also among the nation's leaders in implanting ventricular assist devices (VADs), which serve as a bridge to transplant.
Pediatric Cardiac Intensive Care Unit (PCICU)
This intensive care unit is dedicated solely to infants and children whose heart conditions call for the highest levels of around-the-clock cardiac care. It is staffed by doctors and other health care professionals with training and expertise in neonatal and pediatric critical care.
Genetic Testing and Counseling
If your child's heart problem is inherited, our pediatric genetic heart disease specialists can help you understand the condition, test other members of the family, and provide guidance for managing your family's risks.
Neurodevelopmental Support
Children who have congenital heart defects or heart surgery may experience delays in neurodevelopment. Our Pediatric Cardiac Neurodevelopmental Clinic has a specialized group of pediatricians, therapists, neuropsychologists, dietitians, social workers, and nurses who monitor your child's developmental needs and provide support toward meeting their developmental milestones.
Why Choose Duke
Your child will benefit from our expertise and resources in addressing not just their physical health, but also their developmental and emotional needs.
Fetal Cardiology Experts
If a heart abnormality is detected in your baby before birth, you will be referred to our fetal cardiology team, which provides specialized care during pregnancy and delivery in conjunction with our maternal-fetal medicine specialists, to ensure that your baby receives the most effective treatment as early as possible.
A Comprehensive Care Team
Your child's team will include medical professionals with advanced training and experience in treating children's hearts. This includes pediatric cardiologists, heart surgeons, critical care physicians, and cardiac anesthesiologists; neonatologists; and specially trained nurses, nurse practitioners, and physician assistants. Our team also includes pharmacists with expertise in the unique medication needs of young heart patients, and a dedicated pediatric dietitian and social worker.
Support for Your Child's Growth and Development
Our nutrition and feeding experts can address feeding issues (common in children with heart problems), so your child can get the nourishment they need to recover and thrive. We collaborate with physical therapists, occupational therapists, and speech therapists to evaluate and support your child's neurodevelopment -- that is, his or her ability to learn, read, remember, and interact socially. We also have a parent support group (Heart2Heart) for you to interact with other parents and children with similar concerns.
Transition to Adult Care
As your child approaches adulthood, we'll help them make the move from pediatric to adult congenital heart disease care. They can see doctors who will continue to treat them in adulthood and can learn about managing their health care needs on their own.
Advance Surgical Capabilities
Our highly experienced pediatric cardiac surgeons are skilled in -- and in some cases have pioneered -- advanced surgical techniques for repairing children's hearts.
Pediatric Cardiac ICU
Our pediatric cardiovascular intensive care unit (PCICU) has the staff, equipment, and expertise to provide round-the-clock monitoring and care for critically ill children with heart conditions.
Best Children's Hospital in NC
Duke Children's Hospital & Health Center is proud to be nationally ranked in nine pediatric specialties.
Reviewed: 06/19/2018