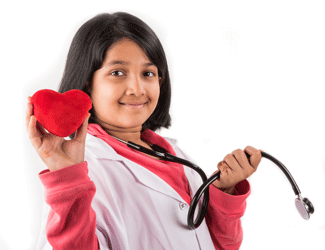 Seeking a heart transplant for your child is one of the most emotionally difficult steps a parent can take. But it also may hold out the best opportunity for your child to grow and thrive and live a healthy life. At Duke Children's, we understand the impact a heart transplant will have on you, your child, and the rest of your family. We've helped many families through the process, and we're here to help yours, too.
Our Doctors
Find Duke Children's pediatric heart surgeons and view their profiles
Refine Results
We're with You Every Step of the Way
Our pediatric heart transplant program is part of our pediatric heart surgery program, which offers a full spectrum of medical and surgical treatments for children with congenital heart defects, cardiomyopathy, and other heart diseases.
Comprehensive Transplant Process
We help you and your family understand your child's medical condition, what to expect from surgery and medical treatment, and how to cope with the realities of having a critically ill child.
Your Child's Team
In addition to your child's cardiologist and heart surgeon, your child's team will include transplant coordinators and advanced-care nurses to help you navigate the entire process. Your transplant coordinator will address your concerns about your child's care -- from questions about the surgical procedure to financial matters to dietary requirements.
Emotional and Physical Support
We'll also make sure you and your family understand your child's emotional and physical needs before and after transplant.
Duke Children's Hospital and Health Center provides expert care in a child- and family-friendly environment.
Medical Services
Our experts also provide advanced heart failure and support options before, during, and after surgery.
Advanced Medical Therapies for Heart Failure
We provide the latest medical therapies for heart failure. Your child may also be able to participate in our clinical trials of new drug therapies for heart failure.
Extracorporeal Membrane Oxygenation (ECMO)
Extracorporeal membrane oxygenation is a system that pumps and oxygenates your child's blood from outside his or her body -- similar to the heart-lung bypass machines used during heart surgery. It can be used to allow your child's heart and lungs to rest, either before or after transplant.
Ventricular Assist Devices (VADs)
A ventricular assist device (VAD) is a mechanical pump a surgeon implants inside or outside your child's chest and connects to the heart during open-heart surgery. It can be used for children who are waiting for a heart transplant or whose heart muscle needs to rest. A left ventricular assist device (LVAD) helps the heart pump oxygen-rich blood to the rest of the body. A right ventricular assist device (RVAD) helps pump oxygen-poor blood to the lungs. Some children need a device that does both. Our doctors are skilled in implanting all types of ventricular assist devices.
ABO-Incompatible Transplants
When appropriate, we can perform ABO-incompatible transplants -- an approach that allows your child to receive a donor heart that doesn't match their blood type. This can mean a shorter wait time.
Why Choose Duke
When you choose Duke for your child's heart transplant, our highly skilled team will provide care for them before, during, and after the procedure, using advanced medical and surgical strategies to achieve the best possible outcome.
Level I Children's Surgery Center
We are one of the few hospitals in the U.S. verified as a Level I children's surgery center by the American College of Surgeons. This Level I designation recognizes our commitment to providing the highest-quality surgical care to our young patients. To achieve Level I certification, centers must offer multiple medical and surgical specialties, with procedures for major congenital anomalies and complex diseases, including those that are uncommon or require significant coordination among multiple specialties.
Dedicated Pediatric Cardiac Intensive Care Unit
Our pediatric cardiac intensive care unit (PCICU) is dedicated solely to infants and children whose heart conditions call for the highest levels of 'round-the-clock cardiac care. It is equipped with the latest technology and staffed by a team of highly trained cardiac critical-care specialists, nurses, respiratory therapists, and other experts in caring for critically ill infants and children.
Leaders in Transplantation Research
Our doctors are leaders in transplantation research, which gives you access to new therapies and best practices in heart transplantation through our programs and clinical trials.
We Accept Patients with Complex Conditions
We perform transplants on children with complex medical conditions, including those who need multi-organ transplants. We often accept patients that other transplant centers won't. As one of the few centers in the region with mobile ECMO (extracorporeal membrane oxygenation) capability, we are able to transport the most critically ill children to our center.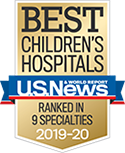 Best Children's Hospital in NC
Duke Children's Hospital & Health Center is proud to be nationally ranked in nine pediatric specialties.
Reviewed: 06/19/2018