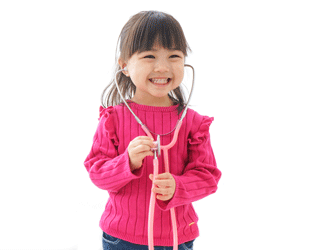 When a child's immune system attacks healthy cells, problems such as pain, inflammation, and rashes can affect an organ or the entire body. Autoimmune and inflammatory conditions, including juvenile rheumatoid arthritis and pediatric lupus, can be hard to diagnose and treat. Children with autoimmune diseases are at risk for complications such as muscle weakness, eye inflammation, and kidney disease. Duke's pediatric rheumatologists care for the full range of autoimmune disorders, including rare diseases with which many doctors are not familiar. We team with other Duke pediatric specialists to ensure your child receives the medical and supportive care they need to cope with their condition and work toward remission.
Duke Health offers locations throughout the Triangle. Find one near you.
Find a Pediatric Rheumatologist
Comprehensive Pediatric Rheumatology Care
Rheumatic diseases affect children differently than they do adults. Symptoms may be more severe and complications more serious. That's why it's important to seek care from pediatric rheumatologists who understand how these disorders affect a child's development. Duke specialists use their wealth of training, experience, and knowledge to address all your child's needs, including their physical health and emotional well-being.
Largest Pediatric Rheumatology Program in NC
Our team approach means several doctors may contribute their unique expertise to your child's care.
Access to Clinical Trials
Your child may be eligible to participate in clinical trials that test new therapies. Our doctors also help to create national standardized treatment guidelines for pediatric rheumatic conditions, which makes the best possible care more widely available.
Disease-Specific Clinics
If your child has lupus with kidney involvement, dermatomyositis, or autoimmune brain disease, our disease-specific clinics for these conditions mean your child can see multiple specialists in one day instead of having to schedule separate visits.
Transition to Adult Care
When your child is old enough to begin seeing an adult rheumatologist, our transition clinic makes it possible for them to meet with a pediatric specialist and new adult specialist at the same time.
Prompt Answers and Support
Whether you need help refilling your child's medication or have concerns about new symptoms, you'll get prompt answers and support from our full-time clinical nurse specialists.
Family Resources
We understand that childhood illnesses can take a toll on your family's physical and emotional health. It can be challenging to help children understand and cope with their symptoms or the side effects of treatment. In addition, you may have additional worries about your finances or insurance coverage. We offer several resources to help support you and your family, including social workers who help you navigate the health system. We help you work with insurance providers, connect you with resources, and help you manage details related to your child's care.
School-Related Issues
We can help your child deal with school-related issues, such as missing class because of lengthy infusion treatments. Many children need accommodations to keep up with their school work while we try to get their disease under control.
Child Life Specialists
Our child life specialists provide support, education, and guidance to help you and your child during treatment or hospitalization. They can help make the health care experience positive -- whether it's explaining a procedure, offering encouragement, or using fun activities to take your child's mind off treatment.
Best Children's Hospital in NC
Duke Children's Hospital & Health Center is proud to be nationally ranked in nine pediatric specialties.
Reviewed: 05/23/2018