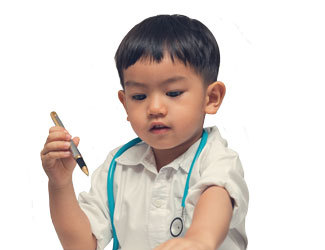 Autoimmune brain diseases, including autoimmune encephalitis and central nervous system (CNS) vasculitis, can cause rapid changes in your child's physical and mental health. Because the symptoms can be so varied, diagnosis can be challenging and is often delayed. Early diagnosis and treatment are critical to minimizing the short- and long-term impacts of these disorders, as many of the symptoms may be reversible. Duke specialists are committed to diagnosing these diseases early and beginning treatment rapidly, to minimize symptoms and maximize your child's recovery.
Find an Autoimmune Brain Diseases Doctor
Understanding Autoimmune Brain Disease
Autoimmune brain diseases occur when the body's immune system attacks healthy cells and tissues in the brain or spinal cord, which results in inflammation. This inflammation may then cause impaired functioning, resulting in neurological or psychiatric symptoms.
Children affected by these disorders can develop many symptoms, including a decline in school performance, seizures, abnormal movements, vision loss, weakness of arms or legs, loss of language, and sleep problems. Psychiatric symptoms may include severe depression and hallucinations, as well as paranoid, obsessive, or erratic behavior.
There are several types of autoimmune brain diseases. Diagnosing which one your child has is often the first step. Autoimmune brain diseases include:
Autoimmune encephalitis
Autoimmune-related epilepsy
Central nervous system (CNS) vasculitis
Hashimoto's encephalopathy (steroid-responsive encephalopathy)
Neuromyelitis optica
Optic neuritis
Neurosarcoidosis
Neuro-Behcet's disease
Cerebral lupus
Duke's pediatric autoimmune brain diseases program is dedicated to the treatment of these rare, complex diseases. Our specialists provide rapid, effective treatment and can help your child manage the full spectrum of symptoms.
Duke Health offers locations throughout the Triangle. Find one near you.
Family and Support Services
We provide family-friendly services to support you and your entire family. We are here to answer your questions and make your time at Duke Children's as comfortable as possible.
Whether it's explaining a procedure or offering encouragement and emotional support, you and your child get care in a warm, welcoming environment. We're here to help you as your child goes through treatment and recovery.
Care Coordination and Support
Our care coordinators and social workers help you navigate the medical system and coordinate the variety of health services your child needs, including appointments for testing, treatment, and other medical care. They can help you work with insurance providers, connect with resources, and manage the details related to your child's care. If you're from out-of-town, they can also connect you with services that assist with travel and lodging.
Best Children's Hospital in NC
Duke Children's Hospital & Health Center is proud to be nationally ranked in nine pediatric specialties.
Why Choose Duke
A Team Approach
Our comprehensive team approach can greatly improve your child's opportunity for recovery. Our team includes doctors, clinical coordinators, skilled nurses, psychologists, and social workers. Our experts are well known in their respective fields and include specialists in pediatric neurology/epilepsy, rheumatology, psychology, psychiatry, allergy and immunology, and neuro-ophthalmology. We communicate regularly with each other about your child's care, treatment, and progress.
Convenient Care
Your child will benefit from seeing multiple specialists involved in her care on the same day. They meet in the same room, at the same time, with you and your child to understand her history and symptoms as well as discuss her evaluation and treatment plan. This approach allows for improved communication among team members, patients, and families. Our care coordinator helps your family schedule visits and diagnostic testing.
Commitment to Child Safety
Children and adolescents with autoimmune brain diseases may experience psychiatric symptoms, some of which can jeopardize their safety. Our child psychiatrist can assess your child's potentially altered behavioral health and prescribe medication, if needed, to keep him or her safe and comfortable.
Nationally Recognized Autoimmune Brain Disease Specialists
Our pediatric rheumatologist and pediatric neurologist are active with national organizations and help develop guidelines for the diagnosis and treatment of autoimmune encephalitis.
Active Research Program
We are constantly conducting research to better understand how autoimmune brain diseases develop, in hopes of identifying better ways to diagnose and treat them.