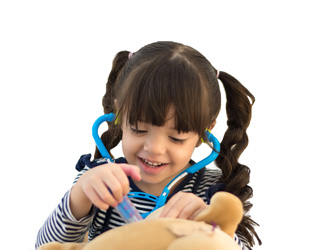 Children with lupus need ongoing care to keep the disease in check and prevent organ damage. Duke pediatric rheumatologists have years of experience managing lupus in children. Our expertise allows us to differentiate the seemingly vague symptoms of lupus from those of other diseases. Our work with specialists throughout Duke helps prevent or minimize the effects that complications of lupus can have on your child's growth and development. Our goal is to put your child's disease into remission.
Find a Pediatric Rheumatologist
Tests for Pediatric Lupus
We use the following tests to distinguish lupus from other medical conditions.
Lab Tests
Blood and urine tests indicate the presence of inflammation in the body and help in assessing lupus disease activity. They can also detect whether something is wrong with a kidney or another organ.
X-Ray, CT, or MRI
These help your doctor rule out tumors, infections, or other problems. They may also show whether lupus has harmed specific organs.
Biopsy
A small sample of organ or tissue may be removed and examined for inflammation or tissue damage.
Best Children's Hospital in NC
Duke Children's Hospital & Health Center is proud to be nationally ranked in nine pediatric specialties.
Why Choose Duke
Your Child's Team
Your child's team works to keep your child's development as healthy as possible. The team may include specialists such as pediatric dermatologists, nephrologists, neurologists, cardiologists, and pulmonologists as well as specialized nurses and social workers.
We Make Specialist Appointments as Convenient as Possible
Often, appointments with nephrology and rheumatology can be scheduled in a single visit.
Monthly Support Groups
We offer monthly support groups for pediatric lupus patients that combine lunch with age-appropriate educational seminars. These allow your child to learn more about their condition, ask questions, and interact with other children who are also learning to live with lupus.
We Understand the Challenges
We offer services to keep your child in school even when they're actively receiving treatment. Our dedicated social worker can coordinate accommodations that help your child keep up with their schoolwork.
Transition to Adult Care
Lupus is a lifelong disease. When your child is ready to begin seeing an adult rheumatologist, we assist in the transition. This ensures there is no interruption in care, which could lead to a disease flare-up.
Reviewed: 05/23/2018