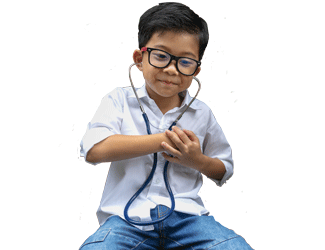 Duke pediatric neurosurgeons identify Chiari malformations, evaluate your child's condition, and recommend a treatment plan to prevent or limit neurological damage. Chiari malformations -- when brain tissue extends into the spinal canal -- may be diagnosed at any age, from infancy (sometimes even before birth) through adulthood. Our pediatric neurosurgeons collaborate with specialists throughout Duke to manage your child's care, especially if your child has another medical condition associated with Chiari malformation.
Find a Chiari Malformation Doctor
About Chiari Malformations
Chiari malformations are structural defects that affect tissue in the brainstem, cerebellar (the area of the brain at the back of the skull), and spinal cord. They can cause symptoms ranging from headaches and muscle weakness to developmental delays and breathing problems. Typically, they occur in the area where the brain and spinal cord meet. In most cases, parts of the brain push down into the spinal canal and cause pressure in the brain and on the spinal cord. This often blocks the flow of cerebrospinal fluid (CSF), which can cause fluid-filled cysts on the spinal cord (called syringes) and hydrocephalus (a buildup of fluid in the brain). There are four types of Chiari malformations. Types I and II are more common, while types III and IV are rare.
Type I is the most common and can go undiagnosed until symptoms develop during childhood, adolescence, or even into adulthood. This type can cause syringomyelia (when syringes form on the spinal cord). This can cause paralysis, weakness, and stiffness in the back and limbs. Scoliosis (spine curvature) is often associated with this type.
Type II typically affects children born with spina bifida, specifically infants with myelomeningoceles -- spinal cord tissue that protrudes through an opening in the spine.
Type III is a rare and very serious form of Chiari malformation. Some parts of the brain may stick out, or herniate, through an abnormal opening in the back of the skull.
Type IV is very rare. In this type, part of the brain is underdeveloped or missing.
Duke Health offers locations throughout the Triangle. Find one near you.
Diagnosing Chiari Malformations
Duke Children's pediatric neurosurgeons combine clinical evaluation with advanced testing to fully understand your child's condition and recommend the right level of care for type I and type II Chiari malformations.
Type I Chiari Malformations
For type I Chiari malformations, we conduct a thorough medical history and physical examination, including a review of family history to look for a possible genetic cause. We also perform a detailed neurological assessment of your child. A sudden headache when coughing, sneezing, or laughing -- anything that causes pressure in the head -- is one of the most common symptoms.
Type II Chiari Malformations
For type II malformations occurring with spina bifida, we collaborate with your child's neurologist and otolaryngologist (an ear, nose, and throat specialist) to check for evidence of brainstem dysfunction.
Imaging Tests
We may recommend imaging tests, such as MRI or CT scans, to confirm the diagnosis. A special type of MRI -- a cine MRI scan or CSF flow study -- will show the flow of cerebrospinal fluid and help determine whether it's building up in the brain or spine.
Best Children's Hospital in NC
Duke Children's Hospital & Health Center is proud to be nationally ranked in nine pediatric specialties.
Why Choose Duke
From diagnosis to treatment, your child will receive care from specialists who are contributing to the national understanding of Chiari malformations with the goal of improving care.
Recognized Children's Surgery Center
Duke Children's is one of a small number of U.S. hospitals verified as a Level I children's surgery center by the American College of Surgeons. This Level I designation recognizes our commitment to providing the safest and highest-quality surgical care to our young patients.
Network of Expert Surgeons
Duke Children's is part of a national group of neurosurgeons and orthopaedic surgeons who share their knowledge and work to improve treatment for Chiari malformation.
Latest Research Studies
We're part of a study funded by the National Institutes of Health that's investigating hereditary factors of type I Chiari malformations. Participating in clinical research contributes to better diagnosis and treatment options.
Regionally Respected
We are known in the Southeast region for our expertise in treating children with Chiari malformations. Families come to Duke Children's for second opinions and after meeting our experienced team, often choose us to care for their children.
Reviewed: 10/15/2020