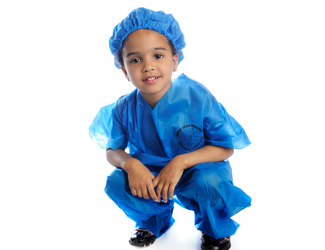 Clubfoot can sometimes be detected on ultrasound during pregnancy and is immediately noticeable at birth. Duke pediatric orthopaedic surgeons repair clubfoot using nonsurgical and surgical methods during the first weeks after birth. Our high success rate treating clubfoot ensures your child's feet are functional and free of pain.
Find a Pediatric Orthopaedic Surgeon
If Your Child Is Born with Clubfoot
Clubfoot refers to a foot that points downward, with the toes turned in and the soles often facing each other. This bone and joint deformity can occur on its own or in conjunction with other pediatric orthopaedic concerns. Typically, it is identified on an ultrasound during pregnancy or immediately after birth.
Referral to a Pediatric Orthopaedic Surgeon
Your child will be referred to a pediatric orthopaedic surgeon, who has undergone special training and is skilled in treating musculoskeletal disorders in children. Our pediatric surgeons work with a team of nurses and specially trained pediatric staff who are up-to-date on the latest developments. Families from across the state come to Duke for their children's care.
Duke Health offers pediatric orthopaedic clinics throughout the Triangle. Find one near you.
Best Children's Hospital in NC
Duke Children's Hospital & Health Center is proud to be nationally ranked in nine pediatric specialties.
Reviewed: 02/11/2021