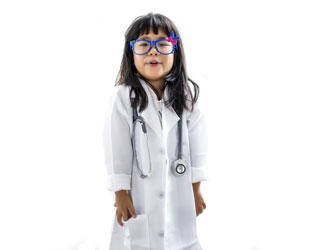 Treating children with cancer isn't the same as treating adults -- it requires specialized care that considers the child's physical and emotional vulnerabilities. At Duke Children's, your child receives leading-edge care from a highly skilled team that uses the latest techniques to diagnose and treat cancer. We understand the toll childhood cancer can take on your child and your family. Our team of experts offers a full spectrum of family-friendly services and support. We are here for you during and after your child's treatment.
Duke Health offers locations throughout the Triangle. Find one near you.
Our Pediatric Cancer Specialists
Meet our doctors, view their profiles, and select the one that's right for you.
Find a Pediatric Cancer Specialist
Why Choose Duke
Working Together to Discover New Treatments
Cancer in children isn't common. No single facility sees enough cases of childhood cancer to make significant treatment advances. That's why pediatric cancer specialists across the country work together to discover new treatments and determine which therapies are most effective. This collaboration has led to better ways to treat cancer; today, nearly 90% of children with cancer survive. Duke Children's is part of that effort as a member of the Children's Oncology Group, a worldwide organization dedicated to childhood and adolescent cancer research.
Your Child Has Access to the Most Promising Treatments
We collaborate with hundreds of organizations through the Children's Oncology Group to develop care and improve treatment for kids with cancer. At Duke Children's, your child has access to the most promising treatments and receives care that's developed by leading cancer care experts. We're not only focused on your child's treatment today; we create a care plan that minimizes any side effects from radiation or chemotherapy that may affect their health in the future.
We Use a Team Approach
Your child's care team includes pediatric specialists in medical oncology, radiation oncology, ocular oncology, orthopaedics, surgery, anesthesia, and pain management, as well as highly skilled nurses who specialize in caring for kids with cancer. The team also includes psychologists, social workers, and dietitians, and we bring in experts from other pediatric specialties as needed. We draw from all of the resources and expertise at Duke Health.
Your Child Receives Personalized Treatment
We use advanced diagnostic testing to identify the type of cancer and whether it's related to a genetic change. This allows us to develop a treatment that's specific to that type of cancer and create a follow-up plan for long-term cancer screening based on your child's genetic makeup. We use a full range of tests to design a treatment that offers your child the best results. Tests may include blood and bone marrow testing, biopsies, and imaging exams such as ultrasound, MRI, and PET.
You'll Be Well-Informed About What to Expect
You'll receive clear information about your child's condition, treatment options, and side effects so you can make informed decisions. We offer a wide range of services to help: emotional support for the entire family, help with coordinating your child's care, and much more. We're here to support you and offer guidance whenever you need us.
Comprehensive Childhood Cancer Treatment
Duke Children's provides a variety of services designed to make your child's experience as positive as possible.
Outpatient Care Over the Weekend, After Hours
If your child doesn't feel well or needs treatment over the weekend or after hours, you can get outpatient services 12 hours a day, seven days a week at Duke Children's Valvano Day Hospital. We offer outpatient services such as chemotherapy, transfusions, and lab tests so your child doesn't have to be admitted to the hospital.
Your Child's Comfort Is Important
Our team focuses on managing your child's symptoms and other aspects of treatment that affect your child's quality of life. We help with pain management, supportive nutrition, relaxation techniques, and more to help your child get through treatment.
Family-Friendly Services
Having a child with cancer is hard for the entire family. We understand the impact cancer can have, and we offer a variety of family-friendly services to help you through it. We help siblings understand what's happening and provide emotional support to everyone in your family. You can depend on knowledgeable, compassionate experts at your side.
We Help You Navigate the Medical System
We help you coordinate the variety of health services your child needs. Our social workers can help you work with insurance providers, connect you with resources, and help you manage the details related to your child's care.
Teen and Young Adult Oncology Program
Teens and young adults are too old to be treated like young kids but too young for adult care. Our Teen and Young Adult Oncology Program brings together the expertise of pediatric and adult cancer specialists to determine what's best for each person, along with psychological support.
Childhood Cancer Survivorship Services
Once your child has finished treatment, we continue to support you through childhood cancer survivorship services. We offer long-term follow-up services for preventive health care, including screenings, ongoing surveillance, and care for symptoms that develop later as a result of treatment. In addition, we can help your child transition to adult cancer care services, if needed, when they're ready.
Best Children's Hospital in NC
Duke Children's Hospital & Health Center is proud to be nationally ranked in nine pediatric specialties.
Reviewed: 05/09/2018