Pediatric Stem Cell Transplant and Cellular Therapy Program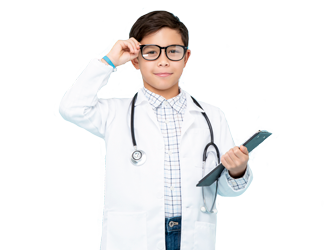 Overview
If your child has a serious blood disease, cancer, or a life-threatening disorder and needs a stem cell transplant -- also called a bone marrow transplant -- or advanced cell therapy such as CAR T-cell therapy, our experts can offer you hope. Duke's pediatric stem cell and cellular therapy program is internationally recognized for its innovative use of stem cells to treat a wide range of potentially fatal diseases. We provide compassionate, individualized care for every child and guide you and your family through your child's transplant journey.
Find a Pediatric Stem Cell Transplant and Cellular Therapy Program Doctor
Why Choose Duke
Extensive Experience
Description
Our pediatric stem cell transplant and cellular therapy specialists have performed more than 2,200 stem cell transplants -- also known as bone marrow transplants -- in children and young adults from across the U.S. and from countries around the world. We have the experience and expertise to offer treatment options to children with a wide range of serious diseases.
Dedicated Inpatient Unit
Description
Our inpatient unit is designed specifically for children and young adults receiving stem cell transplants or cellular therapies and for other immunocompromised patients. It is one of the largest in the country and is equipped with a dedicated ventilation system. Every room is built with HEPA filters to remove airborne particles. These measures protect your child when they are most vulnerable to infections. Our family-friendly unit includes a large activity room, patient rooms with accommodations for caregivers, a common kitchen, washer and dryer facilities, and more.
Commitment to Quality of Life and Long-Term Survival
Description
Through our comprehensive team assessments and frequent monitoring, we work to ensure the best quality of life and outcomes for your child. We are dedicated to effectively treating your child's disease, monitoring their physical and emotional well-being, and enabling long-term survival.  
Duke Children's Hospital and Health Center
Learn about the child- and family-centered care offered at Duke Children's Hospital and Health Center.
Guiding You Throughout the Process
A Compassionate, Experienced Team
Description
Your child will be cared for by a team of experts including board-certified doctors with expertise in pediatric stem cell transplant and advanced cellular therapy; nurse practitioners; nurse coordinators; inpatient nurses trained to work with pediatric stem cell transplant and high-risk oncology patients; a dedicated pharmacist; a pediatric nutritionist; and a discharge-planning nurse to help your child make the transition to the outpatient clinic. We also work closely with other Duke pediatric specialists to provide special care for children who have other medical needs. 
With You Every Step of the Way
Description
Our team supports you before, during, and after your child's treatment. At your first contact, you will meet our nurse coordinators who guide you through each step of the pre-treatment process. Each family is assigned a clinical social worker, financial coordinator, and a child life specialist. Our Family Support Program provides an array of services to you and your family. Additional psychosocial experts are available at Duke Children's Hospital including psychologists, hospital teachers, chaplains, and medical interpreters.
Extending Lifesaving Therapies to More People
We Offer Therapies to More People
Description
As leaders in the research and development of new stem cell transplantation techniques, we can extend these lifesaving therapies to many more people -- from infants to young adults, and even to those whose conditions are considered by other centers to be too complex for treatment. We have successfully performed transplants for infants as young as a few weeks and young adults as old as 26 years. 
We Find Your Child's Donor
Description
We identify the best donor for your child from your immediate or extended family or from an unrelated bone marrow donor in the U.S. or abroad through the National Marrow Donor Program (NMDP) Be the Match Registry. We also have access to unrelated cord blood units from participating national and international banks including our own cord blood bank at Duke. 
Duke is Home to the Carolinas Cord Blood Bank
Description
The Carolinas Cord Blood Bank (CCBB) is one of the largest public cord blood banks in the world. The extensive inventory comes from a racially and ethnically diverse group of donors. The CCBB has distributed cord blood for transplantation to several thousand patients since 1999. Cord blood units banked at CCBB are listed on NMDP.
Stem Cell Transplant and Cellular Therapy Research
Innovative Approaches
Description
In 1993, Duke performed the world's first unrelated umbilical cord blood transplant, and today we remain a leading center for this approach. We continue to investigate innovative approaches to cellular therapy for children with both malignant (cancerous) and non-malignant diseases. We provide CAR T-cell therapy and are involved in clinical trials including innovative trials of gene-therapy. Our research pioneered the use of cellular products derived from cord blood and stem cells to treat a range of conditions including Graft versus host disease (GvHD) and brain diseases in children. 
Access to the Latest Therapies
Description
Through our research programs and clinical trials, your child may have access to the new therapies before they are widely available. For example, Duke is one of a handful of centers certified to administer FDA-approved CAR T-cell therapy for treatment of leukemia in pediatric patients and young adults. We also developed a cell therapy, DUOC-01, to treat children undergoing standard cord blood transplants for inherited metabolic diseases. It is hoped that the use of this therapy will speed the delivery of the missing proteins to the brain. 
Best Children's Hospital in NC
Duke Children's Hospital & Health Center is proud to be nationally ranked in 10 pediatric specialties.
This page was medically reviewed on 05/19/2023 by