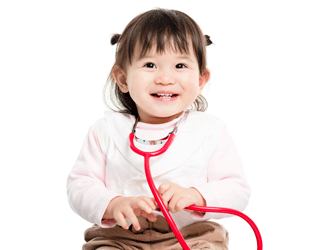 Children with primary immunodeficiency diseases come to Duke Children's for innovative treatment and lifesaving care. We are one of the few programs in the U.S. staffed by pediatric allergists and immunologists who specialize in identifying and treating children whose immune systems are either absent or not functioning properly.
Our Doctors
Meet our doctors, view their profiles, and select the one that's right for you.
Find a Primary Immunodeficiency Diseases Doctor
Understanding Primary Immunodeficiency Disease
Causes of Primary Immunodeficiency Disease
The immune system is the body's defense system. It fights infections and keeps the body healthy and strong as well as regulates immune responses to prevent autoimmune disease. Primary immunodeficiency diseases are caused by genetic defects that impact how the immune system works. The lack of a normal, functioning immune system can lead to serious respiratory, digestive, and neurologic problems that can include organ damage and problems moving or functioning. Primary immunodeficiency diseases can also increase one's risk for cancer and autoimmune diseases. Early and accurate diagnosis and treatment can make a difference in a child's quality of life.
There more than 353 primary immunodeficiency diseases. Common types we treat include:
Severe Combined Immunodeficiency Disease (SCID) -- often referred to as Bubble-Boy Syndrome
DiGeorge Syndrome
Agammaglobulinema (X-linked and Autosomal Recessive)
Chronic Granulomatous Disease
Common Variable Immune Deficiency
Duke Health offers locations throughout the Triangle. Find one near you.
Tests
Our immunodiagnostics lab performs advanced testing to diagnose and monitor many primary immune deficiency conditions. We can begin treatment for severe combined immunodeficiency right after birth to prevent serious complications.
Diagnostic Tests
These check the function of the immune system and are used to diagnose children whose conditions are not detected during newborn screening.
Immunodiagnostics Monitoring
A series of specialized lab tests tracks how well the immune system is working and how it responds to treatments. These include blood and immune system tests. Children with primary immunodeficiency disorders come to Duke twice a year for follow-up care. If your child needs more regular lab testing, we coordinate your child's care with his or her local doctor, so you can stay close to home.
Best Children's Hospital in NC
Duke Children's Hospital & Health Center is proud to be nationally ranked in nine pediatric specialties.
Why Choose Duke
Duke Children's provides lifelong, coordinated care for children with primary immunodeficiency disease. We have been designated a Jeffrey Modell Foundation Diagnostic and Research Center, and the Immune Deficiency Foundation has named us a Center of Excellence. These designations recognize us for:
Providing the highest standard of care
Using innovation to advance treatments for immune deficiencies
Bringing groundbreaking clinical trials to our patients
We achieve this high level of care by providing services not available at other hospitals.
Specialized Lab Testing
Your child has access to specialized lab testing, which is used to diagnose different primary immune deficiency conditions.
Access to the Latest Research and Treatments
We're actively involved in the latest research, including ways to improve the effectiveness of bone marrow/stem cell transplants. Children who come to Duke Children's may have access to innovative treatment as clinical trial participants.
Research into Diagnosis and Treatment of Primary Immune Deficiency Disease
As part of the Primary Immune Deficiency Treatment Consortium, we're one of 44 centers studying the diagnosis and treatment of infants and children born with primary immune deficiency diseases, with the overall goal to improve treatment of these conditions.
Treatment for Infants Born with SCID
Duke Children's is one of 44 programs in the U.S. and Canada that treat infants born with severe combined immunodeficiency (SCID). We have achieved an overall survival rate of 75% for these infants using innovative bone marrow stem cell transplant therapies that do not require pre-transplant chemotherapy.
Thymus Transplant Program
We are also internationally recognized for our research-based thymus transplant program, which treats children with DiGeorge syndrome.
Education and Training of Experts
We train the next generation of doctors to be experts in diagnosing and treating immune deficiencies.
Reviewed: 01/22/2018