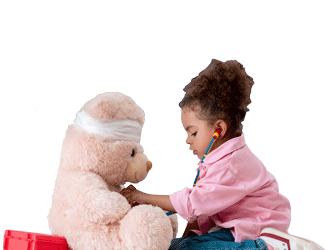 Duke Children's is one of 44 programs in the U.S. and Canada that treat infants born with severe combined immunodeficiency (SCID). We have achieved an overall survival rate of 75% for these infants using innovative bone marrow stem cell transplant therapies that do not require pre-transplant chemotherapy.
Find a Severe Combined Immunodeficiency Disease (SCID) Doctor
Comprehensive, Advanced Care for SCID
What Is SCID?
SCID -- often called "bubble boy disease" -- is a rare disease that leaves a child unable to fight off germs. As the most severe primary immunodeficiency disease, it occurs when genetic defects impact how well the body's immune system works. Babies with SCID may appear healthy at birth but can become very sick from germs that don't usually cause problems in people with healthy immune systems.
Comprehensive Lifelong Care
We provide comprehensive care for SCID from childhood through adulthood. Our allergists and immunologists coordinate your child's care with pediatric specialists throughout Duke, including nutritionists, occupational and physical therapists, and social workers. We have been designated by the Immune Deficiency Foundation as a Center of Excellence. This designation recognizes us for:
providing the highest standard of care
using innovation to advance treatments for immune deficiencies
bringing groundbreaking clinical trials to our patients
Children with SCID require lifelong monitoring to ensure their immune systems are functioning well. We work with you and your child's hometown doctor so you can stay close to home. Children typically come to Duke once a year for follow-up care with a specialist.
Duke Health offers locations throughout the Triangle. Find one near you.
Tests
Our immunodiagnostics lab performs highly advanced testing to diagnose and monitor children born with SCID. We're experts in interpreting these tests and continue to develop and improve our capabilities.
Prenatal Testing
Can determine if your unborn baby is predisposed to SCID. Doctors may use genetic and immunodiagnostic tests if you have a family history of SCID. The test results can help you to prepare for treatment soon after your child's birth.
Newborn Screening
Allows for quick treatment so that children can live a full, healthy life with regular monitoring.
Diagnostic Tests
Check the function of different parts of the immune system. They are used to diagnose children whose conditions are not detected with newborn testing. Special genetic tests are also used to make a diagnosis.
Immunodiagnostics Monitoring
A series of specialized lab tests tracks how well the immune system is working and how it responds to treatments. These include blood and immune tests.
Best Children's Hospital in NC
Duke Children's Hospital & Health Center is proud to be nationally ranked in nine pediatric specialties.
Why Choose Duke
Duke immunologists are responsible for saving countless lives. We've been involved in research to determine effective ways to diagnose and treat SCID for more than 40 years.
Leader in the Development of SCID Screening
Duke has been a leader in the development of screening that diagnoses SCID at birth and starting effective therapy, including bone marrow transplants, very soon after birth. Children with SCID who are diagnosed and receive a transplant early in life can be cured.
Research for Diagnosis and Treatment
As part of the Primary Immune Deficiency Treatment Consortium, we're one of 44 centers studying the diagnosis and treatment of infants and children born with primary immune deficiency diseases with the overall goal to improve treatment of these conditions.
Exclusive Immunodiagnostics Lab
Our immunodiagnostics lab provides specialized testing for SCID that is not readily available at most other centers. We also use these tests to monitor your child during treatment.
Reviewed: 01/22/2018