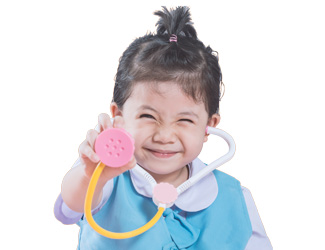 Our Doctors
Meet our doctors, view their profiles, and select the one that's right for you.
Find a Pediatric Stem Cell Transplant Doctor
About Bone Marrow Transplant
Stem cell transplants, also known as bone marrow transplants, use healthy stem cells to replace stem cells harmed by disease or treatments such as chemotherapy or radiation. The new cells make healthy blood cells and regenerate the immune system. Stem cells can be obtained by removing them from the bone marrow, from blood cells circulating through the bloodstream (doctors call this peripheral blood), or from umbilical cord blood that remains in the placenta or umbilical cord after birth.
Types of Stem Cell Transplants
Autologous transplant uses your child's own stem cells. This would involve peripheral blood and may be recommended for cancers such as neuroblastoma or brain tumors.
Allogeneic transplant uses cells from a matched family member or unrelated donor.
Syngeneic transplant uses stem cells from an identical twin.
Your child's transplant team will perform a comprehensive evaluation to find a donor match and determine which type of transplant will be most beneficial for your child.
Treating Disease with Stem Cell Transplant
Stem cell transplant may be used to treat:
High-risk cancers as well as relapsed or recurrent cancers
Rare inherited disorders that prevent young bodies from working as they should
Sickle cell disease and thalassemia, conditions where red cells are not correctly produced by the body
Bone Marrow Transplants for Congenital Immune Disorders
We are one of the few programs in the world to offer bone marrow transplants for congenital immune disorders that prevent the body from fighting infection, as well as congenital metabolic diseases such as Hurler syndrome, Tay-Sachs disease, and adrenoleukodystrophy (ALD). Children born with these rare conditions typically have a defective gene that prevents the body from producing properly functioning enzymes.
Learn about the child- and family-centered care offered at Duke Children's Hospital and Health Center so you can prepare for your child's appointments.
Transplant Process
Donor Search, Obtaining Cells 
Your child's transplant team will determine which type of transplant to perform. If a donor transplant is recommended, a search to identify a donor will take place with immediate family members and the National Marrow Donor Program. Arrangements will be made for the cells to be harvested. If an autologous transplant is recommended, your child's stem cells will be harvested and frozen for use after the conditioning regimen.
Conditioning Regimen
Chemotherapy alone, or chemotherapy with radiation therapy, kills any cancer cells in your child's body. The conditioning regimen also makes room in the bone marrow space for the transplanted cells to grow. Your child may experience side effects related to the chemotherapy and radiation treatments. The stem cell transplant can take place after the conditioning regimen is complete.
Supportive Care After Transplant
Following the transplant, we will monitor your child's progress and manage side effects and complications appropriately. Your child will need to stay at Duke, or live locally, for one to eight months -- depending on their condition -- after the transplant to ensure a safe recovery.
Follow-Up Tests
Once your child's treatment is complete, he or she will be discharged back to the care of your referring or home doctor. Your primary Duke transplant specialist will remain in close contact with your home team and will always be available if their advice is needed. Your child will need to return to Duke every three months for one year and then once a year to undergo tests to monitor his or her response to therapy and major organ function.
Best Children's Hospital in NC
Duke Children's Hospital & Health Center is proud to be nationally ranked in nine pediatric specialties.
Choosing a Pediatric Stem Cell Transplant Center
A Compassionate, Experienced Team
Duke's pediatric blood and bone marrow transplant team is led by board-certified pediatric hematology-oncology specialists. Our team also includes inpatient nurses who work exclusively with pediatric blood and marrow transplant patients, a dedicated pharmacist who carefully manages dose adjustments and monitors for potential drug interactions, a pediatric nutrition specialist to help your child maintain optimal nutritional status, and a dedicated discharge-planning nurse to help your child transition to the outpatient clinic and make sure you are managing their many medications. We also work closely with other Duke pediatric specialists to provide special care for children who have additional medical problems or experience complications after transplantation.
Family-Friendly Setting Specialized for Your Child's Needs
We have a dedicated isolation floor for children who are at a higher risk for infection, as well as a day hospital for children undergoing outpatient procedures such as infusions or certain types of stem cell transplants.
Duke is Home to the Carolinas Cord Blood Bank
The Carolinas Cord Blood Bank is one of the largest public cord blood banks in the world. The extensive inventory comes from a racially diverse group of donors. This improves the chances of finding a suitable match for your child. The bank allows "directed donations," in which the cord blood can be saved for a family member with certain serious medical conditions including sickle cell disease, congenital immunodeficiency disorder, congenital or acquired marrow failure syndrome, or an inborn error of metabolism.
Research to Advance the Science of Blood and Marrow Transplantation
In 1993, Duke performed the first umbilical cord blood transplant, and we are still one of the world's leading centers for this approach. Our physician-scientists also are investigating the potential of umbilical cord blood as a regenerative therapy for children with disorders such as autism and cerebral palsy. As a National Cancer Institute-designated Comprehensive Cancer Center, we are dedicated to improving patient outcomes. We are also part of the National Comprehensive Cancer Network, an alliance of the nation's leading cancer centers dedicated to improving patient care.
Access to the Latest Therapies
Your child may have access to the latest therapies through our innovative research programs and clinical trials. One of our current studies, for example, is investigating a novel use of white blood cells for transplant patients with life-threatening infections. Our researchers also have developed a cell therapy, DUOC-01, to treat children undergoing standard cord blood transplants for congenital metabolic diseases. It is hoped that this therapy will speed up the delivery of the missing proteins to these children with inherited deficiencies.
We Extend These Lifesaving Therapies to More People
As leaders in the research and development of new stem cell transplantation techniques, we can extend these lifesaving therapies to many more people -- from infants to young adults, and even to those considered by other centers to be too sick for treatment. We have successfully performed transplants for infants as young as one month and young adults as old as 26 years.
Support and Guidance Through the Process
Our donor search coordinator, financial coordinators, housing coordinator, and developmental psychologists will guide your family through the process and help you support your child's recovery. Our family support program, made possible by generous donors, provides resources and services for the entire family. These include patient incentive programs, activities and gifts for siblings, and community meals for caregivers.
Reviewed: 01/02/2018