Pediatric Stem Cell Transplant Evaluation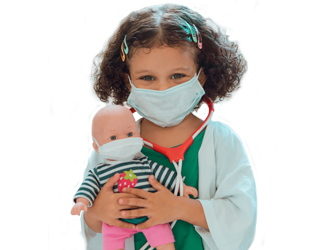 Overview
Your child will have several appointments with the transplant team to learn if a stem cell transplant is the best choice for them. The first appointment may precede or include a comprehensive evaluation. Your child's health condition will dictate the number, type, and timing of these appointments. 
Find a Pediatric Stem Cell Transplant Evaluation Doctor
The First Appointment
Tests Overview
Your first contact with the pediatric stem cell transplant team will be through your dedicated nurse coordinator. They will provide detailed information about the program, answer your questions, and set up your first appointment. Your first appointment will be an informative consultation with your pediatric stem cell transplant and cellular therapy specialist. During the appointment, which will be either in-person or virtual, you and your child will meet with members of the transplant team, discuss your child's health needs, and learn about specific treatment options.
Duke Children's Hospital and Health Center
Learn about the child- and family-centered care offered at Duke Children's Hospital and Health Center.
A Thorough Evaluation
Individualized for Each Child
Description
The timing of your child's evaluation will depend on several factors including their underlying diagnosis and the status of their disease. For instance, a child with sickle cell disease may be able to manage their condition for years before they need a stem cell transplant, whereas the timeline for a child with cancer or a genetic disease may be more condensed. Some children will require appointments to assess their underlying disease status before having their stem cell transplant evaluation.
Temporary Lodging
Description
Most evaluations are performed on an outpatient basis and last approximately two weeks. If you do not live locally, our lodging coordinator can arrange reduced-cost housing within a five- to ten-minute drive of Duke Children's Hospital to meet your family's specific needs.
The Ronald McDonald House of Durham, located one mile from Duke Children's Hospital, has 16 suites suited for long-term patient stays.
We provide three fully furnished apartments and one townhome, when available, to eligible families for extended stays. Our lodging coordinator and social workers oversee the application process. This housing is made available through the generous support of two foundations, Hayden's Journey of Inspiration and Hearts of Hope. 
Meeting the Transplant Team
Description
As part of the evaluation, you and your child will meet with many members of the transplant team including doctors, nurse coordinators, social workers, our insurance coordinator, child life specialists, family support program team members, and others. Their goal is to provide you with the information and guidance you need to begin the stem cell transplantation process. 
Testing
Description
Your child will have several tests to assess their underlying disease and to help uncover any other medical problems that should be addressed before transplantation. The type and number of tests will depend on your child's underlying disease. Common tests include:
Blood work
Chest X-rays
Heart imaging
Pulmonary (lung) function tests
CT scans (of the brain, sinus, chest, abdomen, and pelvis)
Psychological evaluation
Eye and dental exams
Other disease-specific tests 
Getting the Results
Description
After testing is complete, you and your family will participate in a family conference. There you will receive your child's test results and meet with their doctor and nurse coordinators to learn about the transplant process or other treatment recommended for your child.  
Finding a Donor
Types of Stem Cell Transplants
Description
Stem cell transplants use healthy stem cells -- from your child's own body or a donor -- to replace those harmed by disease or treatments. These cells can be obtained from bone marrow, stem cells circulating through the bloodstream (peripheral blood), or umbilical cord blood. Sources for healthy cells include:
Your child's own stem cells (autologous)
Stem cells from a matched family member or unrelated donor (allogeneic)
Stem cells from an identical twin (syngeneic) 
Your child's doctor will recommend the best type of transplant for your child and will work with our search coordinator to locate an appropriate donor, if necessary.
HLA Typing
Description
If your child's doctor recommends an allogeneic transplant, they will undergo a tissue typing test -- called a human leukocyte antigen (HLA) test. The HLA test will determine your child's tissue type and can help match it with an appropriate donor. Immediate family members may also undergo HLA typing to see if they are a suitable match. 
Our search coordinator may also search for a stem cell donor through Be the Match, which is operated by the National Marrow Donor Program (NMDP), national and international registries, and cord blood banks. Once a donor is located, arrangements will be made for their cells to be collected. 
Best Children's Hospital in NC
Duke Children's Hospital & Health Center is proud to be nationally ranked in 10 pediatric specialties.
This page was medically reviewed on 05/19/2023 by