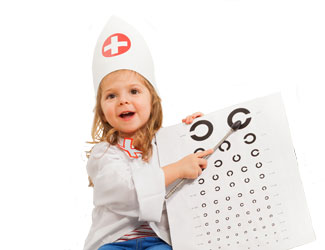 Treating retinoblastoma, a cancer of the eye, takes a team of skilled pediatric specialists and advanced technology. You'll find that combination at Duke Children's, a leading regional referral center for children with retinoblastoma. Our wealth of experience and access to leading-edge testing and treatment advances ensure we do everything possible to protect your child's health, vision, and well-being.
Our Doctors
Meet our doctors, view their profiles, and select the one that's right for you.
Find a Retinoblastoma Doctor
How We Diagnose Retinoblastoma
Retinoblastoma is a cancerous tumor that grows in the retina, the light-sensing part of the eye. It's not usually noticeable at birth. Most children are diagnosed during the first 24 months of life. Retinoblastoma is a highly treatable cancer. It's estimated that more than 90% of children in the U.S. diagnosed with retinoblastoma can be cured.
From your first visit with us, you'll work with a dedicated team that's committed to giving your child the very best care and giving your family the support you need. We begin by doing a careful diagnosis using a physical exam and other tests to determine the best course of treatment for your child. We use advanced imaging exams such as optical coherence tomography (OCT). In this test, a handheld device gives us a clear picture of your child's retina in seconds. We use imaging (like MRI), blood tests, or samples (biopsies) of bone marrow or spinal fluid, if needed, to see if cancer is anywhere else in your child's body.
Retinoblastoma can be caused by a genetic mutation, so a blood test also tells us whether your child has hereditary retinoblastoma. Because children with this form of the disease are at risk for other tumors, long-term regular checkups are recommended. In addition, if your child has the genetic mutation, other members of the family should have blood tests to check for the gene. Our genetic counselors will discuss your family's risk, who should be tested, and what steps should be taken to evaluate for cancer.
Family-Friendly Services
We understand the impact cancer can have on your child and family, so we offer special services to help you through it. You can depend on knowledgeable, compassionate experts at your side.
Care Coordination and Support
Our social workers help you navigate the medical system and coordinate the variety of health services your child needs. They can help you work with insurance providers, connect with resources, and manage the details related to your child's care. Our nurse coordinators can help you schedule appointments for tests, treatments, and other medical visits.
Extended Cancer Outpatient Services
We offer outpatient services -- such as chemotherapy, transfusions, and lab tests -- 12 hours a day, seven days a week at Duke Children's Valvano Day Hospital. This means your child won't have to be admitted to the hospital just because they don't feel well or need treatment on a day when their doctor's office is closed.
Best Children's Hospital in NC
Duke Children's Hospital & Health Center is proud to be nationally ranked in nine pediatric specialties.
Why Choose Duke
Immediate Treatment
When your child is diagnosed with retinoblastoma, immediate treatment is our priority. We see your child at Duke within a day or two and begin treatment within a week to 10 days, depending on the tests needed to determine the best treatment strategy. Our team evaluates the results and creates a personalized care plan for your child.
Team of Specialists
Our ocular oncologist (eye cancer specialist) works closely with pediatricians and pediatric specialists in ophthalmology, cancer, neurosurgery, anesthesiology, and nursing. We offer complete care for your child's cancer and long-term follow up after treatment is completed. We understand that a retinoblastoma diagnosis is daunting, so psychologists and social workers are here to provide counseling and support to you and your family.
Targeted Chemotherapy with Fewer Side Effects
Among other treatment options, Duke Children's uses targeted methods to deliver chemotherapy directly to your child's eye without exposing their entire body to chemotherapy. That means there are fewer side effects, and your child recovers faster. Duke Children's is the first hospital in North Carolina to offer a type of targeted chemotherapy called intra-arterial chemotherapy. This is just one of the reasons why pediatricians across the region refer their young patients to Duke.
Membership in the Children's Oncology Group
Our pediatric cancer specialists are also researchers who are committed to improving care for childhood cancer. We're members of the Children's Oncology Group, a worldwide organization that's dedicated to improving care for child and adolescent cancer through research. That means your child gets the most effective treatment approaches based on the combined knowledge of cancer experts worldwide.
Reviewed: 05/29/2020