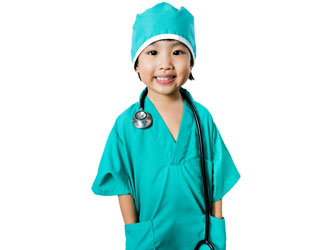 Duke's team of pediatric transplant doctors and surgeons provide comprehensive, integrated and individualized care for your child and family. Your child will benefit from our high-volume program and its more than 30 years of experience performing a wide range of transplants.
Children in need of a transplant receive their treatment and ongoing care at Duke Children's Hospital and Health Center.
Find a Pediatric Transplant Specialist
Pediatric Transplant Specialists
We are your partners on the transplant journey, from your child's first evaluation through their recovery and transition to healthy adult life. Our transplant care is personalized to the needs of your child and delivered by a coordinated team of caregivers from a wide range of specialties.
Transplant Surgeons
Specialize in the operation your child needs. They will meet with you to explain the procedure and to answer your questions.
Transplant Specialists
Medical doctors who specialize in your child's condition will evaluate your child to optimize the timing of the transplant. They also monitor your child's condition before and after transplant and manage any medical issues that may occur.
Multi-Organ Transplant Specialists
We are the only program in North Carolina with significant experience performing multi-organ transplants, including pediatric liver-kidney and heart-kidney transplants.
Pediatric Transplant Infectious Disease Doctors
Educate you and your child about potential complications and recommend precautions to take. They monitor your child closely after transplant and treat any infection that develops.
Transplant Nurses
Have extensive experience in caring for children who have received transplants and can answer any of your questions.
Transplant Coordinator
Your single point of contact to help you navigate your child's care throughout the process. This includes scheduling tests, working with the donor services team to monitor listing status, and helping your family with follow-up visits.
Specially Trained Transplant Pharmacists
Make sure you understand the types of medications your child will need to take and any potential side effects. They'll monitor your child and tailor medications to fit his or her needs.
Additional Team Members
To help your child and family manage the emotional, psychological, and even financial impacts of the transplant process, our team includes dedicated transplant social workers, psychologists, psychiatrists, child life specialists, and financial coordinators.
Why Choose Duke
Level 1 Children's Surgery Center
Duke Children's is one of only a few hospitals in the U.S. verified as a Level I children's surgery center by the American College of Surgeons. This Level I designation recognizes our commitment to providing the safest and highest-quality surgical care to our young patients.
We Take Complicated Cases
We have a long history of successfully transplanting some of the most complicated patients, including those unable to be transplanted at other centers. We have also been successful in avoiding transplants, through specialized rehabilitative care, where other centers have not.
Leaders in Research
As one of the nation's leading research centers in both pediatrics and transplant medicine, we can offer your child access to the most current research findings and ongoing clinical studies.
Advanced Surgical Techniques and Anti-Rejection Medicine
When appropriate, we offer incompatible-blood-type transplants, paired-donor exchanges, and anti-rejection medications that eliminate long-term side effects associated with steroid use.
Adolescent Transplant Transition Program
We help adolescent transplant recipients learn to manage their own medical care, including learning about immunosuppression, nutrition, employment, insurance, and coping with the effects of transplant on everyday life. This program also identifies adolescents who are unable to live independently and guides appropriate long-term supervision.
Best Children's Hospital in NC
Duke Children's Hospital & Health Center is proud to be nationally ranked in nine pediatric specialties.
Reviewed: 03/21/2018