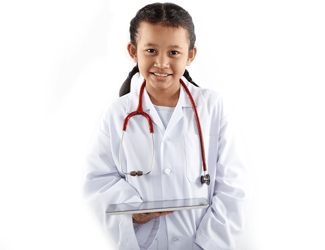 A kidney transplant can offer your child the opportunity for a healthy life when he or she faces kidney failure. Our experienced pediatric kidney transplant team performs successful transplants in children using kidneys from deceased and living donors. Our goal is to get your child back to his or her normal routine and activities as quickly as possible.
Our Doctors
Meet our doctors, view their profiles, and select the one that's right for you.
Find a Pediatric Kidney Transplant Doctor
About Pediatric Kidney Transplants at Duke
A Team Approach to Your Child's Care
Our dedicated pediatric kidney transplant team includes pediatric kidney doctors (transplant nephrologists), transplant surgeons, pediatric urologists, pediatric anesthesiologists, infectious disease experts, nurse coordinators, psychologists, child life specialists, transplant social workers, and nutritionists. We work together to diagnose and manage the full spectrum of end-stage kidney disease and serious kidney problems in children.
Our Survival Rates Are Among the Nation's Best
We successfully transplant difficult cases other centers have declined. Although we take on some of the toughest challenges, data from the Scientific Registry of Transplant Recipients -- a national database of transplant statistics -- show that our one- and three-year pediatric patient and graft survival rates after kidney transplantation are among the best in the nation. Our excellent graft survival rates after three years reflect our pediatric transplant expertise and commitment to ensuring your child maintains his or her transplanted kidney for many years.
Three-Year Survival
with a functioning deceased donor graft
Finding a Donor Kidney for Your Child
Living-Donor Organs
We encourage living donor transplantation -- a kidney from a living person, usually a friend or relative, although it can also be a stranger -- whenever possible. People who receive kidneys from living donors can have fewer complications than those who receive kidneys from deceased donors.
Paired Donor Exchange
We are one of only a handful of pediatric programs in the country to offer the option of a paired donor kidney exchange. This becomes available when a potential living kidney donor turns out not to be a match to your child. Our paired kidney exchange program allows donors to "swap" recipients so that each receives a compatible organ.
Incompatible-Blood-Type Transplants
We are the only pediatric program in the region to offer incompatible-blood-type living donor transplants. This makes living kidney donor transplants possible when the donor and recipient have incompatible blood types.
Deceased-Donor Organs
If your child is a candidate for kidney transplantation but does not have a potential living donor, he or she will be wait listed in a national database maintained and administered by the United Network for Organ Sharing (UNOS). Our pediatric transplant team is available 24 hours a day to respond to offers of a kidney for your child. While our waiting times are on par with national averages, we prepare your children to be transplanted as quickly as possible by getting them from their referral to their evaluation faster than any center in North Carolina.
Duke Health offers locations throughout the Triangle. Find one near you.
Why Choose Duke
Nationally Recognized Care
Duke Children's is one of a small number of U.S. hospitals verified as Level I children's surgery centers by the American College of Surgeons. This Level I designation recognizes our commitment to providing the safest and highest-quality surgical care to our young patients.
Leaders in Advancing Pediatric Kidney Transplant Care
Our transplant doctors are constantly improving surgery techniques and anti-rejection medication regimens. As an example, Duke is one of the few pediatric programs nationwide to offer both calcineurin-free and steroid-free anti-rejection medication tailored to the individual child. This option eliminates the long-term side effects associated with steroid use and helps the transplanted kidney function longer.
Access to Innovative Anti-Rejection Approaches
Our experienced doctors determine which safe and effective alternative drugs may be most appropriate for your child based on close monitoring, his or her immune system, and the specifics of his or her transplant.
Multi-Organ Transplants
We are the only program in North Carolina with significant experience performing multi-organ transplants, including pediatric liver-kidney and heart-kidney transplants. We collaborate with our pediatric specialists in heart, lung, liver, and intestinal transplantation to ensure successful outcomes for our young patients.
Family-Friendly Services
We understand that your child's kidney transplant journey can take an emotional toll on your entire family. We offer a variety of services to support you, your child, and your family through the process. For example, our child life program helps your child cope with hospitalization through play, procedure preparation, and opportunities for self-expression. A Ronald McDonald Family Room offers access to showers, laundry, TV, snacks, and internet during your child's hospital stay.
Transition to Adult Care
If your child is an adolescent, we partner with our adult kidney transplant program to transition his or her care. Ours is the only multi-organ (kidney, heart, liver, small bowel) program in the region to emphasize the seamless continuity of transplant care into adulthood. And because getting teens to adhere to their medication regimens is a key factor in teen and young-adult kidney transplant failure, we emphasize, teach, and empower self-care.
Best Children's Hospital in NC
Duke Children's Hospital & Health Center is proud to be nationally ranked in nine pediatric specialties.
Reviewed: 06/20/2017