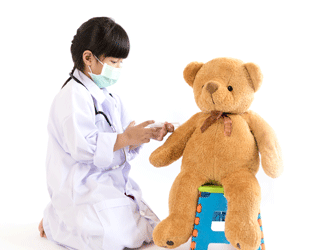 Duke pediatric general surgeons correct birth defects, remove tumors, repair hernias, and treat traumatic injuries in children from birth through adolescence. We work alongside highly skilled nurses, anesthesiologists, radiologists, and critical care medicine specialists who are trained in the unique needs of children. From the moment your child's condition is identified, he or she is at the center of our family-focused care.
Learn about the child- and family-centered care offered at Duke Children's Hospital and Health Center so you can prepare for your child's appointments.
Find a Pediatric General Surgeon
What to Expect
Comprehensive Evaluation
We involve you in all decisions about your child's treatment and carefully explain our recommendations. If you and your surgeon decide surgery is the best option, we make sure you understand what will take place, how to prepare, and what to expect for your child's recovery in the hospital and at home.
Pre-Op Anesthesia Consultation
A pre-op conversation or in-person meeting with a pediatric anesthesiologist or certified nurse anesthetist will give you the opportunity to ask questions and discuss any concerns you have about the use of anesthesia during your child's procedure. The anesthesiologists make every attempt to put your child at ease. They are also on hand when children need imaging or testing, such as an MRI, that requires general anesthesia.
Prenatal Consultations
If your baby is diagnosed with a condition before birth, we work with you, your obstetrician, your perinatologist, and your baby's neonatologist to coordinate your child's care and timing of surgery.
Day of Surgery
On the day of your child's surgery, you will have the opportunity to speak with the surgeon and ask any questions before the surgery. You can receive updates about your child's procedure in our surgical waiting area. Your child's surgeon will look for you there following the surgery to explain the results.
Following Surgery
While some children are able to return home the same day, others may need to recover on the pediatric floor of the hospital, or in one of our child-specific intensive care units. Our neonatal intensive care unit (NICU), pediatric intensive care unit (PICU), pediatric cardiac intensive care unit (PCICU), and pediatric progressive care unit are equipped with advanced technology to meet the needs of children who have serious illnesses or injuries. Critical care specialists and a dedicated team of specially trained critical care nurses, respiratory therapists, and other health care professionals staff these units 24 hours a day, every day of the year.
Why Choose Duke
High-Quality Surgical Care
Duke is one of the few hospitals in the U.S. verified as a Level I children's surgery center by the American College of Surgeons. This Level I designation recognizes our commitment to providing the highest-quality surgical care to our young patients. To achieve Level I certification, centers must offer multiple medical and surgical specialties, with procedures for major congenital anomalies and complex diseases, including those that are uncommon or require significant coordination among multiple specialties.
Family-Centered Environment
Our Child Life specialists provide support, education, and guidance to help you and your child during treatment and hospitalization. They make your child's health care experience positive -- whether it's explaining a procedure, offering encouragement, or using fun activities in our playrooms or at your child's bedside.
Clinical Trial Access
As an academic medical center, we participate in clinical trials that study new treatments and processes. Your child may be eligible to participate in these studies, which can provide access to new surgical approaches before they become widely available.
Support Throughout the Process
Our care coordinators and social workers can help you navigate the medical system and coordinate the variety of health services your child needs, including appointment scheduling. We help you work with insurance providers, connect you with resources, and assist you in managing details related to your child's care.
Best Children's Hospital in NC
Duke Children's Hospital & Health Center is proud to be nationally ranked in nine pediatric specialties.