From the DukeHealth.org archives. Content may be out of date.
A Runner's Comeback: From Multiple Fractures to a 50-Mile Race
Harry Mendez Jr. pauses during the 50-mile race
Overview
In April 2017, Harry Mendez Jr. crossed the finish line of a 50-mile race, exhausted but triumphant. The 35-year-old Durham resident had completed triathlons and endurance events before, but none had demanded the strength, commitment, and perseverance this one had. Just nine months earlier, he'd been in Duke University Hospital, pins and rods holding his lower left leg together, wondering if he'd ever run again.
It started with when he set out for a bicycle ride. "I put my foot down to balance myself. My bike cleats--those shoes that clip into your bike pedals--got stuck in the pavement, and I fell over," Mendez said. "When I went to get up, I couldn't. I looked down, and my foot was just dangling."
Severe Bone Breaks
X-rays showed Mendez had a spiral fracture, a break caused by a twisting motion, in his shinbone, or tibia. It extended down into his ankle joint. He'd also fractured his fibula (the narrow bone that runs alongside the shinbone) near his knee. Duke's emergency room team and on-call orthopaedic surgeon recommended surgical repair.
The next morning, however, Mendez's leg and foot were severely swollen and he'd developed fracture blisters, a complication that sometimes occurs at the site of broken bones. Surgery would have to wait. In the meantime, an external fixator of metal pins and rods was placed on his leg. "It's like an erector set," said Duke orthopaedic trauma surgeon Rachel Reilly, MD. "It holds the fracture in alignment while we wait for the swelling to go down."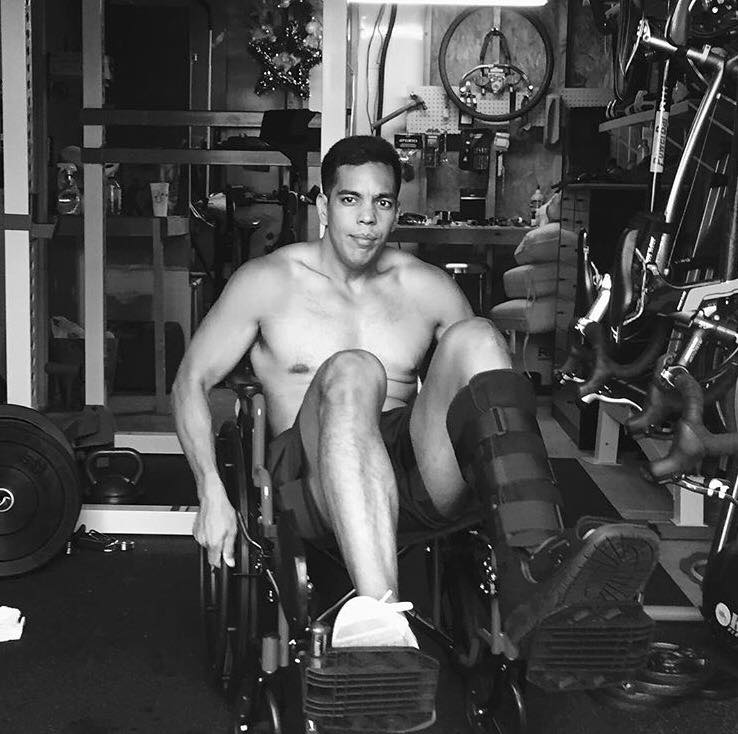 A Surgical Solution
Dr. Reilly was one of nine Duke orthopaedic surgeons--including foot-and-ankle and sports-medicine experts--who looked at Mendez's X-rays and CT scan and consulted on his case. The following week, when the swelling had subsided, Dr. Reilly performed surgery to repair his fractures. This included inserting a rod called an intramedullary nail down the center of his shinbone, then placing screws at the top and bottom to hold it in place. She also placed screws just above the ankle to fix that portion of the fracture.
This approach would allow him to put weight on his leg sooner than other surgical options--an important factor for an avid athlete like Mendez. But not all orthopaedic surgeons would have been comfortable doing this type of procedure. "The closer to the ankle a fracture gets, the more some surgeons might shy away from using the intramedullary nail," said Dr. Reilly. "But at places like Duke that are Level I trauma centers, that have orthopaedic surgeons who are fellowship trained in orthopaedic trauma, those kinds of options become more available to patients."
From Recovery to Rehab to Running
Fastened together, Mendez's bones began to heal--a process that would take some time. He couldn't put weight on the foot for six weeks following the July 2016 surgery, but he could do range-of-motion exercises. Dr. Reilly also gave him a bone stimulator. "It's a small ultrasound machine that patients place directly at their fracture site," she said. "It has been shown to improve the time to healing."
In mid-September, Mendez started physical therapy. "My first focus was just to get my strength back," he said. "My broken leg was half the size of my good leg." He also wanted a goal to work toward. Just before the accident, he'd begun training for his first 100-mile ultramarathon. Given his injuries, he chose a less daunting--but still ambitious--challenge: He registered for the 50-miler, a scant seven months away.
As eager as Mendez was to get back to full activity, he followed the advice of his Duke physical therapists. In November, they gave him the go-ahead to walk on a treadmill; in December, he progressed to light running. At the end of January, he graduated from physical therapy. "That's also when Dr. Reilly signed off on me doing the race," Mendez said. As did his wife, Melissa. "I had to have her on speaker phone for that last appointment. Melissa wanted to hear for herself that I was cleared to run."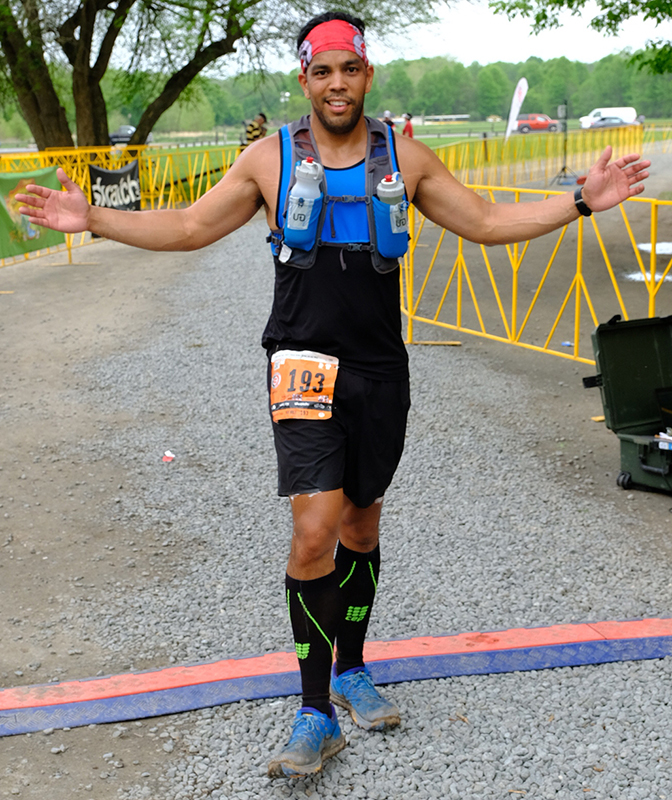 Training in Earnest for the Race
From February through April, Mendez devoted himself to preparing for the race. "There were a couple of times when I was like, 'Oh, boy, I don't know if I'm ready,'" he said. But he gradually increased his running distances. He also focused on weightlifting, "to know, in my mind, that the leg was strong enough."
Two weeks before the race, he tested himself, running 40 miles in 24 hours. Physically, he was ready. For mental preparation, he said, "I watched iron man videos, videos of other people overcoming things."
On race day, he was focused, which helped get him through the pain and fatigue. "I just thought about how awesome it would feel once I crossed the finish line," he said. A running buddy who had trained with Mendez joined him for the last half of the race, pacing him and offering encouragement. "The last couple of miles he was telling me how awesome it was, how I'd overcome the accident. It was a really cool feeling."
Then his buddy peeled off, letting Mendez cross the finish line by himself. "I've told people, if you could experience the relief and the joy of crossing the finish line, everyone would do it," he said. "This one was way more emotional for me. I think it was one of the best feelings I've ever had."