From the DukeHealth.org archives. Content may be out of date.
Cochlear Implant Restores Woman's Joy in Communicating
Overview
A cochlear implant restored hearing for Nellie Murphy, who had suffered hearing loss for decades. Watch the video to see doctors turn on Murphy's hearing implant.
Content
As I grew up, I realized that I didn't hear as well as other people," said Nellie Murphy, a 78-year-old from Charlotte. "I didn't really tell anybody about it."
But as the years went on, it became more difficult for Murphy to hide the problem. "When I have a conversation in a group of people, I have to repeatedly ask someone, 'What did they say?' And they have to repeat it to me," Murphy said. "You want so much to be a part of a conversation and join in, but you can't."
"That gave me a lot more appreciation for the challenge and difficulty she faces," her daughter, Sharon Leuzinger, said of seeing her mom's frustration in social encounters. "In a setting that's supposed to be enjoyable and relaxing, her work level picks up."
Hearing technology brings hope
Content
Murphy never gave up hope that medical advances might one day help her. "The older I got, it seemed the more determined I got to see if the changes they were making were something that would be effective for me," she said.
She had several operations in Charlotte on her right ear, the one that had better hearing at the time. The surgeries failed—and took away all the hearing in that ear. She was left with minimal hearing in her left ear, with the help of a hearing aid.
Her search for other options brought her to Duke ear surgeon Dr. Debara Tucci, MD.  Tucci directs Duke's cochlear implant program. "She's really full of life," Tucci said of Murphy. "You could just tell how impaired she was by not being able to communicate. This is the case for a lot of our older adult patients. They find that their hearing just deteriorates over the years, and they're more and more isolated."
"Sometimes I would just rather stay home than to not be able to enjoy the friends that I'll be with," Murphy said.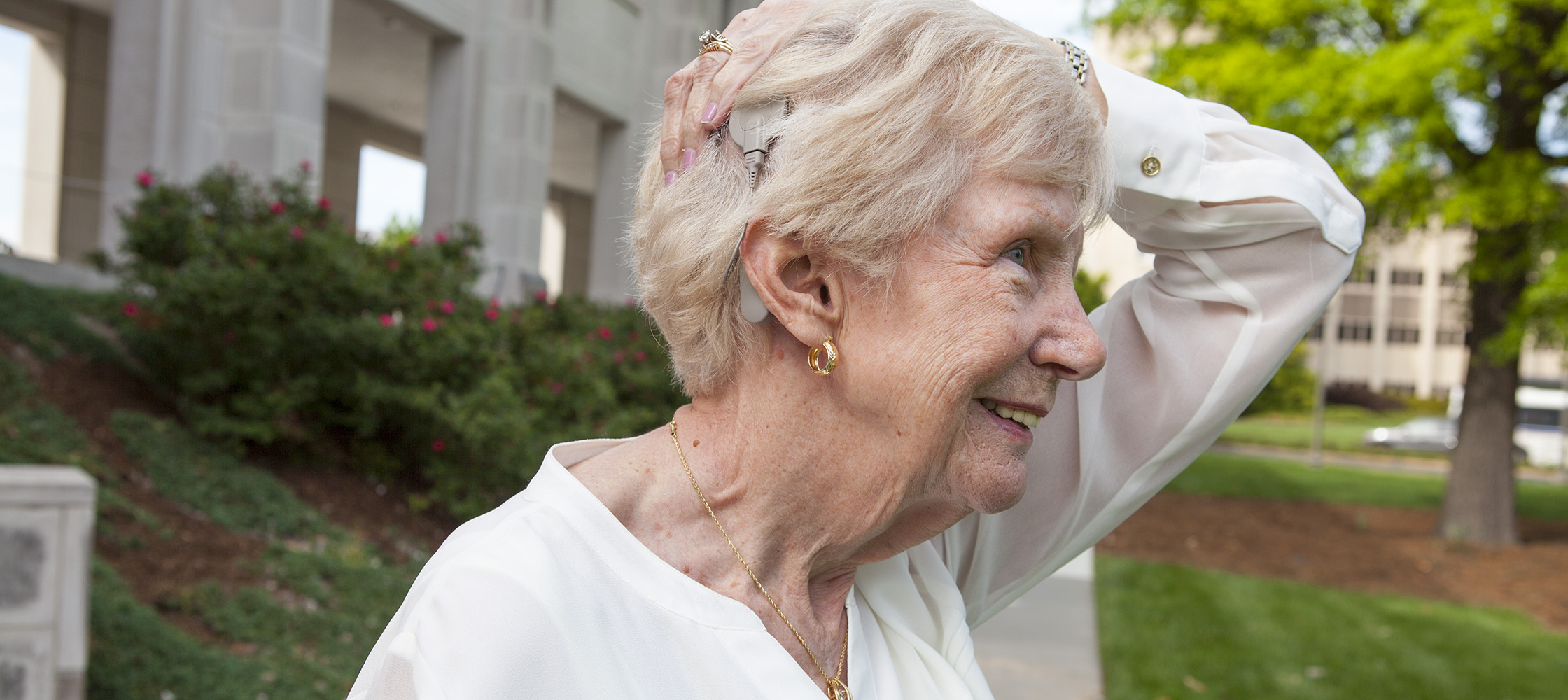 Cochlear implant surgery is a success
Content
In March 2016, Tucci performed surgery to put a cochlear implant in Murphy's right ear. A cochlear implant picks up sounds in the environment, such as speech, and processes them into electric impulses that are sent to the nerve that carries sound information to your brain. It doesn't restore normal hearing, but it does allow the user to understand speech.
About a month after surgery, Duke doctors turned on Murphy's cochlear implant.
"I hear that," Murphy said as her two daughters giggled with excitement. "What am I hearing? I'm hearing voices, I'm hearing your voice."
"One of the greatest joys of my practice is helping people to hear again," Tucci said. "I love seeing patients who are struggling to hear, who we can really help significantly with this technology, which I think is just fantastic."
"This is amazing. It really is," Murphy said. "Thank you so much. This was an experience that I never thought I'd have. It has been a wonderful journey."