From the DukeHealth.org archives. Content may be out of date.
Ask These Questions Before Mitral Valve Surgery
Dr. Donald Glower, MD, performs mitral valve surgery at Duke.
Mitral valve regurgitation can do serious damage to your heart. A leaky mitral valve causes blood to flow back into your heart, which makes it harder for oxygen-rich blood to be pumped out to your body. Because mitral valve regurgitation can lead to life-threatening heart failure, arrhythmias, and other abnormal heartbeats, your doctor may recommend heart valve surgery to repair or replace your mitral valve. Surgery may also be recommended if you have mitral valve stenosis, a less common condition that is defined by a narrowed mitral valve. It may also require a valve repair or replacement procedure.
Minimally invasive surgery for mitral valve disease
Experienced heart surgeons have several options to treat mitral valve disease when medication is not enough. Typically mitral valves are repaired or replaced. New minimally invasive techniques that require small incisions can return you to physical activity faster.
National registry tracks mitral valve surgery success
The Society of Thoracic Surgeons' national registry tracks mitral valve surgery success and complication rates to assess quality and safety. Hospital programs can use the information to compare their own data to the U.S. average. Understanding key points in the data can ensure you work with a surgeon and a hospital that has the best outcomes.
How does Duke compare to the U.S. average? Renowned heart surgeon Dr. Donald Glower, MD, responded to questions you should ask if you are considering surgery for mitral valve regurgitation or mitral valve stenosis.
1. Which is right for me: mitral valve repair or mitral valve replacement?
The answer depends on your anatomy and the condition of your mitral valve. A mitral valve repair restores the valve's structure and function. Valves that can not be repaired are replaced with a mechanical or prosthetic (tissue) valve. When recommending a valve, your surgeon will consider your age, lifestyle, and other medical conditions such as your ability to safely take blood-thinning medication. Tissue valves may last up to 20 years, and do not require blood-thinning medicines. Mechanical valves are more durable and can last a lifetime, but require blood thinning medications with periodic blood tests.
Your surgeon's experience impacts the surgical outcome for mitral valve repair or replacement and may impact the treatment recommended for you. Repairing a mitral valve requires additional expertise and experience that not all surgeons have.
Duke has a full complement of mechanical and tissue valves to meet the needs of patients undergoing mitral valve surgery. Our surgeons repair two-thirds of all mitral valves and more than 90% of degenerative mitral valves that they operate on each year and achieve exceptional patient outcomes in terms of overall survival and fewer complications.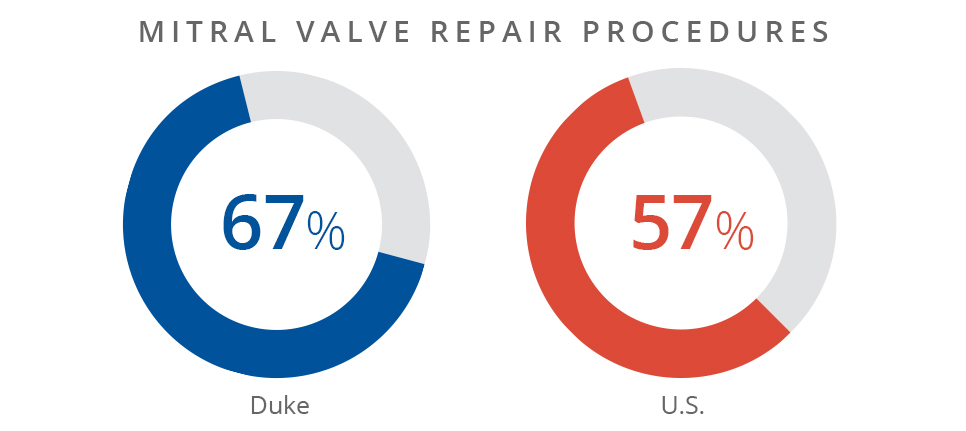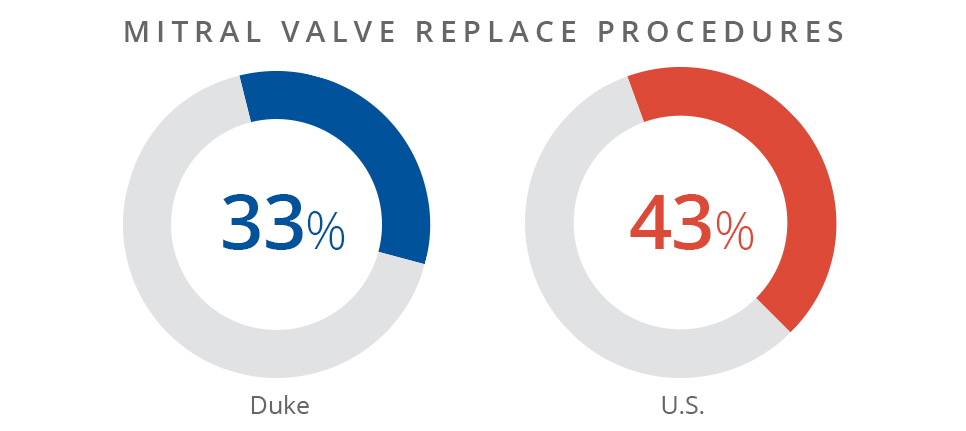 2. What is the surgeon's experience with open mitral valve surgery and minimally invasive mitral valve surgery?
Traditional mitral valve surgery is performed through a mid chest incision and the opening of your breastbone. Minimally invasive mitral valve surgery can be performed using a small incision in the groin and a second small incision between the ribs in the chest. Duke surgeons also use smaller incisions to perform robotically assisted mitral valve surgery. The benefits of minimally invasive surgery include less bleeding, transfusion, and infection, along with to shorter hospital stays and a faster recovery.
Minimally invasive mitral valve procedures require precision, experience, and skill partially influenced by performing a large number of surgeries. More than 1,800 minimally invasive mitral valve repair procedures have been performed at Duke since the program started in 1996. Our surgeons perform more than 165 of these surgeries annually. Our program records the second highest volume in the U.S.
On average, surgeons across the U.S. perform 4 mitral valve procedures per year (mostly through the breastbone), and over 85% of surgeons perform no minimally invasive valve procedures.
3. What is my chance of surviving and doing well after mitral valve surgery?
As with any surgical procedure, there are risks for complication. The most serious complications associated with mitral valve surgery can include stroke, placement of a pacemaker, kidney failure, lung failure and wound infection which fortunately are all are unusual. Your surgeon will discuss your personal risk for surgery.
Although age can be a risk factor for any procedure, research suggests people 65 and older do well and experience significant benefit from mitral valve procedures.
Duke's overall survival and complication rates after mitral repair and replacement are better than the national average. Duke survival for isolated mitral repair is 100% versus 99% nationwide.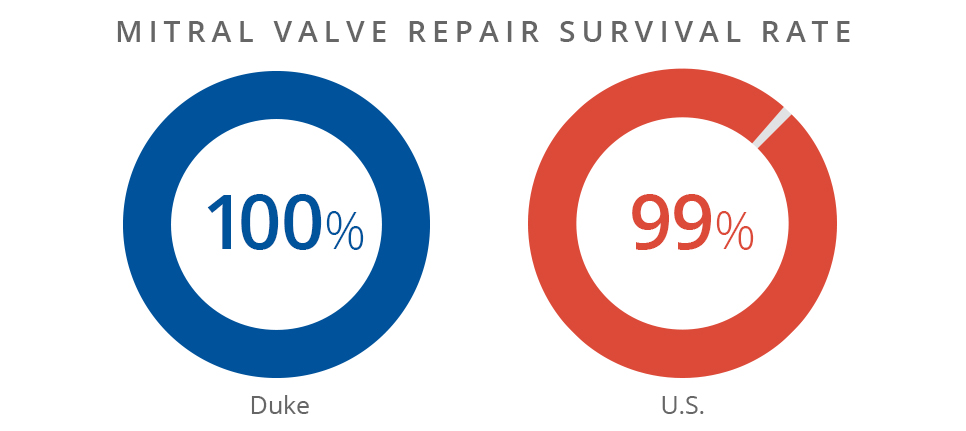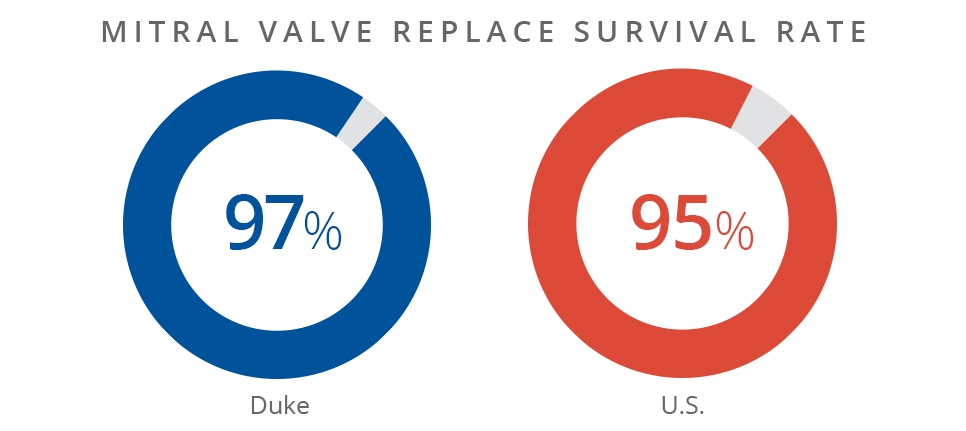 Understand your risk of complication
The rates of experiencing complications such as stroke, bleeding, kidney injury and lung failure after mitral valve surgery are all lower at Duke than the national average.
Complication rates following mitral valve replacement
Less than 1% of our patients suffered a stroke, compared to the national average of 4.4%.
2.7% of our patients experienced renal failure, compared to the national average of 4.0%.
8.1% of our patients experienced pulmonary complications, compared to the national average of 23.1%
Complication rates following mitral valve repair
Less than 1% of our patients suffered a stroke compared to the national average of 2.5%
1.4% of our patients experienced renal failure, compared to the national average of 1.1%
4.3% of our patients experienced pulmonary complications, compared to the national average of 8.8%
4. What will my recovery involve?
You may require mild pain medication for a few weeks after discharge from the hospital. You should be back to your daily activities within four weeks after minimally invasive surgery and 8 to 12 weeks following the open chest approach.
5. What if I am not a candidate for surgery?
If you are not a surgical candidate, mitral valve treatment options include medication and sometimes a less invasive procedure called MitraClip. This procedure is performed in the catheterization lab. A clip will be placed in your mitral valve through your groin.
Duke is one of 40 U.S. medical centers to offer the MitraClip. You may be a candidate for a MitraClip procedure if you are not a good candidate for mitral surgery. While results following a MitraClip procedure may not last as long a mitral valve surgical procedure, studies show people who receive the MitraClip experience a better quality of life, fewer readmissions to the hospital for heart failure, and better long-term survival, when compared to patients who only received medication.