Weight Loss Surgery Before and After Photos
Advice From People Who Had Bariatric Surgery
Overview
People from all walks of life come to Duke for weight loss surgery. Learn what life was like for them before they had surgery, and what motivated them to begin the process. Find out what they have achieved since having weight loss surgery.
Their advice may help you take the next step. That may be signing up for a free information session where our bariatric specialists can answer your questions, or filling out an application so you can schedule your first appointment.
Attend a Free Bariatric Seminar Online
Text
Learn more about obesity, surgery options, and our program at one of our free information sessions.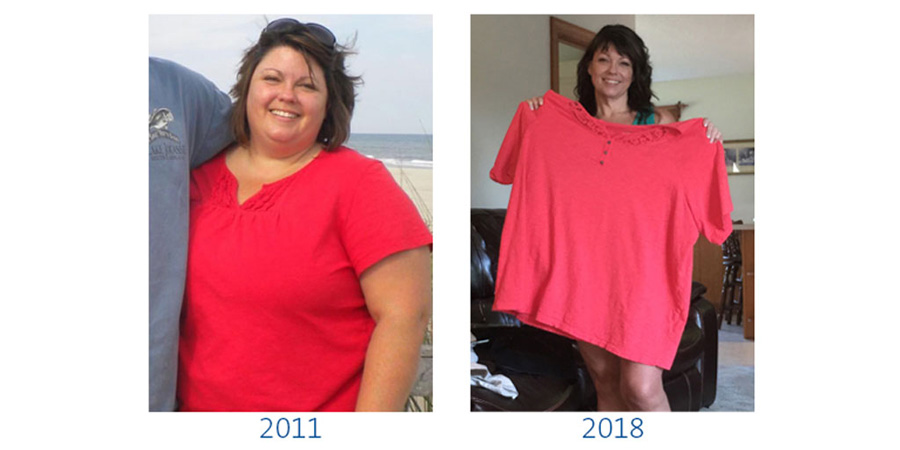 Michelle Taylor, Gastric Bypass, 2014
Since Michelle Taylor's weight loss surgery in August 2014, the 48-year-mother of two has lost 140 pounds and has crossed off every single item on her bucket list, including the most important one: to live. Read her story.
Before Weight Loss Surgery
I basically sat back and just watched life happen around me. I could lose a little bit of weight but I could never get over the hump. I could never figure out how to cut out more calories or more fat. It just didn't work for me. I needed the surgery. I woke up one day and literally felt if I don't make a big change I'm not going to be here in 10 years. 
After Weight Loss Surgery
I feel like they saved my life. I wish I had done it sooner. Those were 10 years wasted sitting on the sidelines, not being totally engaged. Now I can do anything I want to do and go anywhere I want to go.
Text
Fill out our application if you are interested in starting the weight loss surgery process. Once you've submitted the application, we'll call you to schedule your first appointment.
Jerry Quinn, Duodenal Switch, 2018
After having weight loss surgery, 48-year-old Jerry Quinn lost more than half of his body weight in 10 months. Read his story.
Before Weight Loss Surgery
I was on the verge of being completely immobilized. I couldn't stand up but for maybe an hour or two. And couldn't walk far at all. I couldn't walk from the parking lot to the building.
After Weight Loss Surgery
At the day of surgery, they weighed me at 390. And I weigh 218 now. I certainly feel a lot better, a lot more mobile. And now I park farther away from the building on purpose.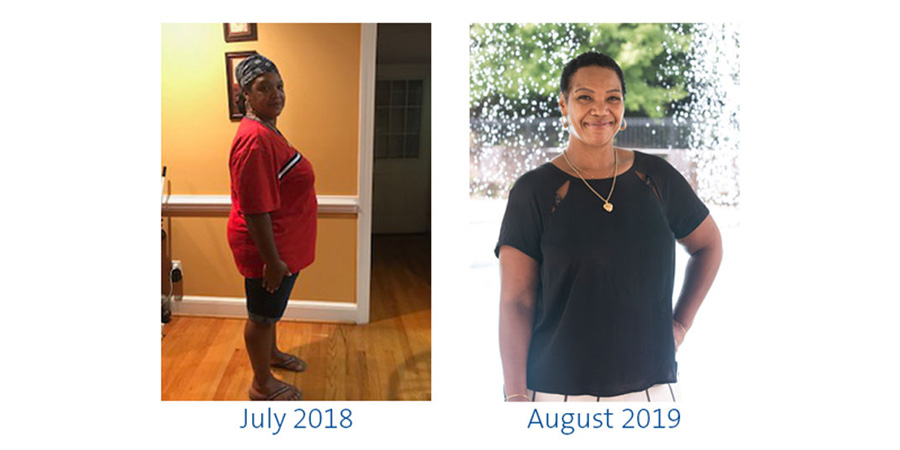 Tracie Green, Gastric Bypass, 2018
At 247 pounds, Tracie Green felt miserable thanks to a slew of weight-related health problems. When she couldn't take it anymore, Green decided to try weight loss surgery. In the 12 months since then, Green has lost almost 60 pounds and her health has improved significantly. Read her story.
Before Weight Loss Surgery
I was trying to lose weight but it just wasn't happening. It wasn't coming off fast or it wasn't coming off at all. I have a 10-year-old son. I want to be able to run. I wanted to be able to play, have more energy. I wanted to feel good about myself.
After Weight Loss Surgery
Before my surgery, I was 246. I am now 190. I couldn't walk. It was so bad. Maybe a month after my surgery, I noticed that I had no issues. I could walk. I can bend down and paint my toenails, I can put on my heels without asking my husband to help me put them on.
Advice for People Considering Weight Loss Surgery
Weight loss surgery is a big, life-changing experience. If you're not equipped or ready to make that change, you should not have the surgery."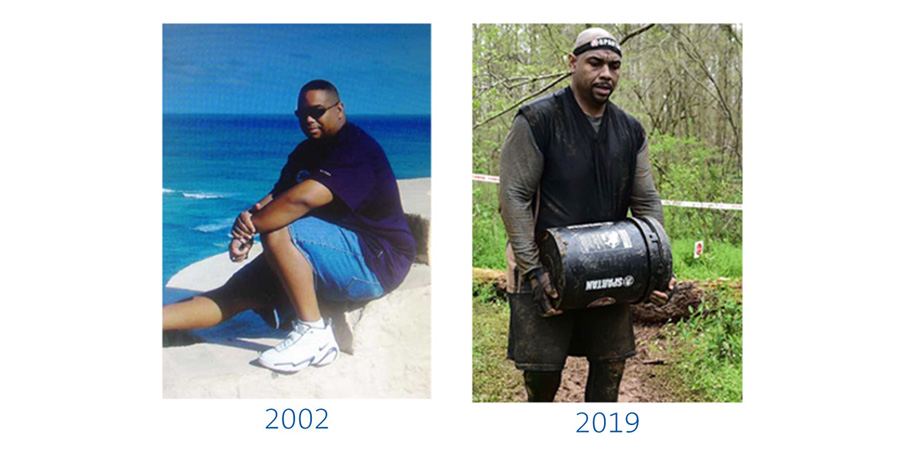 Donald Rice, Gastric Bypass, 2005
Fourteen years after his gastric bypass surgery, Donald Rice is a confident 46-year-old father who enjoys being active and social. "There are so many positives that changed my life that what I gave up doesn't matter," he said. "It doesn't even cross my mind." Read and watch his story.
Before Weight Loss Surgery
I was good at projecting a very positive image, but internally the confidence just wasn't there. I knew I needed to do something about it. I tried diet and exercise but I wasn't getting the results I needed.
After Weight Loss Surgery
Since the surgery, I have lost over 100 pounds. I have gotten off of cholesterol [medicine]; I was pre-diabetic -- I'm no longer pre-diabetic. I've seen so many changes in my life professionally and personally because of confidence.
Advice for People Considering Weight Loss Surgery
This is just another way to assist. This is not the end game. But it does help out dramatically. What is the best you, you can be? And how does weight loss surgery factor in that?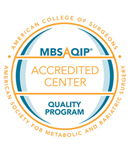 Bariatric Center of Excellence
Duke Regional Hospital is accredited by the American Society for Metabolic and Bariatric Surgery for its high standards of care in weight loss surgery.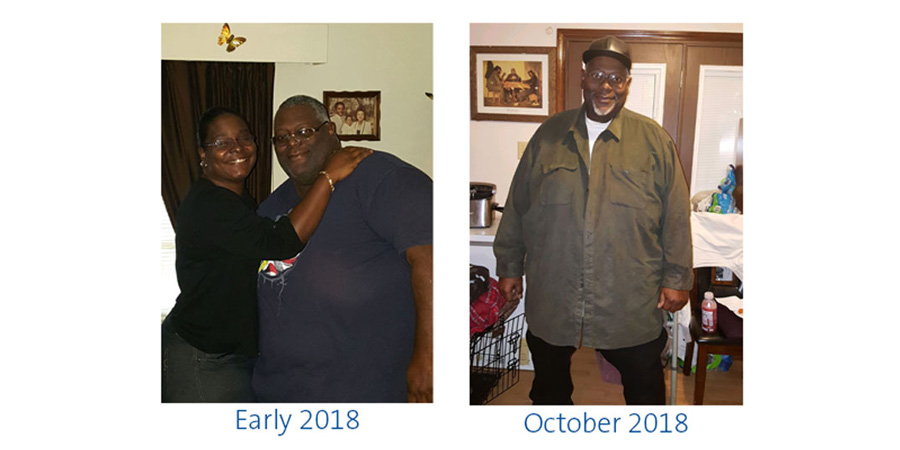 Ronald Utley, Duodenal Switch, 2018
Ronald Utley, a former football player and 54-year-old father of six, thought weight loss surgery might be a quick fix. He soon learned it was just the beginning of his journey. Read and watch his story.
Before Weight Loss Surgery
I tried every diet -- Jenny Craig, Atkins, all of them -- but eventually, the weight came back. Before surgery I had gout, I had leg ulcers, and I had blood clots. All of those are gone now.
After Weight Loss Surgery
I was weighing in at 534 when I had my surgery, now, nearly one year later, I'm 389.
Advice for People Considering Weight Loss Surgery
If you are concerned about your health and you need that done to get healthier, I would advise anyone to do whatever you can to get the surgery. You will come back and be a new person. You will be out of that prison of a body that you were once in.
This page was medically reviewed on 12/03/2021