Choosing the weight loss surgery that is right for you is far more complicated than knowing what worked successfully for someone else. Your surgeon will take many factors into consideration when recommending a procedure to you. Having a general understanding of how weight loss surgery works, and why one procedure is better than another for certain medical conditions, will help you understand your surgeon's recommendations when it's time to take the next step.
How Much Weight Should I Expect to Lose?
Weight loss surgery is considered a success if you lose 50% or more of your excess weight over time. Excess weight loss is calculated
by subtracting your ideal body weight from your body weight. Each type of weight loss surgery is different in terms of the estimated percent of excess weight loss expected and the speed with which the weight comes off. Over the long term,
studies show
the following expected weight loss ranges for each type of procedure:
Higher End of Excess Weight Loss Expected
Gastric Bypass: 60%–80%
Duodenal Switch: 60%–100%
Lower End of Excess Weight Loss Expected
Lap Band: 10%–80%
Gastric Sleeve: 40%–80%
Your bariatric team will explain why one of these procedures may be better for you than another, and work with you after your surgery to help you achieve these goals.
Attend a Free Information Session Online
Learn more about obesity and weight loss surgery at one of our free information sessions.
Weight Loss Surgery Considerations
The extensive evaluation you undergo takes these and other factors into consideration.
Your Weight Loss Goals
The percent of excess weight you are expected to lose and the rate at which you lose weight differs for each surgery.
Your Medical History
Your history with medical problems such as acid reflux and diabetes -- and how long you've had them -- can make one surgery better for you than another.
Your Risk Factors
Each weight loss procedure is associated with a different set of risks, which may vary based on your specific medical condition. For example, some people may be at higher risk for ulcers after certain bariatric surgeries if they take NSAID medications (like ibuprofen).
Previous Scar Tissue
Previous abdominal incisions may make some weight loss surgeries more difficult.
Attend your pre-surgical evaluation, all appointments, and monthly support meetings near where you work or live. Attend a free information session online to learn more about obesity and weight loss surgery.
Compliance with Long-Term Follow-Up
People who don't adhere to lifelong nutritional regimens may want to avoid weight loss surgeries that require this stringent adherence. Also, people who have difficulty attending follow-up appointments are not as successful at maintaining consistent, healthy behaviors and may be at risk for weight gain and complications.
Smoking Habit
Smoking increases your risk for blood clots, pneumonia, and other lung problems after surgery.
Timing of Surgery
Given that bariatric surgery will involve significant adjustment, recovery, and behavioral changes, our team will assist you in determining the best time for you to undergo surgery. Many factors are considered when deciding the optimal timing of surgery, including the status of your medical conditions; stability and support for life stressors, mood, or other psychological symptoms; and your preparation for surgery.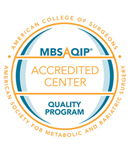 Bariatric Center of Excellence
Duke Regional Hospital is accredited by the American Society for Metabolic and Bariatric Surgery for its high standards of care in weight loss surgery.
Fill out our application if you are interested in starting the weight loss surgery process. Once you have submitted an application, we will call you to schedule your first appointment.
Reviewed: 12/03/2021