Revision weight loss surgery may be considered if you:
Did not achieve adequate weight loss or are regaining weight despite following recommended lifestyle changes
Have medical conditions such as diabetes that did not improve or returned
Have complications that require corrective surgery
If you have one of these concerns, having an experienced surgeon evaluate your condition is very important, as revision weight loss surgery can be challenging and requires advanced skills and techniques. Our experience using different revision surgeries to treat all types of complications associated with weight loss surgeries is well known. In fact, other physician practices often refer their people to us when complications occur.
Attend a Free Information Session Online
Learn more about obesity and weight loss surgery at one of our free information sessions.
When Should Weight Loss Surgery Revision Be Considered?
Before we consider revision weight loss surgery, we evaluate your anatomy to determine if there is a physical problem. We take a close look at your eating and exercise habits to determine if you may have gone off course. We also take into consideration which procedure you already had, as well as your current medical condition. If revision weight loss surgery is the right next step, we help you understand your options and pick the revision weight loss surgery that's right for you.
Our Weight Loss Surgeons
Meet the weight loss surgeons who can perform your surgery.
Find a Revision Weight Loss Surgery Doctor
Types of Weight Loss Surgery Revisions
There are three basic types of weight loss surgery revisions.
Conversion procedures convert from one procedure to another.
Corrective procedures address a complication or an incomplete bariatric treatment that requires correction.
Reversals restore your anatomy to normal.
Attend your pre-surgical evaluation, doctor appointments, and monthly support meetings near where you work or live. Attend a free information session to learn more about obesity and weight loss surgery.
Reasons for a Weight Loss Surgery Revision
Insufficient Weight Loss, Weight Regain, or Unresolved/Return of Medical Conditions
While most people have success following weight loss surgery, a small group of people may require additional intervention, and possibly additional surgery, to help them reach their goal. The first step is a comprehensive evaluation of your anatomy and a detailed nutritional and behavioral assessment to identify a possible cause. Depending on your original procedure, we may recommend conversion to another weight loss procedure or corrective surgery.
Complications that Require Corrective Treatment
In some cases, a corrective procedure may be necessary to control or close a leak, fix an obstruction, repair an ulcer, or control bleeding. These conditions are rare but can occur in a small percentage of patients.
Gastric Band Revision Surgery Following Lap-Band Surgery
People who underwent lap-band surgery in the past and are now experiencing chronic complications related to the band or the port may require medical or surgical intervention. Reversing the procedure by removing the band is one option. Converting to a different weight loss procedure is another option. We will review your individual condition and recommend the gastric band revision that's best for you.
Endoscopic Gastric Bypass Revision
There are times when people experience trouble reaching their weight loss goals, or even weight gain after gastric bypass, because of stretching that may occur in the stomach and the connection between the stomach and small intestine. In this case, we may recommend an endoscopic gastric bypass revision, which is performed by inserting a tube into your mouth to reach the stomach. Endoscopic instruments passed through the tube are used by your surgeon to place stitches in your stomach to reduce its size or the size of the outlet to the small intestine.
Correcting Complications from Older Weight Loss Surgeries
People who underwent older weight loss surgeries such as stomach stapling (vertical banded gastroplasty or VBG) and jejunoileal bypass may have complications that require evaluation and possible reversal or conversion to a different procedure. If you are having complications, we can diagnose your concerns and offer you solutions.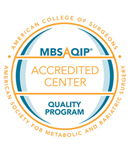 Bariatric Center of Excellence
Duke Regional Hospital is accredited by the American Society for Metabolic and Bariatric Surgery for its high standards of care in weight loss surgery.
Fill out our application if you are interested in starting the weight loss surgery process. Once you have submitted your application, we will call you to schedule your first appointment.
Reviewed: 02/13/2019