The duodenal switch is one of the most complex and least performed bariatric surgeries. It can be very effective in people with a BMI greater than 40. In fact, studies report that duodenal switch results in more weight loss than gastric bypass. It is also more effective at controlling -- and putting in remission -- type 2 diabetes and other obesity-related illnesses, compared to other weight loss procedures.
Attend a Free Information Session Online
Learn more about obesity and weight loss surgery at one of our free information sessions.
How Duodenal Switch Works
In duodenal switch, the surgeon removes 80% of the stomach, similar to the gastric sleeve procedure. It bypasses a portion of the small intestine, like the gastric bypass. However, rather than attaching the small stomach to the small intestine -- which is done with gastric bypass -- the stomach is connected to the duodenum, the first portion of the small intestine.
Minimally Invasive Duodenal Switch
Your surgeon may use different devices, such as magnets or robotic surgery, to reduce the number of incisions needed to perform duodenal switch. This minimally invasive surgery approach:
Shortens your hospital stay (typically one to two nights)
Leaves small scars
Helps you recover quickly and with less pain
Less Invasive Version Being Studied
We completed enrollment in a multi-center trial to evaluate a less invasive version of the duodenal switch, known as the loop duodenal switch. It is also called Single Intestinal Pyloric Sparing Surgery (SIPS) and Single-Anastomosis Duodenal Switch (SADS). The duodenal switch intersects the small intestine at two points. The loop duodenal cuts at only one, which creates the loop for which the procedure is named. We continue to study this modification. This procedure is not covered by insurance.
Duodenal Switch Benefits
Weight Loss Surgery Overall Benefits
The long-term success of bariatric surgery depends on your ability to make permanent changes in your diet, behavior, and exercise. When those changes take place, studies show that people who undergo bariatric surgery:
Live longer
Have reduced cardiovascular risk, less sleep apnea, and less joint-related pain
Enjoy improved quality of life
There are additional benefits specific to duodenal switch.
Expected Weight Loss for Duodenal Switch
Duodenal switch results in greater, more rapid weight loss than other weight loss procedures and less chance of regaining weight. At five years, studies report people experience 60 to 70% or more excess weight loss.
Most Effective at Controlling Diabetes
Duodenal switch is more effective at controlling or reversing type 2 diabetes and other obesity-related illnesses.
Partially Reversible
It is possible to reverse the intestinal bypass portion of the operation if you experience digestive problems. The sleeve gastrectomy portion of the operation cannot be reversed.
Attend your pre-surgical evaluation, doctor appointments, and monthly support meetings near where you work or live. Attend a free information session online to learn more about obesity and weight loss surgery.
Eat Near "Normal" Meals
Your remaining stomach is larger after duodenal switch surgery than with gastric bypass, allowing you to eat larger meals.
Reduces the Absorption of Fat
Reduces the absorption of fat by 70% or more.
Favorable Changes to Gut Hormones
Reduces appetite and improves satiety.
Lower Ulcer Risk
There is a lower risk of developing marginal ulcers when compared to gastric bypass.
Find a Duodenal Switch Doctor
Duodenal Switch Complications
Bypassing a larger portion of the small intestine results in more weight loss than gastric bypass, but it also makes it difficult for the body to absorb nutrients. This can result in complications that can be avoided or minimized through regular follow-up visits with your bariatric team.
Serious Vitamin Deficiencies and Malnutrition Issues
People who undergo duodenal switch must take more vitamins than those who have gastric bypass. The increased vitamin requirement can cost more than with other weight loss surgeries. Maintaining a regular schedule of follow-up visits is also very important, as malnutrition issues can be permanent if medical advice and nutrition guidance is ignored.
Loose Bowels and Foul-Smelling Gas
Can occur if dietary guidelines are not followed. Two to three bowel movements a day are common among people who undergo a duodenal switch.
Higher Technical Complexity
This complex surgery requires the skills of an experienced surgeon to minimize the risk of complications. Duke bariatric surgeons have been performing duodenal switches with positive outcomes for more than 20 years.
Fill out our application if you are interested in starting the weight loss surgery process. Once your application has been submitted, we will call you to schedule your first appointment.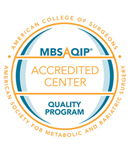 Bariatric Center of Excellence
Duke Regional Hospital is accredited by the American Society for Metabolic and Bariatric Surgery for its high standards of care in weight loss surgery.
Reviewed: 12/03/2021