Gastric bypass, also called Roux-en-Y gastric bypass surgery, is one of the most common types of bariatric surgery. Your stomach is stapled into two pieces, which speeds the flow of food into your intestine. The physical change also alters the gut hormones that influence feelings of hunger and fullness.
Attend a Free Information Session Online
Learn more about obesity and weight loss surgery at one of our free information sessions.
How Gastric Bypass Helps You Lose Weight
Gastric bypass is considered a "metabolic" procedure because it changes how your body absorbs fat, calories and nutrients. This metabolic change occurs because your gastrointestinal tract is altered when your gastric bypass surgeon attaches the smaller section of your stomach directly to your small intestine. As a result, your appetite changes and you feel full faster.
Minimally Invasive Gastric Bypass Surgery
Your surgeon may use different devices such as magnets or robotic surgery to reduce the number of incisions needed to perform gastric bypass. This minimally invasive surgery approach:
Shortens your hospital stay (typically one night)
Leaves small scars
Helps you recover quickly and with less pain
Find a Roux-en-Y Gastric Bypass Surgery Doctor
Gastric Bypass Benefits
Overall Weight Loss Surgery Benefits
The long-term success of bariatric surgery depends on your ability to make permanent changes in your diet, behavior, and exercise. When those changes take place, studies show that people who undergo bariatric surgery:
Live longer
Have reduced cardiovascular risk, less sleep apnea, and less joint-related pain
Enjoy improved quality of life
There are additional benefits specific to gastric bypass.
Expected Weight Loss for Gastric Bypass
The average person loses about 30 to 40% of their excess body weight in the first six months following surgery. Long-term, the average person keeps about 50% of their excess weight off in the 10 to 15 years after surgery.
You Feel Full, Faster
Because the gastric bypass procedure makes your stomach smaller and changes how your body processes food, you will eat less. It also reduces the amount of "hunger hormones" produced by your GI tract. As a result, your average meal will be much smaller, and you will feel fuller faster.
Relieves Acid Reflux and GERD Symptoms
Studies show that gastric bypass is more effective at providing relief from heartburn, acid reflux, and other symptoms of GERD than gastric sleeve.
Gastric Bypass Is Reversible
Because we are not removing any portion of your stomach, it is possible to return your anatomy to normal.
Gastric Bypass Potential Complications
Gastric bypass is a complex procedure that carries some health risks in addition to the risks associated with surgery in general, and weight loss surgery in particular.
Leaks
Leaks may develop from your stomach and small intestine.
Internal Hernia, Blockages, Gallstones, and Narrowing (Strictures)
There are increased risks for these conditions where the stomach and intestine join. They may require additional surgeries.
Marginal Ulcers
Can occur in the GI tract. They are more common in people who smoke or take NSAIDs (nonsteroidal anti-inflammatory medications, including aspirin and ibuprofen) after surgery.
Attend your pre-surgical evaluation, all appointments, and monthly support meetings near where you work or live. Attend a free information session online so you can learn more about obesity and weight loss surgery.
Nutritional Problems
Related to how your body absorbs nutrients. This can lead to low levels of vitamins, iron, and calcium. A lifelong nutritional regimen overseen by our nutritionist addresses this concern.
Dumping Syndrome
Can occur because your shorter small intestine does not handle the processing of sugary and starchy foods. As a result, you may experience sweating, flushing, dizziness, abdominal pain, vomiting, and other unpleasant symptoms that typically last for 30-45 minutes. Some people report that they appreciate this unpleasant physical reminder to stay away from starchy, sugary foods.
Constipation
May lead to abdominal pain but can be treated with a stool softener.
Fill out our application if you are interested in starting the weight loss surgery process. Once you've submitted the application, we will call you to schedule your first appointment.
Is Gastric Bypass Right for You?
Your surgeon will conduct a comprehensive evaluation to determine if gastric bypass or another weight loss procedure is the right choice for you.
As your lifelong partners in this journey, our team of bariatric specialists -- surgeons, nutritionists, psychologists, exercise physiologists, and others -- support you before, during, and after your surgery so you can be fully prepared. We want you to meet your goals and live life to its fullest.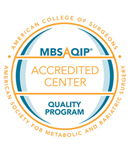 Bariatric Center of Excellence
Duke Regional Hospital is accredited by the American Society for Metabolic and Bariatric Surgery for its high standards of care in weight loss surgery.
Reviewed: 12/03/2021