Whether you are considering weight loss surgery or ready to take the next step, we want you to know what your journey will look like. This process starts with learning more about the procedures and the commitment you'll make when you are ready to take that next step.
Attend a Free Information Session Online
Learn more about obesity and weight loss surgery at one of our free information sessions.
What You Need to Know Before Your Appointment
New Patient Evaluation
Your first evaluation as a new patient will take about four hours. During this time, you'll participate in several group education sessions, as well as individual assessments with members of our team.
The Advantages of Group Education
Our bariatric team meets with patients in group settings, followed by an individual assessment. The group education model has been shown to improve health outcomes in people with chronic diseases such as diabetes, high blood pressure, and other medical conditions related to obesity and metabolic syndrome. Many of our patients appreciate the opportunity these group education sessions give them to interact with others going through similar experiences.
How to Prepare for Your First Appointment
We know a 4-hour meeting makes for a full day, so there are definitely breaks built into the schedule. Please feel free to bring healthy snacks and beverages, but keep in mind that we do not allow any fast-food items or unhealthy food/beverage choices.
Bring A Support Person
We encourage you to bring someone with you to the New Patient Evaluation. In fact, it might help you to identify a support person who can attend appointments with you throughout the process. Please understand that children under 12 cannot be left unattended in the waiting area.
New patient evaluations are offered in Durham, Raleigh, and Burlington. Choose the location most convenient for you.
Find a Your First Weight Loss Surgery Appointment Doctor
What Tests You Should Expect
A series of medical tests will help us assess your current health, determine which weight loss procedure will work best for you, and minimize your risk of complications. You may be able to have these tests at the hospital on the same day as your new patient evaluation. If so, please allow for more time. It's possible these tests may point to the need for additional testing. The full list of tests follows, but each person will have a different combination of tests.
Blood and Urine Tests
These tests will look at the health of your organs and any abnormalities in your body fluids and hormone levels.
Chest X-Ray and Electrocardiogram
These images of your heart may be required, depending on your medical history.
Ultrasound
We may perform an ultrasound of your gallbladder to look for signs of disease.
Endoscopy
Your doctor will pass a long, flexible tube with a camera at its tip through your mouth and down to your stomach to assess the health of your esophagus and look for signs of GERD, the presence of hernias, and other conditions that affect your GI tract.
Sleep Study
You may be asked to undergo a sleep study if you experience sleep apnea.
Pulmonary Function Testing
These tests may be performed if you have trouble breathing.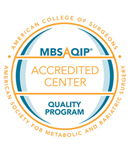 Bariatric Center of Excellence
Duke Regional Hospital is accredited by the American Society for Metabolic and Bariatric Surgery for its high standards of care in weight loss surgery.
Following Your First Appointment
Our Nurse Navigator will Guide Your Path to Surgery
Our nurse navigator will coordinate the findings from your meetings with the bariatric team and ensure you have completed all the necessary tests. She will also help you make sure you are meeting all the requirements of your insurance plan.
Medical/Surgical Review
Once your testing is complete, our team will meet to review your results and determine if you are eligible for surgery. If the team concludes that you are ready, your information will be submitted to your insurance company. Your surgery will be scheduled once it has been approved.
Fill Out Your Application
Use this link to fill out an application if you are interested in starting the weight loss surgery process. Once you've submitted your application, we will call you to schedule your first appointment.
Reviewed: 12/03/2021