The long-term success of bariatric surgery depends on your ability to make permanent changes in your diet, behavior, and exercise. When those changes take place, studies show that people who undergo bariatric surgery experience many benefits. Having an experienced weight loss surgeon perform your surgery minimizes many of the risks that are associated with surgery in general, and with specific weight loss procedures.
Our Weight Loss Surgeons
Meet the weight loss surgeons who can perform your surgery.
Find a Weight Loss Surgery - Pros and Cons Doctor
Weight Loss Surgery Benefits
You Live Longer
A 2018 JAMA study reported that people who underwent bariatric surgery lived longer when compared to people of similar age, sex, and BMI who had not undergone bariatric surgery.
Your Risk for Cardiovascular Disease Is Reduced
Data presented at the 2018 American Society for Metabolic Surgery meeting provided further evidence that people who undergo weight loss surgery experience a significant decrease in their risk for coronary artery disease. The study participants also saw significant decrease in their risk for diabetes, high blood pressure, and stroke.
You Experience Less Sleep Apnea and Joint-Related Problems
Weight loss, by any method, is a well-documented treatment for sleep apnea. Experience a reduction in sleep apnea and joint-related problems.
Your Quality of Life Improves
In addition to increasing your mobility, which allows you to enjoy more of life's daily joys, weight loss surgery increases your self-esteem, work and social interactions, and sexuality. At the same time, it can decrease feelings of depression and anxiety.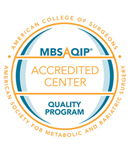 Bariatric Center of Excellence
Duke Regional Hospital is accredited by the American Society for Metabolic and Bariatric Surgery for its high standards of care in weight loss surgery.
Weight Loss Surgery Complications
Weight loss surgeries are generally safe. However, all surgeries carry bleeding and infection risks, as well as risks associated with general anesthesia. We want you to be aware of all the possible risks.
Risks Associated with Medical Conditions
Medical conditions you may already have -- such as blood clots, liver disease, heart disease, and kidney stones -- can worsen after surgery.
Physical, Social and Psychological Concerns
In the months following bariatric surgery, you may be at increased risk for the following conditions:
Depression, especially in people who experienced depression before surgery
Alcohol- and substance-abuse disorders
Social relationship changes
Hair loss
Sagging skin
Gallstones
Increased Fertility in Women
Women may become more fertile in the months following surgery. However, it is recommended that you not become pregnant for at least 12 to 18 months following surgery because of fetal and maternal health concerns.
Weighing Benefits vs. Complications
Our initial comprehensive evaluation of your overall health helps us decide whether the benefits of bariatric surgery outweigh the risks and side effects. It will also determine if you are psychologically and mentally ready to handle the changes in your life that will follow surgery.
Additional Surgeries May Be Necessary
Obesity is a chronic, lifelong disease that you will battle for the rest of your life. Surgery is the best option for long-term weight loss. However, it is only the first step, and additional concerns may arise. Some people will need to undergo additional surgeries to achieve additional weight loss, to remove sagging skin, to address additional medical concerns, or to induce loss of weight that was regained after surgery. As part of our team, we help you manage your health and address additional concerns as they arise.