Gastric sleeve surgery, also referred to as sleeve gastrectomy, is the most commonly performed weight loss procedure in the U.S. It's quick and easy to perform by experienced bariatric surgeons, and it may be recommended if you have certain high-risk medical problems. Your surgeon may also recommend it if your BMI is either very high or at the low end of the range for weight loss surgery candidates. Gastric sleeve can be performed alone, or it may be followed by a duodenal switch procedure to help you lose more weight.
Attend a Free Information Session Online
Learn more about obesity and weight loss surgery at one of our free information sessions.
How Gastric Sleeve Surgery Helps You Lose Weight
During a vertical sleeve gastrectomy, your bariatric surgeon will remove up to 80% of your stomach and form the remaining part into a tube that resembles a sleeve.
Your significantly smaller stomach reduces the amount of food you are able to eat and drink, initially to about half a cup at a time. Your smaller stomach also produces less of the hormones that affect your appetite. The combination of being able to eat less and wanting to eat less results in significant weight loss.
Laparoscopic Sleeve Gastrectomy
In most cases, your surgeon will make small incisions in your abdomen through which instruments, including a video camera, are passed to visualize the area and perform the procedure. Sometimes, surgeons may use devices such as magnets or robot-assisted surgery to enhance their surgical flexibility and precision. This minimally invasive surgery approach:
Shortens your hospital stay (typically one night)
Leaves small scars
Helps you recover quickly and with less pain
Find a Gastric Sleeve Surgery Doctor
Gastric Sleeve Benefits
Overall Weight Loss Surgery Benefits
The long-term success of bariatric surgery depends on your ability to make permanent changes in your diet, behavior, and exercise. When those changes take place, studies show that people who undergo bariatric surgery:
Live longer
Experience fewer health problems including reduced cardiovascular risk, less sleep apnea, and less joint-related pain
Enjoy improved quality of life
There are additional benefits specific to gastric sleeve surgery.
Expected Weight Loss for Gastric Sleeve Procedure
The average person loses about 60% of their excess weight over 12 to 18 months. Because this is a relatively new procedure, there is less information about long-term weight loss. Over time, people appear to experience less weight loss when compared to gastric bypass.
Gastric Sleeve Advantages
All foods can be tolerated in small amounts.
There is no dumping syndrome, which can occur with gastric bypass surgery.
There are fewer issues with ulcers among people who take NSAIDs (like ibuprofen).
Learn more about other common types of weight loss surgeries and their overall benefits.
Attend your pre-surgical evaluation, doctor appointments, and monthly support meetings near where you work or live. Attend a free information session online to learn more about obesity and weight loss surgery.
Gastric Sleeve Potential Complications
A gastric sleeve procedure is generally considered safe; complications and death are rare when it's performed by a competent surgeon. The following complications may occur.
Failure to Lose Weight and Weight Regain
This may occur because the stomach pouch is too large or lifestyle habits don't change. In addition, because the pouch can expand over time, the amount of food you can eat can increase, which can lead to weight loss stopping and the start of weight gain.
Not as Successful at Treating Type 2 Diabetes
Gastric sleeve is not as effective when compared to gastric bypass surgery or duodenal switch.
It Is Not Reversible
Removing a large portion of your stomach cannot be reversed.
Smaller Stomach Leaks
Leaks may occur shortly after surgery or, in rare cases, years following surgery.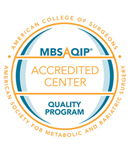 Bariatric Center of Excellence
Duke Regional Hospital is accredited by the American Society for Metabolic and Bariatric Surgery for its high standards of care in weight loss surgery.
Internal Hernia and Ulcers May Occur
The risk is lower than with gastric bypass.
Acid Reflux or GERD Are More Common
These conditions often require medication.
Malnutrition
May result from the dramatic decrease in food intake. This may be addressed through diet and nutritional supplements.
Constipation
Can lead to abdominal pain but can be treated with a stool softener.
Fill out our application if you are interested in starting the weight loss surgery process. Once your application has been submitted, we will call you to schedule your first appointment.
Reviewed: 12/03/2021