Nonsurgical Weight Loss Procedures
Gastric Balloon, AspireAssist, Endoscopic Gastric Sleeve, Endoscopic Gastric Bypass Revision
For More Information
Endoscopic weight loss procedures are a promising new option for people who want help losing weight but don't want -- or may not qualify for -- bariatric surgery. These nonsurgical procedures may also be an option for people who:
Are in earlier stages of obesity
Have a BMI between 30 and 40
Don't have obesity-related medical conditions
Endoscopic weight loss procedures achieve better weight loss than medication but not as much as bariatric surgery. Because they are newer procedures, more data is needed on how they perform over the long term. Endoscopic procedures are not covered by insurance at this time.
Our Doctors
Meet the weight loss doctors who perform endoscopic weight loss procedures.
Find a Nonsurgical Weight Loss Procedures Doctor
Attend your pre-surgical evaluation, all appointments, and monthly support meetings near where you work or live. Attend a free information session online to learn more about obesity and weight loss surgery.
Attend a Free Information Session Online
We invite you to our free information session to learn more about obesity, surgery and nonsurgical weight loss options, and our program.
Fill out our application if you are interested in starting the weight loss surgery process. Once you've submitted the application, we will call you to schedule your first appointment.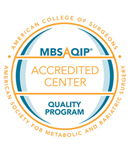 Bariatric Center of Excellence
Duke Regional Hospital is accredited by the American Society for Metabolic and Bariatric Surgery for its high standards of care in weight loss surgery.
Endoscopic Gastric Bypass Revision
There are times when people have trouble reaching their weight loss goals -- or even gain weight -- after gastric bypass, because of stretching that may occur in the stomach and the connection between the stomach and small intestine. In this case, we may recommend an endoscopic gastric bypass revision, which is performed by inserting a tube into your mouth to reach your stomach. Endoscopic instruments passed through the tube are used by your surgeon to place stitches in your stomach to reduce its size or the size of the outlet to the small intestine.
Reviewed: 03/04/2019