Bariatric Seminars
Free, One-Hour Bariatric Seminar in a Casual Atmosphere; Bring a Friend
For More Information
Our free weight loss informational seminars give you the opportunity to learn more about obesity, meet our team, and understand how our program works to help you lose weight. You are under no obligation to pursue your treatment at Duke by attending our free bariatric seminars. We give you the information you need to make an informed decision about this life-changing, lifelong process.
Our free information sessions take place at our clinics in Durham, Raleigh, and Burlington.
Why Should I Attend?
The hour-long bariatric seminar gives you the opportunity to learn about obesity and weight loss surgery in a relaxed, comfortable atmosphere. You'll interact with members of our team, which may include a bariatric surgeon and other health care professionals.
During the information session, you will learn about:
The causes and dangers of severe obesity, and how difficult it is to overcome on your own
Who is a candidate for weight loss surgery
The pros and cons of the different types of weight loss surgeries
What to expect before, during, and after weight loss surgery
There will be time for us to answer your questions and address your concerns. We encourage you to bring your family and friends so we can answer their questions as well.
We Become Your Lifelong Partners
We want you to leave with a solid understanding of the benefits and complications of weight loss surgery, and how we'll become your lifelong partners on your journey. The surgery is just the beginning. We work with you to help you meet your weight loss goals through the right diet and exercise -- at our monthly support groups and at your annual visits with our bariatric surgeons and physician assistants. We give you the tools you need to eat right, exercise regularly, manage stress, and live the life you were meant to live.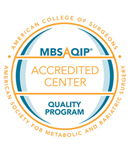 Bariatric Center of Excellence
Duke Regional Hospital is accredited by the American Society for Metabolic and Bariatric Surgery for its high standards of care in weight loss surgery.
Reviewed: 04/22/2019