You may be considering weight loss surgery, also known as bariatric surgery, if you have been unable to maintain weight loss through diet, exercise, and/or medication. Weight loss surgery is a safe, proven option for people on their weight loss journey. Weight loss surgery is not a quick-fix or an easy way out. But when it's accompanied by permanent lifestyle changes, it can help you achieve lasting benefits in your physical, emotional, and social well-being.
Find a Bariatric Surgery Doctor
We're With You at Every Step
You are not alone in this journey. Our program is run by a team of specialists who are here to help you prepare for surgery, undergo a safe procedure, and maintain healthy lifestyle habits designed to ensure you achieve success.
Our Bariatric Surgeons
Evaluate your overall health and help recommend a weight loss procedure that's right for you. Their years of experience performing about 800 bariatric surgeries annually -- nearly 99% are minimally invasive -- ensure you have the safest, most positive outcome possible.
Our Nutritionist and Behavioral Health Providers
Meet with you individually and in group settings to address your concerns and recommend ways to overcome the challenges you face. We help you adopt a healthy lifestyle so you lose the weight and keep it off.
Our Nurses and Financial Counselors
Navigate you through your insurance benefits and requirements, evaluation, and testing. Our bariatric coordinator helps in the days before and following your surgery and hospitalization.
Your Body Mass Index (BMI) is a calculation that helps determine a healthy body weight based on your height. It is also used by insurance companies to determine if you are eligible for weight loss surgery coverage.
Our Monthly Support Groups
Give you the opportunity to meet people coping with similar experiences. We encourage you, your family, and your friends to attend these groups in Durham or Raleigh before and after your weight loss surgery. Monthly topics cover nutrition, exercise, lifestyle changes, and more.
Our Facebook Group
Connects you (once you are a Duke patient) with others who are either waiting for surgery or have gone through a procedure. They talk about their struggles and achievements, ask questions, and share what works for them.
Attend a Free Bariatric Seminar Online
You can learn more about obesity, meet members of our team, find out about the different types of bariatric surgery, and understand how our program works at our free weight loss informational seminars.
Why Choose Duke Weight Loss Surgery
We Are a Bariatric Center of Excellence
Our weight loss program at Duke Regional Hospital is accredited as a Comprehensive Center by the Metabolic and Bariatric Surgery Accreditation and Quality Improvement Program (MBSAQIP). In addition, our weight loss surgery program is recognized as by private insurance companies, including Blue Cross Blue Shield, Cigna, and Optum. We have achieved their recognition because we consistently deliver high-quality bariatric care, comprehensive services, and positive patient outcomes.
We Are Certified to Offer Bariatric Surgery to Teens
Duke Regional Hospital is accredited to perform weight loss surgery in adolescents by the MBSAQIP of the American College of Surgeons and the American Society of Metabolic and Bariatric Surgery. It is the only North Carolina hospital and one of the few in the country with accreditation to offer weight loss surgery options to teens ages 14 to 18.
You May Be a Candidate for Weight Loss Procedures that Are Not Widely Available
We are involved in studies of new and variations on existing weight loss surgery methods that are not standard in the U.S. but show promise in research studies and other countries. We may be able to enroll you in a clinical trial for these procedures, depending on your individual condition and whether the procedure could be right for you.
Ready to Take the Next Step?
Fill out our application if you are interested in starting the weight loss surgery process. Once you have submitted the application, we will call you to schedule your first appointment.
Our Group Appointments Are a Proven Method for Managing Chronic Disease
We provide lifelong follow-up after surgery through shared appointments, which allow you to meet with several providers in group settings. This shared approach to care has been proven to improve health outcomes in people with chronic diseases such as diabetes, high blood pressure, and other medical conditions related to obesity and metabolic syndrome. They also give you the opportunity to interact with others going through similar experiences.
Our Bariatric Surgeons Are Nationally Recognized
Our weight loss surgeons hold leadership positions in professional organizations. They deliver lectures, help develop treatment guidelines and teach the latest bariatric surgery techniques to future bariatric surgeons as well as to doctors who travel to Duke from across the country and around the world to participate in our courses.
Our Surgeons Correct Complications from Previous Weight Loss Surgeries
Our surgeons work with people who experience complications from old weight loss procedures, such as stomach stapling (vertical banded gastroplasty, or VBG) and jejunoileal bypass, both of which are no longer performed. If you are experiencing complications, we can diagnose your concerns and offer you solutions. Our experience handling all types of complications associated with weight loss surgeries is well-known. In fact, other physician practices often refer their patients to us when complications occur.
Weight Loss Surgery Revision Options
If you have regained weight following weight loss surgery, we can help you correct behaviors that may have gone off course. We evaluate your anatomy, behavior, and medical conditions to determine a treatment strategy. If appropriate, we offer a list of revision options, depending on which original procedure you had.
Attend your pre-surgical evaluation, doctor appointments, and monthly support meetings near where you work or live. You can attend free information sessions online to can learn more about obesity and weight loss surgery.
We Use the Latest Advances in Endoscopic Procedures
While these procedures are not covered by insurance and have not been available for as long as the standard weight-loss surgeries, they are showing promise. Our bariatric surgeons and our gastroenterologist are trained to perform endoscopic weight loss procedures, such as the gastric balloon, and can evaluate your individual medical condition to determine if you may benefit from one of these less invasive approaches.
We Employ New Surgical Approaches that Make Smaller incisions
As leaders in the field of bariatric surgery, we are often among the first in the U.S. to employ new surgical approaches designed to improve outcomes. For example, we're using magnets, robotic techniques, and even tinier surgical instruments to decrease incision sizes to the point where only one incision may be needed and result in a scar that is almost invisible. Just as important, these new technologies also increase your surgeon's ability to see and maneuver around organs during your surgery.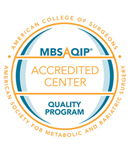 Bariatric Center of Excellence
Duke Regional Hospital is accredited by the American Society for Metabolic and Bariatric Surgery for its high standards of care in weight loss surgery.
Reviewed: 12/03/2021