While the cost of bariatric surgery and related lifestyle changes can be considerable, the good news is that most health insurance plans provide coverage for weight loss surgery and related services to people who meet certain requirements. However, what insurance will pay for and how to qualify can differ greatly, even among plans offered by the same insurance company.
We understand this can be a confusing part of your weight loss journey. That's why we do everything we can to help you understand your insurance benefits and what expenses you can expect that go beyond your insurance coverage.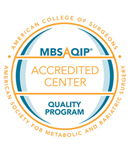 Bariatric Center of Excellence
Duke Regional Hospital is accredited by the American Society for Metabolic and Bariatric Surgery for its high standards of care in weight loss surgery.
Know Your Insurance Plan Benefits
In general, insurance should cover:
Doctor visits
Surgery
Hospital and related fees
Pre-op and post-op appointments
Diagnostic testing
Our financial care coordinators will verify your insurance benefits after your application is submitted and your health history has been completed in
Duke MyChart
.
We also determine what your insurance plan states is medically necessary in order to obtain approval for surgery, as well as what, if any, documentation it requires. For example, some insurance plans require no documentation of your past weight loss attempts, while others require that your primary care doctor provide 12 months of documentation.
Most insurance plans will require that we submit your tests results, food journals, and other medical documentation. The submission of your information is done after your surgery is scheduled because the approval provided by your insurance is for the specific procedure you have chosen, the dates of service for your procedure, and your inpatient stay.
You don't have to wait for us to provide information about your insurance benefits. We encourage you to obtain this information as soon as you start thinking about pursuing weight loss surgery. You can use this guide to ask your insurance company questions so you understand your benefits before you get started.
Attend a Free Information Session Online
Learn more about obesity and weight loss surgery at one of our free information sessions.
Your Financial Responsibilities
More Detailed Information Provided at Your First Evaluation
We go into much greater detail about the financial aspect of weight loss surgery at your first evaluation. We will have already researched what your insurance plan will cover and will meet with you individually to discuss what benefits your insurance provides, as well as what you will be responsible for.
Your Financial Responsibilities
You may be responsible for all costs up until you meet your deductible and your co-pays. Co-pays required by your plan are paid at your appointments. If you have a facility copay for your surgery, it will be due two weeks before your surgery date.
Other Financial Concerns
There are additional costs that will result from your weight loss surgery that will not be covered by insurance.
You will be out of work while you recover from surgery.
Your food bill may increase as your diet changes.
You will have vitamin and nutritional requirements.
Adopting an exercise program may involve gym costs or a personal trainer.
Your weight loss may require you to purchase a new wardrobe.
Some plans do not cover the nutritional counseling we provide prior to and following surgery. If that is the case with your plan, we can provide an estimate of these costs so you'll understand what fees you'll be responsible for. We review these costs with you throughout the process and offer suggestions for cost-effective alternatives.
Paying Cash for Weight Loss Surgery
If you choose to pay cash for your weight loss surgery, payment in full is due before surgery.
Charity Care
People who have insurance coverage for bariatric surgery are not eligible for charity care.
Fill out our application if you are interested in starting the weight loss surgery process. Once you have submitted the application, we will call you to schedule your first appointment.
Reviewed: 12/03/2021