Weight Loss Surgery Gives Mom New Lease on Life
Michelle Taylor has been crossing items off of her bucket list since having weight loss surgery (Photo: June 2019)
Overview
Michelle Taylor of Bahama, NC, woke up one morning with an epiphany: "I just had this overwhelming feeling that I wouldn't be here in 10 years." Her weight was out of control, and she was ready to make a change. After deciding to try gastric bypass surgery, she made a list of things she wanted to do after losing weight. Since her surgery in August 2014, Taylor has lost 140 pounds and has crossed off every single item on her list, including the most important one: to live.
On the Sidelines
Taylor, a 48-year-old mother of two, was active and fit into young adulthood. But when she was pregnant with her first child, an injury caused her to be bedridden for months. "That's when the weight came, and it snowballed," Taylor said.
She noticed herself taking a back seat to her own life. She avoided going to the beach because she didn't want to wear a bathing suit. She socialized less because she was embarrassed to eat in front of other people. And she became less and less active because of joint pain.
She tried weight loss programs, some of them more than once. "I could lose 20 pounds, but I could never get past a certain weight or maintain that lifestyle, whether it was because I had little kids or just did not have the motivation and determination," Taylor said.

After her "Aha" moment in 2013, Taylor started researching weight loss surgery and asking around for provider recommendations. That pointed her not only to Duke, but also to Dana Portenier, MD, who would become her weight loss surgeon.
"When someone is excited and passionate about what they do, they help you feel confident and secure with your decision," she said of Dr. Portenier.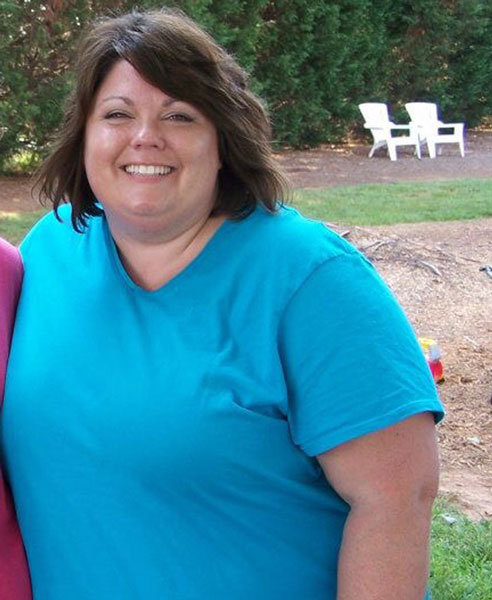 Right Tool for the Job
Taylor's next step was understanding which procedure was right for her. She and her care team settled on traditional gastric bypass surgery. Ironically, a potential side effect called dumping syndrome seemed like a helpful failsafe to Taylor. Dumping syndrome happens when a person who's had gastric bypass surgery eats too much; eats too fast; or eats food too high in sugar, starch, or fat. It can make you feel pretty lousy, potentially causing sweating, dizziness, abdominal pain, and nausea among other things.
"I think of dumping syndrome as part of the tool, because I was never successful in sticking to a weight loss program, a specific diet, or meal plan before. I was always self-sabotaging. So, the idea of dumping syndrome saying to me, 'What are you doing? Don't ever do that again,' and protecting me from myself was part of the reason I chose that surgery," Taylor said. "It was the right decision for me."
Full Steam Ahead
Taylor scheduled the surgery as soon as possible. The physical recovery was easier than she'd imagined, and she was able to return to work after just two weeks.
Six weeks after surgery, Taylor began working out with a trainer weekly, which she continues to this day. She has developed a new appreciation for healthier food in general.
"When you remove all the processed foods and the salt and the sugar, it's amazing how good natural foods taste," Taylor said. "So I still enjoy food. I love a good steak!"
Bucket List
Recently, Taylor found a 22-item list she had made before her gastric bypass. It consisted of things she wanted to do after she lost weight -- things the weight loss community refers to as "non-scale victories," which are everyday wins that just make you feel good.
"There were things on there like being able to sit in a plastic chair at a picnic with no fear of it breaking, and being able to go on a ride at an amusement park. But there were also things like not being the biggest person in the room, feeling feminine, and living my life," Taylor said.
In the five years since her surgery, Taylor has marked off every single thing on her list. Her only regret? Not doing it sooner.
"I feel like it saved my life; I really do. And I wish I had done it 10 years earlier. Those are years wasted sitting on the sidelines," Taylor said. "I always tell people now, life is meant to be lived."