Becoming Half the Man He Once Was
Jerry Quinn and his wife have been able to enjoy walks on the beach again (Photo: April 2019)
Overview
At 48 years old and 485 pounds, Jerry Quinn was on the verge of being completely immobile. His knee pain was so severe that he needed surgery. He wasn't able to walk inside a store from its parking lot without needing to rest. But after having bariatric surgery, Quinn lost more than half of his body weight in 10 months and credits his faith for getting him through.
A Personal Decision
Rose Hill, NC, resident Jerry Quinn was losing a battle with his weight. Nearly 500 pounds, Quinn used a cane or motorized scooter to do everyday things like grocery shop. He wasn't able to stroll on the beach with his wife -- one of her favorite activities -- because it was too painful. He considered weight loss surgery, but as a religious man, he wasn't sure about it.
"What gave me pause before was my religious convictions on whether or not it was right to tamper with what God had made to start with," Quinn said. 
After finding scriptures that gave him peace about the decision, he went full throttle.
All In
Quinn lost almost 100 pounds on his own during a six-month period before surgery, as required by his insurance provider. After that, Quinn went straight to Duke for his duodenal switch weight loss surgery in spring 2018.
"I trusted the program," he said. "I didn't look anywhere else."
Despite some mild post-op nausea and pain, the recovery wasn't difficult, Quinn said. He started learning a new way to eat, incorporating healthier foods in smaller amounts. He even switched to using dessert plates instead of dinner plates to keep portions in check. 
"You've got to completely change the way you eat every day and give up things that you eat all your life. It's difficult to do," Quinn said. "When you eat something every day for 40 years and all of the sudden you can't have it anymore, it's not the easiest thing in the world to do." 
His weight dropped fast. In just 10 months, he went from a size 60 pants to a size 36, weighing in at 218 pounds. Even before his surgery, his knee pain disappeared -- which he chalks up to a miracle from God. His wife has even lost weight because she began eating smaller portions alongside her husband. Quinn still deals with acid reflux, which he was hoping the surgery would eliminate.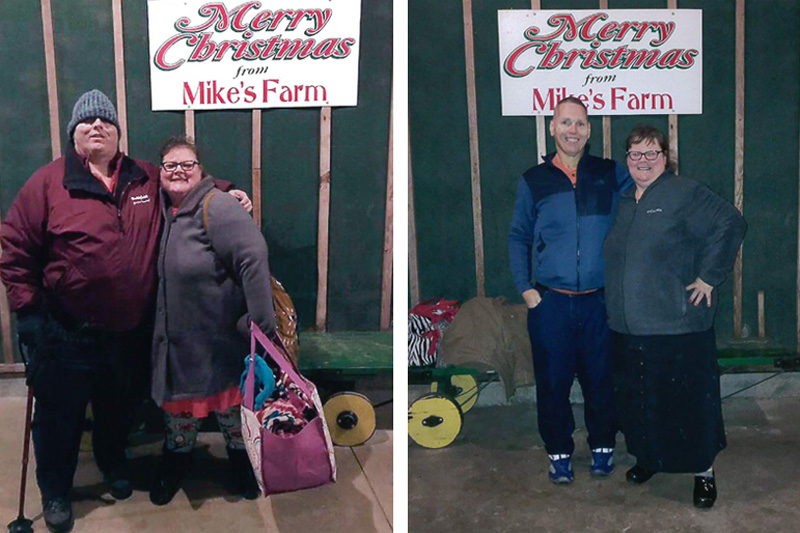 Blessed with Health
Today, Quinn is thankful and eager to take advantage of his new lifestyle. He goes out of his way to be active and parks far from buildings on purpose. He took his wife to the beach for her birthday and to the mountains for their anniversary, and the couple is looking into taking a cruise together soon.
"I'd like to get on an airplane without needing to have more than one seat. Before, that would have been impossible," Quinn said. "I can do anything now."