Weight Loss Surgery Next Steps
Overview
Maybe you already know you qualify for weight loss surgery.
Maybe you want to learn more about how it can help you achieve your goals.
Either way, you need more information to help you decide if weight loss surgery is right for you. That may mean attending one of our free information sessions, watching our online videos, or coming in to meet with our team of bariatric specialists to evaluate your medical condition and determine which bariatric procedure is right for you.
Take the next step to begin your journey to a new you.
Attend a Free Weight Loss Surgery Info Session
Text
Learn more about obesity, surgery options, and our program at one of our free information sessions. They take place at our clinics in Durham, Raleigh and Burlington.
Text
If you are interested in making an appointment, fill out this application which helps us gather important information from you. We will call you to schedule your first appointment once we have received your application.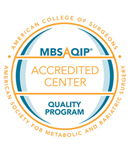 Bariatric Center of Excellence
Duke Regional Hospital is accredited by the American Society for Metabolic and Bariatric Surgery for its high standards of care in weight loss surgery.