Heart Attack Survivor, Volunteer Has Special Patient Connection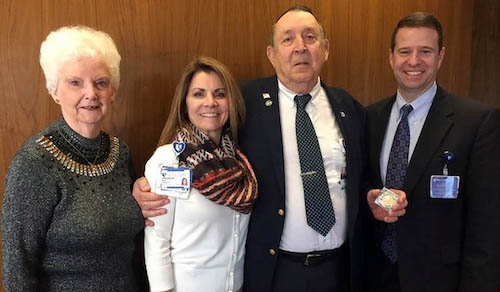 (L to R): Paige Ryder; Mary Lindsay, Duke Heart Center Associate Chief Nursing Officer;
John Ryder; Thomas Owens, MD, DUH President 
For John Ryder, helping lift the spirits of patients in the Duke Heart Center during his retirement has been 'fulfilling' and a 'source of joy.'
Ryder, a 25-year volunteer with the heart center, helped to start the center's patient support program in 1992, which helps patients and their families cope with the challenges of being a heart patient. Ryder has volunteered thousands of hours to date.
"Our primary job is to listen to patients, and try to address any issues they may have," said Ryder. "We help give emotional support for the patients."
Ryder gives patients hope from his personal experience. He survived a heart attack in 1987, and he underwent an open-heart surgery at Duke in 2002.
"We have recruited a group of volunteers here who have gone through the various procedures these patients will go through, and that is special," said Ryder. "The patients often have someone here who has survived the particular procedure they will undergo to talk with and lean on for support."
Ryder said that volunteering has been a personal blessing for him, and that he feels he has touched many lives. He received the Lifetime Achievement Award from Tom Owens, MD, the Duke University Hospital president, on January 17 at noon.
"It's very fulfilling to help these patients feel better," said Ryder. "I often see a veil of fear lifted from their faces when I joke with them. I tell them that at Duke, they're seeing the best heart mechanics on the planet. And, that always brings a smile to their face."
Survivor Commits To Changing The Course Of Cancer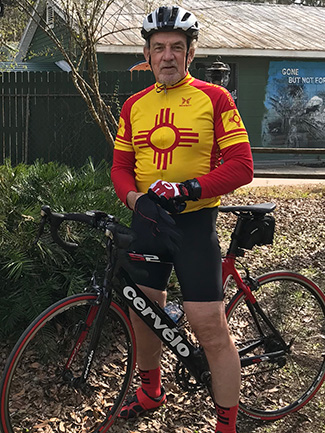 Jim Scales
Jim Scales, 70, a Duke University Hospital volunteer since 2015, is a two-time prostate cancer survivor who recently joined Team Duke Cancer Institute (DCI) for the Victory Ride. Since taking up cycling as a sport seven years ago, Scales has logged over 21,000 miles on his bike.  Read more about Jim's story here.
Volunteers Transform Duke Children's Hospital for Valentine's Day
Parents of patients at Duke Children's Hospital received a special treat when volunteers transformed the hospital into a romantic night out for Valentine's Day. Read more about this heart warming story on Inside Edition.
Peter Luo, the violinist featured in this story, even rearranged his schedule on Valentine's Day to perform beautiful music for the evening. He is a Duke student volunteer in the Arts and Health at Duke University Hospital. The Arts and Health volunteers at Duke provide music for patients, visitors and staff in the public spaces of the hospital and hospital-based clinics.
Volunteer's Music Resonates With Patients and Staff
Volunteer musicians play a very important role in Volunteer Services' mission to serve Duke Health patients. Music can be a source of great comfort and strength for patients and their loved ones who experience tremendous amounts of stress.
Stefan Stanescu, a volunteer pianist in the Duke Cancer Center and Duke University Hospital, is a shining star throughout Duke Health. Stefan volunteered 280 hours of his time last year to play music for patients and staff. He plays classical, American, and Romanian folk music, as well as arrangements of music from the radio. And, he plans to continue volunteering regularly this year.
 
Stefan is making an impact that is impossible to measure – it truly reverberates, like his music, throughout the hospital.