Duke Regional Hospital
About Duke Regional Hospital
Announcements
Announcements
Face masks are optional at this location. Keeping everyone safe and well is our top priority. We appreciate your support of our efforts. Learn more.
Duke Regional Hospital has served Durham, Orange, Person, Granville, and Alamance counties and the surrounding communities for 45 years. We have more than 3,500 employees who provide outstanding medical care with compassionate, personalized service in a comfortable community hospital setting. Duke Regional Hospital has 388 inpatient beds and offers a comprehensive range of medical, surgical, and diagnostic services, including orthopedics, weight loss surgery, women's services, and heart and vascular services. We also offer care at the Duke Rehabilitation Institute, Duke Behavioral Health Center North Durham, the Health Services Center, and the James E. Davis Ambulatory Surgical Center. 
For 2022-2023, U.S. News & World Report ranked Duke Regional Hospital as #9 in North Carolina and #4 in the Raleigh-Durham area. Duke Regional Hospital was named high performing in gastroenterology and orthopaedics as well as in 10 adult procedures/conditions:
Chronic Obstructive Pulmonary Disease (COPD)
Diabetes
Heart Attack
Heart Failure
Hip Fracture
Hip Replacement
Kidney Failure
Knee Replacement
Pneumonia
Stroke
Duke Regional Hospital is a Baby-Friendly® hospital. This designation recognizes our adherence to the highest standards of care for breastfeeding mothers and their babies.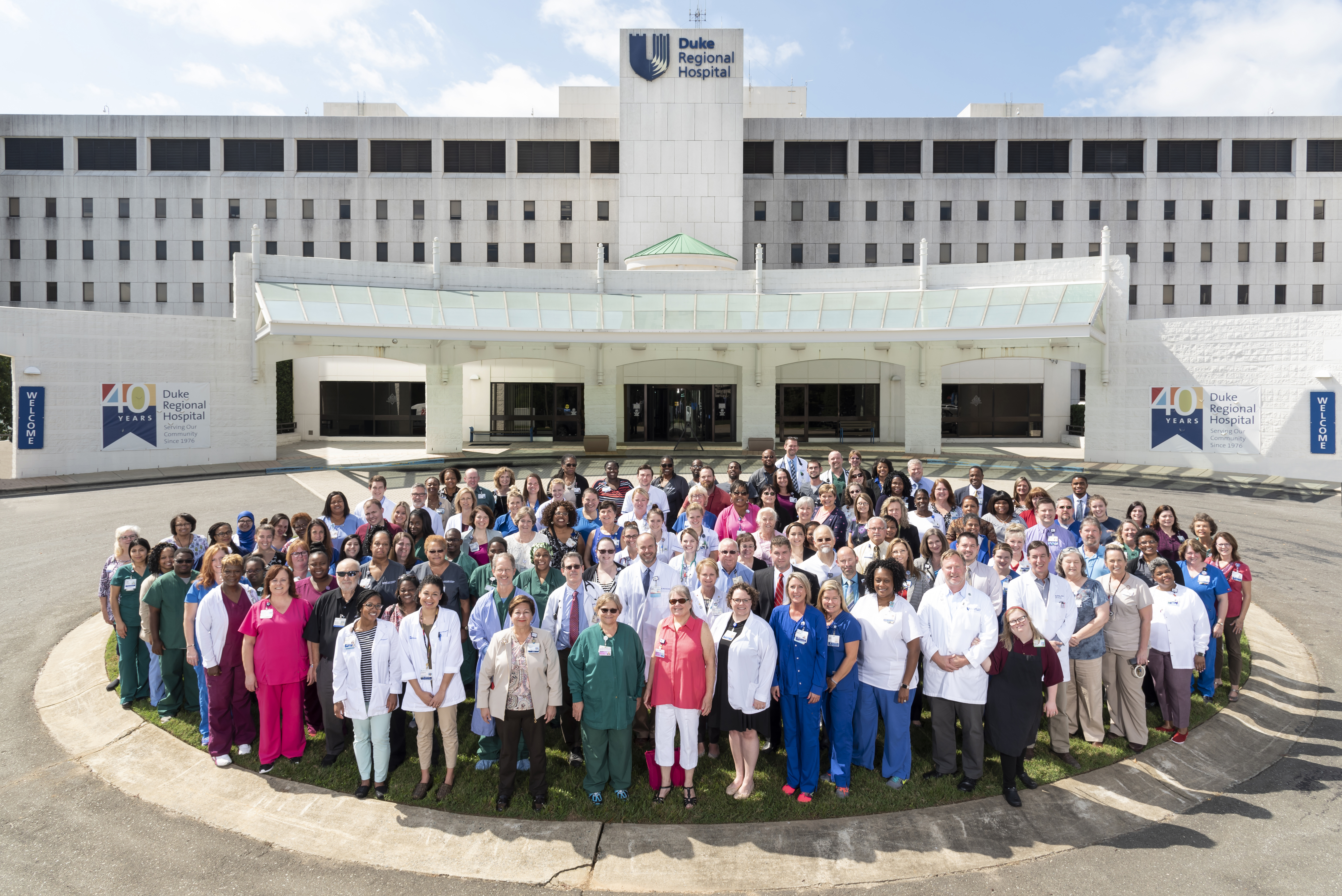 Mission and Vision
Our mission:
To care for our patients and the health of our community.
Our vision: 
To be the best community hospital.
This means we provide our patients care on which they can depend, competent staff with up-to-date knowledge and skills, quality medical staff, and attention to what is important to patients and their loved ones.
Diversity, Equity and Inclusion
Duke Health Pledge Against Racism
In the Duke Health family, we believe that racism is a public health crisis and that our communities have no place for hatred. We believe that delivering exceptional care, groundbreaking research, and top-notch education requires us to identify forms of racism and hate and to join forces against them. We are committed to working together to do just that.
LGBTQ Healthcare Equality Leaders
Duke Regional Hospital is recognized as an LGBTQ Healthcare Equality Leader by the Human Rights Campaign, the educational arm of the country's largest lesbian, gay, bisexual, transgender, and queer, and/or questioning (LGBTQ+) civil rights organization. Our hospital received perfect scores across areas of patient-centered care, support services, and inclusive health insurance policies for LGBTQ+ patients.
Careers
Join our team. We are dedicated to building the region's most experienced and compassionate health care team. A team of individuals who share a commitment to caring for our patients, their families, and our community. Individuals who believe that patients are our number one priority.
Quality and Safety
Duke Health is committed to delivering high-quality care and providing you with reliable, easy-to-understand information about how we compare to our peers. This information comes from independent, third-party sources and will let you know how well our hospitals follow care guidelines that are proven to lead to better patient outcomes and how satisfied patients are with their Duke health care experience.
We hope this information will assist you in making informed decisions when you are choosing a hospital.
Community Involvement
As a not-for-profit health system, Duke University Health System is committed to caring for our patients, nurturing the sick, and strengthening the well. We honor our tax-exempt status and our responsibility to the counties we serve through various programs, activities, and partnerships that are aimed at improving the health of our communities.