LGBTQ+ Health Services and Resources
Inclusive Care for Lesbian, Gay, Bisexual, Transgender, Queer, and Questioning Patients
For More Information
Duke Health is nationally recognized for providing health care services and resources to all patients regardless of gender identity or sexual orientation. Our providers are committed to eliminating discrimination, promoting equality, and standing with the lesbian, gay, bisexual, transgender, queer, and questioning (LGBTQ+) community in all aspects of care.
Duke Health Supports the LGBTQ+ Community
We value diversity, which is why we've taken steps to ensure we provide the best possible care and experience to everyone.
Our health care professionals and staff undergo ongoing training to better understand the needs of LGBTQ+ patients. This ensures we provide high-quality, knowledgeable LGBTQ+ specific care treat all patients with dignity and respect.
We've adapted gender identity designation in electronic health records.
We offer pronoun stickers for Duke ID badges to help reduce misgendering and make our patients and their families feel safer and welcome.
We provided funding and support for Duke's Center for Sexual and Gender Diversity.
We established an LGBTQ+ affinity group to support the LGBTQ+ community, friends, and advocates.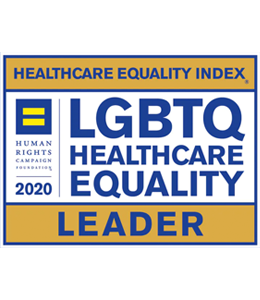 Duke University Hospital, Duke Regional Hospital, and Duke Raleigh Hospital are recognized as LGBTQ+ Healthcare Equality Leaders by the Human Rights Campaign Foundation for perfect scores across areas of patient-centered care, support services, and inclusive health insurance policies for LGBTQ+ patients.
Primary Care
All Duke Health staff and providers receive training on cultural sensitivity and how treating our patients and their loved ones with respect is a core value at Duke. You'll receive the same kind of thoughtful care at any of our Duke Primary Care clinics, and the Duke Family Medicine Center offers primary care services tailored to preferences and unique needs of LGBTQ+ patients.
Specialist Care
Comprehensive care starts with establishing goals with your provider, and consultations with specialists who bring expertise to meet your needs and goals. We work with specialists throughout Duke to provide gender-affirming therapy to adults and children, PrEP for people at high risk for HIV infection, and gynecological care, including birth control and STD testing.
Transgender and non-binary adolescent and adult patients assigned female gender at birth can be seen at Duke Gynecology Clinic - Clinic 1J (Duke Family Planning Clinic). It is a safe environment designed to remain gender neutral in appearance and where staff and providers have undergone enhanced training in LGBTQ+ care. This clinic provides resources and care for bleeding management, contraception, and consultation for gender affirming surgical procedures, such as hysterectomy.
LGBTQ+ Cancer Support Group
Duke Health offers free, monthly sessions led by professionally facilitated support for LGBTQ+ (Lesbian, Gay, Bisexual, Transgender, Queer, +) patients and loved ones.
Reproductive Care
Our ob-gyn specialists are committed to providing equitable health care. Our family planning services provide counseling and contraceptives. If you're pregnant or planning to be, we provide low-risk prenatal care, including one-on-one and group prenatal support. The Duke Fertility Center offers a comprehensive program for LGBTQ+ couples who wish to conceive. Our fertility specialists recommend fertility treatments and other options such as egg or sperm donors and surrogates. Patients who need high-risk pregnancy care are referred to our high-risk pregnancy specialists.
Surgical Care
Duke Health offers several top surgery options to transgender, gender diverse, nonbinary, and gender-nonconforming people who want their appearance to align with their internal identity. If, after a consultation with our doctors, you decide to pursue top surgery, we work toward a positive outcome that improves your physical, emotional, and psychological well-being.
Physical Therapy
Our physical therapists work in coordination with providers in our gender medicine clinics to offer personalized exercise and therapy plans to help transgender men and women work toward a desired physical appearance. This may include efforts like using a fitness regimen as you take hormones to help shape your changing body in a healthy way or recovery faster after a surgery. Our physical therapists can also refer you to nutritionists for help with your diet or plastic surgery providers who can offer laser hair removal. Our goal is to play a supportive role in helping you feel comfortable and happy with how you look and feel.
Reviewed: 06/16/2021